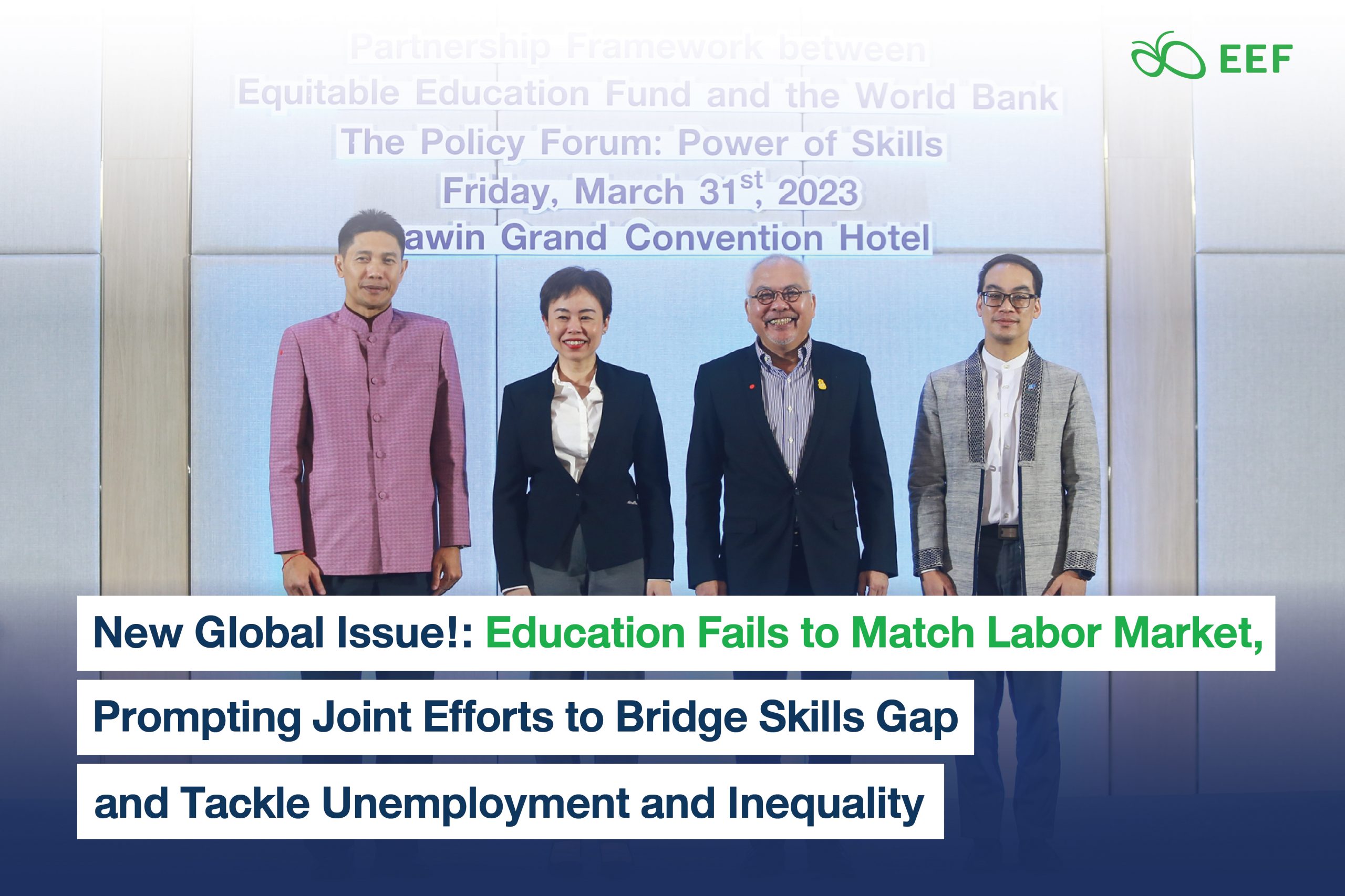 Reducing the education gap and developing the education system with traditional concepts and processes will not address the challenges of the modern world or contribute to the improvement of the quality of life for youth and the people. It is crucial to collaborate with various stakeholders in society and align the goals of educational success with the success of employment in the labor market.
Recently, the Equitable Education Fund (EEF) Thailand organized a forum on the Power of Skills to Develop Readiness for the Future of the Thai Labor Market. This event took place under the signing ceremony of a cooperation agreement with the World Bank at the Asawin Grand Convention Hotel on Friday, March 31st, 2023. Representatives from both the public and private sectors, including the Department of Skill Development, the Ministry of Labor, Bangkok, and representatives from the Central Group and the Provincial Administrative Organization of Phayao engaged in discussions, exchanged perspectives, and shared challenges and directions for developing skills and learning that are essential for human capital development, aiming to reduce socioeconomic disparities.
In the initial stage of the forum, all four representatives from the public and private sectors exchanged views on the issues and challenges in developing the skills of human capital, which different sectors of society are currently facing.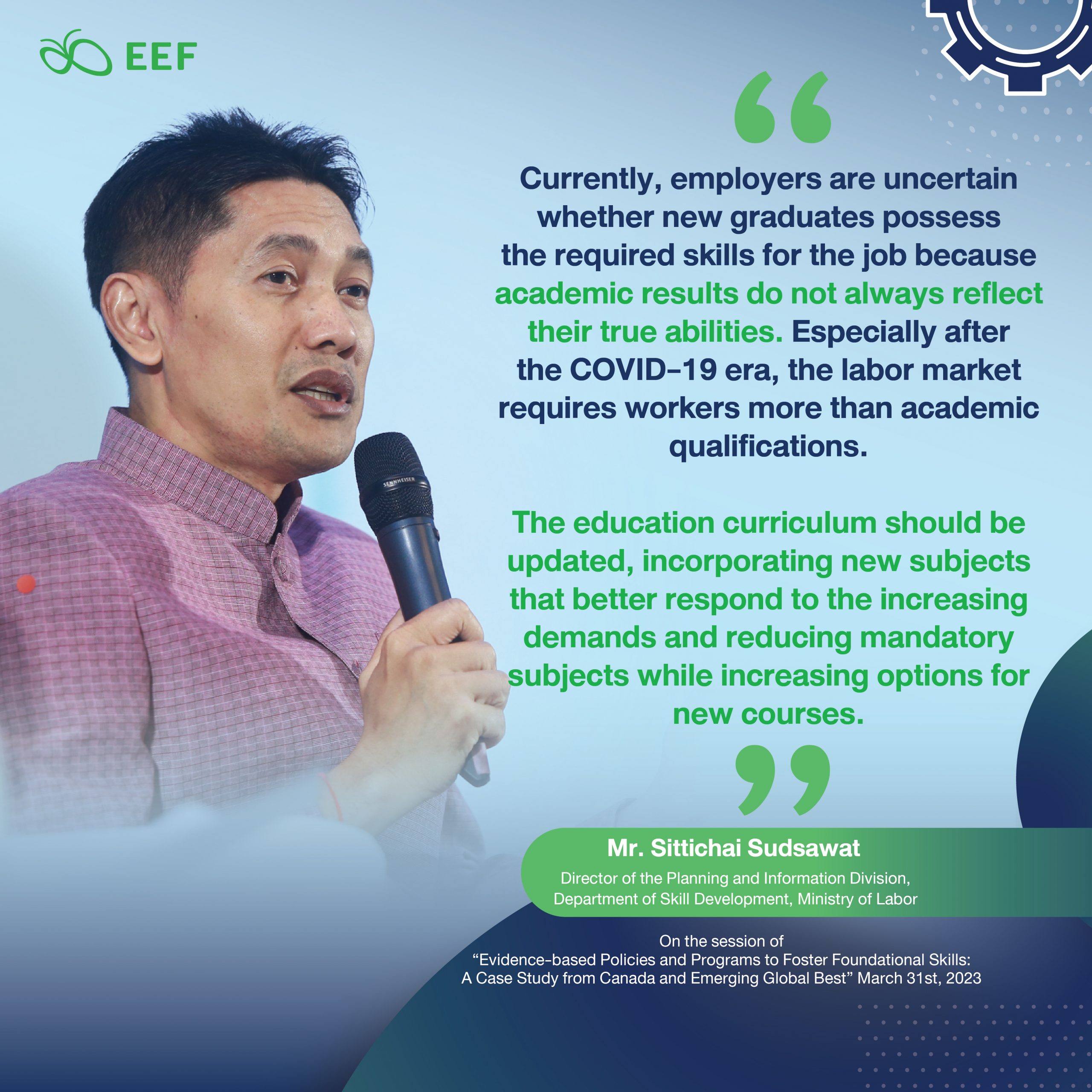 Mr. Sittichai Sudsawat, Director of the Planning and Information Division, Department of Skill Development, Ministry of Labor, mentioned the problem of employment. Currently, employers are uncertain whether new graduates possess the required skills for the job because academic results do not always reflect their true abilities. As a result, additional training is needed before they can start working. This has led to changes in the employment landscape, shifting from permanent employment to increased freelance work and short-term contracts. Employers can now choose skilled labor that is ready to work. Therefore, it becomes a challenge to redesign educational curricula that align with this new trend, especially in IT, digital, or technology-related skills that help reduce production costs.
In urban areas, educational development is more advanced compared to rural areas, which have fewer available resources. However, during the COVID-19 pandemic, internet access has significantly reduced the education gap. Even children in remote areas have gained increased access to educational opportunities and career prospects.
In terms of the capital city like Bangkok, Assoc. Prof. Dr. Tavida Kamolvej, Deputy Governor of Bangkok, has explained the problems and obstacles in human capital development that have been encountered and the lessons learned from Bangkok. These problems can be seen from the beginning to the end, and they can be divided into four parts:
Learners' Needs: Due to the diversity of urban dwellers in terms of lifestyles and career choices, educational needs vary in topics such as reproductive health, careers, and culture.
Curriculum: Questions arise regarding the variety and adequacy of courses offered by educational institutions and vocational training centers. Are there enough diverse courses available? And to what extent do they meet the needs of learners?
Government Policy: As the entity responsible for setting directions, policies, and budgets in education and labor, the government needs to plan and establish appropriate strategies that align with the current situation.
Labor market and employers: How does the labor market respond to the output of the education system?
It is well-known that Bangkok is a large city with diversity in various dimensions, such as socio-economic status and educational aspirations. Therefore, there is no one-size-fits-all solution for the education system. It can be divided into 2 parts: the regular education system for children and youth, where educational institutions strive to enhance basic skills that align with the current era, and the adult education system that supports the development of vocational skills, including reskilling and upskilling. However, educational institutions, vocational training centers, learners, and the workforce encounter issues such as the lack of official recognition for new skills and courses from the government, and a mismatch between the skills provided and the demands of the labor market. Therefore, addressing these multifaceted problems simultaneously may lead to delayed problem-solving. Hence, the government needs to prioritize the importance, and urgency, and carefully select which problems to address.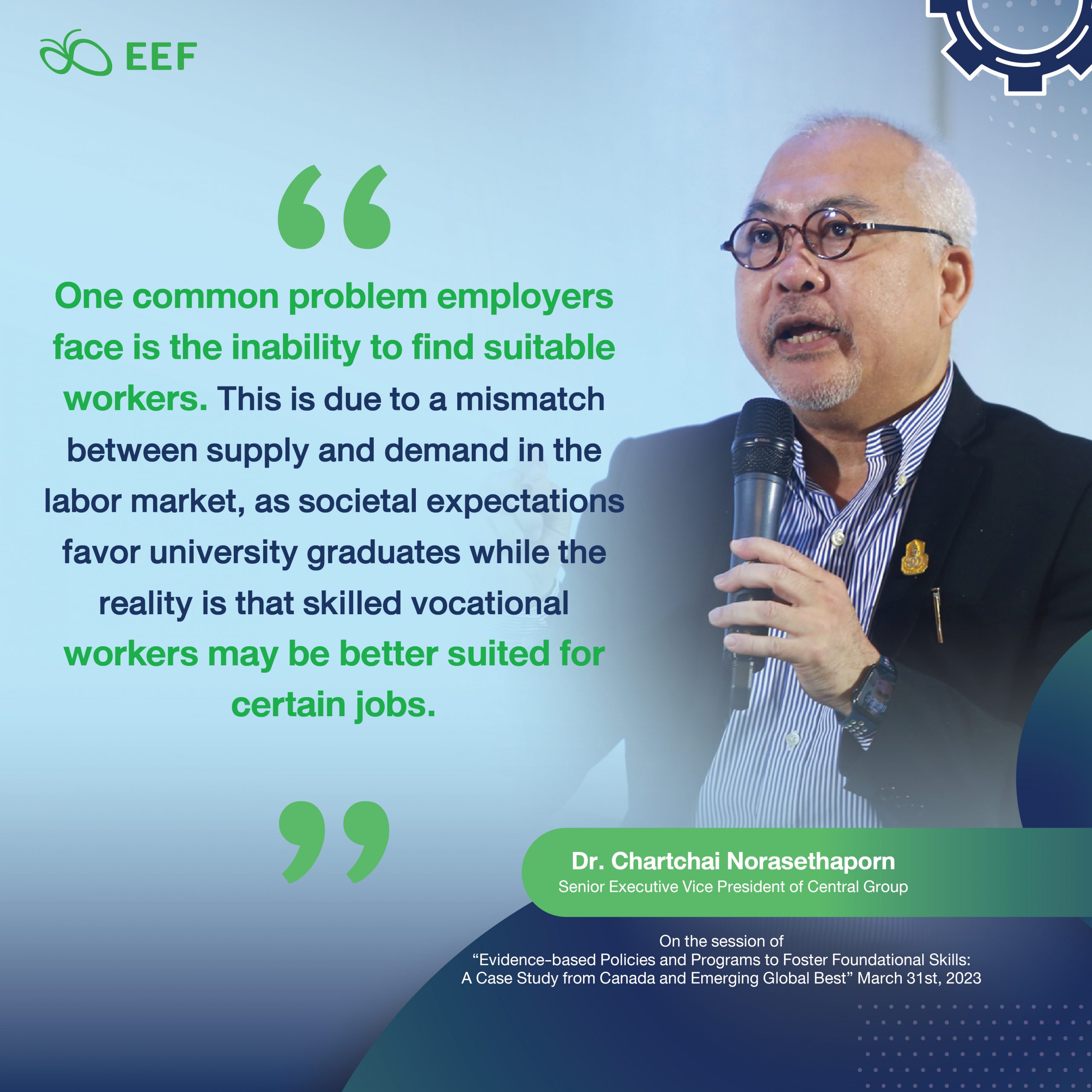 Dr. Chartchai Norasethaporn, Senior Executive Vice President of Central Group, representing the private sector as the main employer in the labor market, expressed his opinion that fresh graduates should have basic skills, even if they are not the best. This means that employers have a responsibility to train and develop their workforce, especially in socio-emotional skills. One common problem employers face is the inability to find suitable workers. This is due to a mismatch between supply and demand in the labor market, as societal expectations favor university graduates while the reality is that skilled vocational workers may be better suited for certain jobs.
Dr. Chartchai further stated that Thai society can be divided into three different labor groups: urban, rural, and border area workers. Each group has different foundations and requires different labor market support. Therefore, it is not possible to have a single education system and human capital development system that caters to the needs of all groups. It is unfair to blame any specific sector or region for this issue. Until now, the private sector has provided only basic support, such as scholarships, educational equipment, and training programs. However, the development of education and human capital requires collaboration among all sectors, as each sector has a crucial responsibility in building competent individuals to meet the needs of society and the labor market.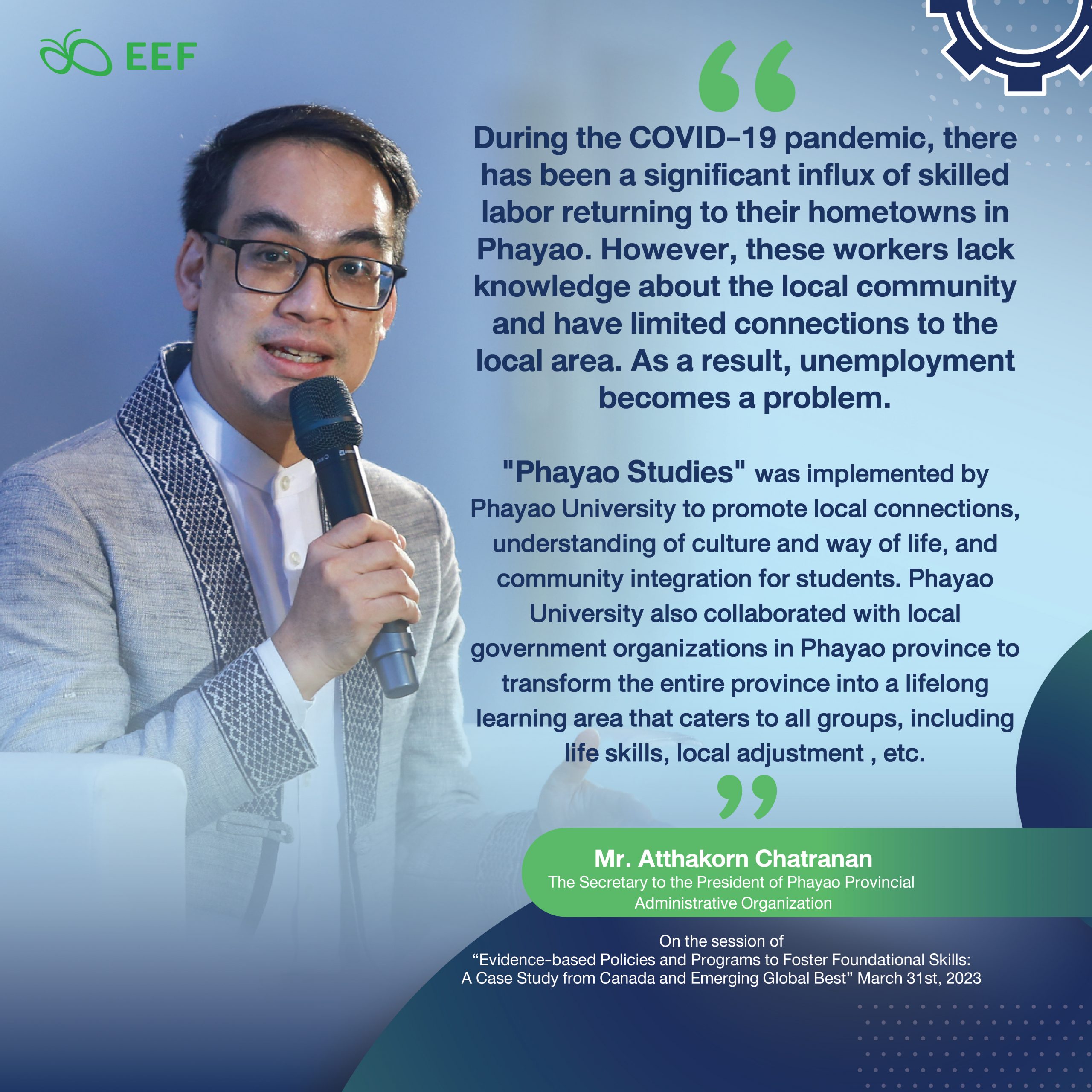 Mr. Atthakorn Chatranan, the Secretary to the President of the Phayao Provincial Administrative Organization, discussed the problems and obstacles that have arisen during the COVID-19 pandemic. He mentioned that there has been a significant influx of skilled labor returning to their hometowns in Phayao. However, these workers lack knowledge about the local community and have limited connections to the local area. This is mainly due to the fact that they left their hometowns at a young age and spent more than half of their lives in other regions. Furthermore, their work skills do not apply to local agricultural jobs, so they often have to seek employment in other businesses that do not require the specific skills they acquired from working in urban areas. As a result, unemployment becomes a problem.
When asked about case studies on human capital development and the labor market in Thailand, representatives from various sectors provided the following suggestions:
Regarding skill development, Mr. Sittichai Sudsawat, from the Ministry of Labor, stated that it is necessary to increase collaboration between the education system and workforce management. Currently, society still values educational qualifications and emphasizes the need for higher education and certified diplomas. However, in the present world, especially after the COVID-19 era, the labor market requires workers more than academic qualifications. There are new job positions and numerous opportunities to generate income in the digital era. Therefore, the education curriculum should be updated, incorporating new subjects that better respond to the increasing demands and reducing mandatory subjects while increasing options for new courses.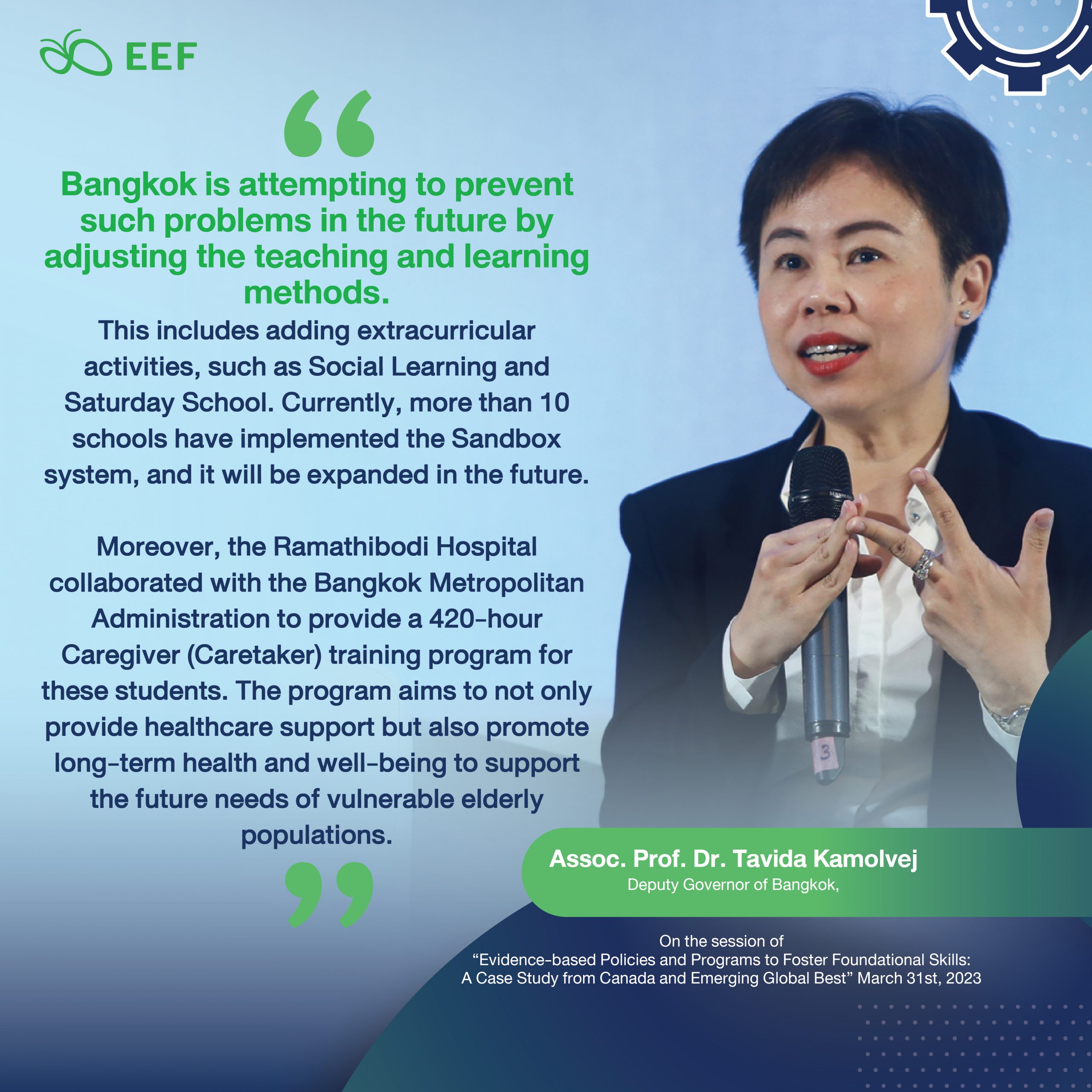 In the context of Bangkok, Assoc. Prof. Dr. Tavida Kamolvej explained that the COVID-19 pandemic revealed the difficulty for workers in Bangkok to change or switch to other occupations that require different skills. To address this issue, Bangkok is attempting to prevent such problems in the future by adjusting the teaching and learning methods. This includes adding extracurricular activities to the curriculum, such as Social Learning and Saturday School, to make learning more enjoyable for students. Currently, more than 10 schools have implemented the Sandbox system, and it will be expanded in the future.
Meanwhile, the increase of volunteer healthcare workers with technology skills in certain vulnerable communities in Bangkok has facilitated the exchange of knowledge between the healthcare and information technology sectors.
During the COVID-19 pandemic, some students who completed lower secondary education did not continue to upper secondary education. To address this, the Ramathibodi Hospital collaborated with the Bangkok Metropolitan Administration to provide a 420-hour Caregiver (Caretaker) training program for these students. The program aims to provide healthcare support and promote long-term health and well-being, including becoming health ambassadors and communicators, to support the future needs of vulnerable elderly populations.
However, the most challenging aspect of the intervention is addressing groups that do not need these new skills, such as those with lifestyles unsupportive of further learning or those who perceive additional learning negatively. It is the responsibility of education administrators to design new communication methods and learning approaches to integrate these new skills.
In a case study on human resource development in Phayao province, as Mr. Atthakorn shared, a concept and project called "Phayao Studies" was implemented by Phayao University to promote local connections, understanding of culture and way of life, and community integration for students. Phayao University also collaborated with local government organizations in Phayao province to transform the entire province into a lifelong learning area that caters to all groups, including life skills, local adjustment, understanding between residents and returnees, learning for children with disabilities, autistic children, single parents, and informal workers. Currently, there are 20 learning centers in the urban area, and expansion plans to cover 9 more districts. Additionally, "ruined schools" and temples, which are potential spaces for new purposes, serve as residences and provide support for children and youth.
Through cooperation and efforts in local development, Phayao was designated as a member of the UNESCO Global Network of Learning Cities (GNLC) in 2022 by the UNESCO Institute for Lifelong Learning. In the future, there will be an expansion of learning spaces, vocational areas, and community collaboration.
In terms of the private sector, Dr. Chartchai, from Central Group, mentioned that developing human resources for the labor market and society should start from childhood education, with collaboration from government agencies. Central Group's "Chiang Mai Model" project consists of 12 schools, 2 colleges, and 3 universities designing curriculum alignment and continuity to create maximum employment opportunities that meet the demands of the labor market. Since the labor market requires increasingly specialized skills, the "One Person, One Profession" project involves vocational colleges teaching in schools from the lower secondary level onwards to adjust values, create familiarity, and lead to a new vocational attitude. Additionally, Central Group collaborated with the Office of the Non-Formal and Informal Education Commission to provide educational scholarships with accommodation and part-time jobs, without closing the opportunity for further tertiary education in the future.
"To succeed in these projects, cooperation from all sectors is necessary, especially the community's sense of ownership and shared responsibility for schools. Communities and schools must work together, and society as a whole needs to be involved," said Dr. Chartchai.
Source:
Event News: Here
Event Picture: https://en.eef.or.th/media/
Event Record: https://web.facebook.com/EEFthailand/videos/235613462187952