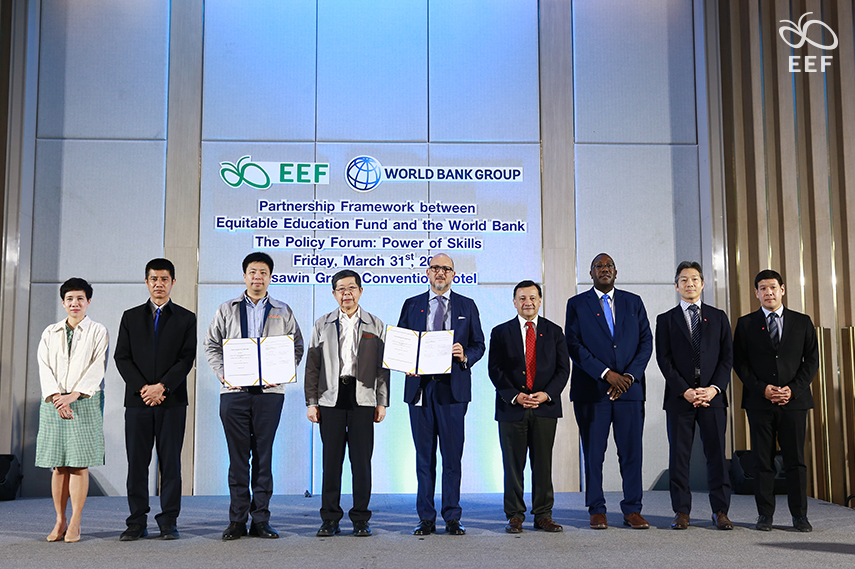 BANGKOK (March 31st, 2023) – The Equitable Education Fund or EEF (Thailand) has joined hands with the World Bank in launching a 3-year Partnership Framework aimed at boosting the 21st-century skills and competencies of Thai children, youth, and adults. At the signing ceremony held on March 31st, 2023, both organizations pledged to enhance the quality of education and training systems throughout the country. This exciting collaboration is set to propel Thailand's education system to greater heights.
While Thailand has made significant strides in expanding access to basic education and narrowing attendance gaps between different socio-economic groups, closer examination reveals that there is still much work to be done. A large number of Thai students still lack the vital skills and competencies required to succeed in 21st-century workplaces and the increasingly volatile society. According to the Programme for International Student Assessment (PISA) 2018, around half of Thai students scored below the minimum proficiency level in math and science, while almost 60% fell below basic proficiency in reading. These figures are concerning, highlighting the pressing need for urgent action to enhance foundational skills. This is not to mention that the pandemic has only exacerbated the urgency of this issue, as many workers have been forced to look for alternative jobs, switch to teleworking arrangements, and navigate health risks and lifestyle changes. It is high time for Thailand to take bold steps towards empowering its next generation with the skills and competencies they need to thrive in an increasingly rapidly changing world.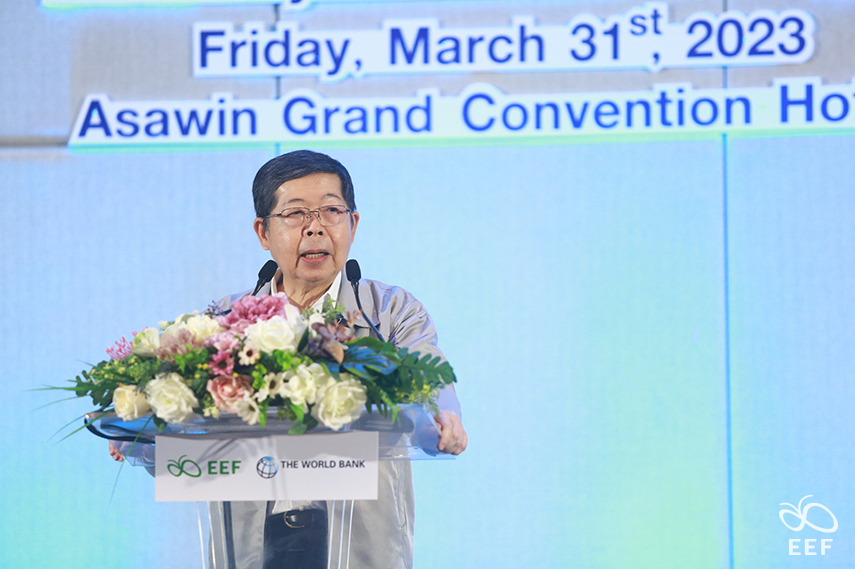 Dr. Prasarn Trairatvorakul, Chairman of the Equitable Education Fund Board
At the signing ceremony, Dr. Prasarn Trairatvorakul, Chairman of the Equitable Education Fund Board, expressed great enthusiasm about the collaboration with the World Bank, stating, "The EEF is pleased to embark on joint research projects with the World Bank aimed at addressing the quality gaps between schools and the shortcomings of remote schools. In doing so, we will utilize the research data to inform policy-making and skill-building plans that align with the demands of the labor market. Ultimately, the goal is to enhance Thailand's competitiveness on a global scale and ensure that the Thai education system can equip our next generation with the skills and competencies they need to succeed in the modern workforce."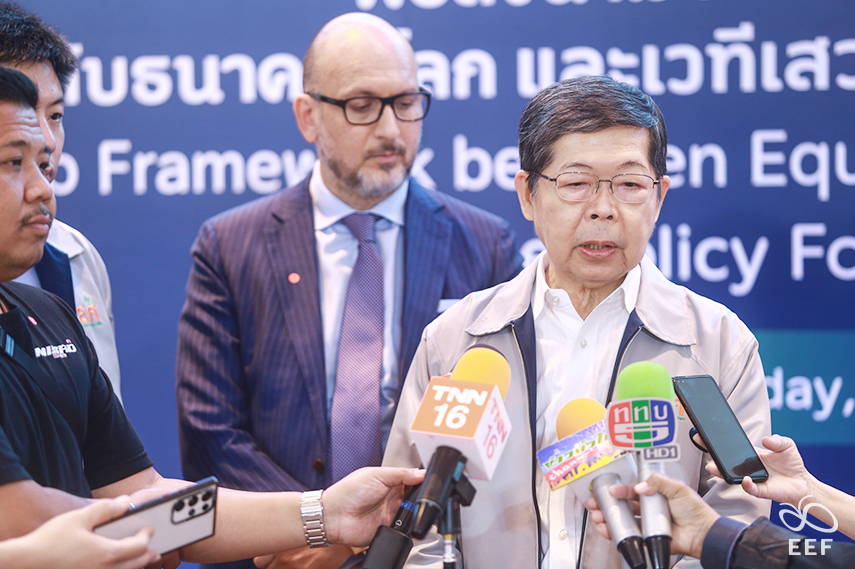 Since 2019, the EEF and World Bank have been working hand-in-hand in conducting research activities conducive to enhancing the efficiency, equity, and inclusiveness of Thailand's education and training systems. Thanks to this dynamic collaboration, innovative ideas and tools have been developed, paving the way for informing policy discussions and supporting Thailand's education landscape. Of particular note is the development of a fundamental school quality standard instrument, which covers seven operational areas, such as school leadership and management, school autonomy and accountability, teacher quality and effectiveness, and school infrastructure and facilities. Recently, this instrument was put to the test in more than 270 remote schools, and it is set to serve as a guiding framework for quality promotion in schools, shaping future public investment in education.
In addition to the school quality standard instrument, the partnership has also produced another crucial tool — the adult skills survey project. This project assessed the skills of Thailand's youth and adults between the ages of 15-64 in areas, such as reading, digital, and socio-emotional skills, to identify skills shortages and insights for enhancing policy and programs, which has been instrumental in shaping policies and programs to improve Thailand's education landscape. This partnership is an excellent example of what can be achieved when organizations work together towards a common goal. With these tools in hand, Thailand will be well-equipped with a cutting-edge approach to education that is both forward-looking and highly effective, enabling its children, youth, and adults to develop the skills and competencies they need to meet the challenges of the 21st century.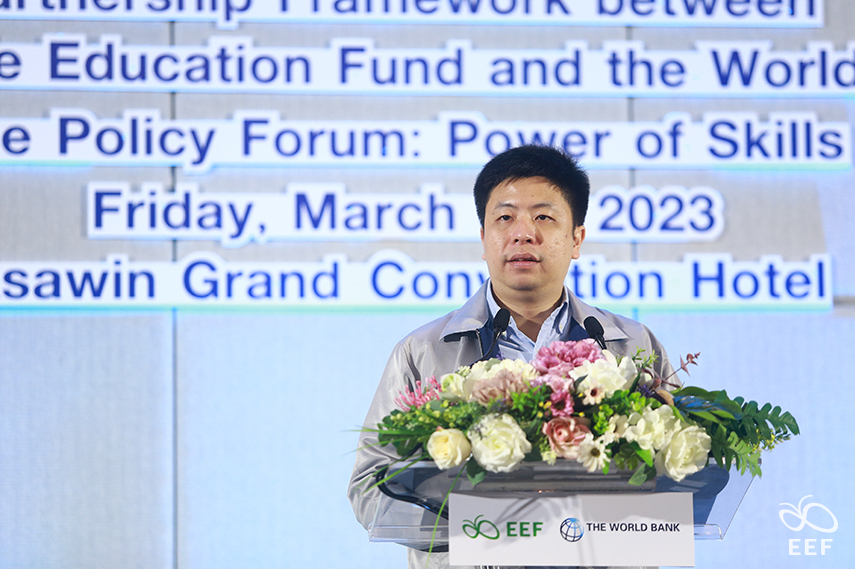 Dr. Kraiyos Patrawart, Managing Director of the Equitable Education Fund (Thailand)
Dr. Kraiyos Patrawart, Managing Director of the Equitable Education Fund (Thailand), on the other hand, highlighted the importance of having a strong data management system, stating, "A strong data management system has been found to be necessary for monitoring areas of improvement and reducing learning gaps in small schools, ultimately improving student learning outcomes. With this data, it is possible to identify the strengths and areas of improvement of schools in need of further support and thus allocate future education budgets accordingly to maximize efficiency and effectiveness. This approach will enable Thailand to make the most of its resources and help students in remote areas reach their full potential." 
The EEF and World Bank's partnership continues to gain momentum, with plans to expand and build on the existing joint research projects to ensure that resources are allocated fairly in remote schools, with a particular emphasis on equity. The partnership will replicate the successful adult skills survey project, which was conducted at a country-wide level, in three specific provinces, providing invaluable insights into their strengths and areas of improvement. Additionally, it will also work towards developing a social and emotional learning program for youth in vocational education over the next three years. These new initiatives demonstrate a commitment to addressing the unique challenges facing Thailand's education system and will pave the way for more comprehensive and equitable education policies.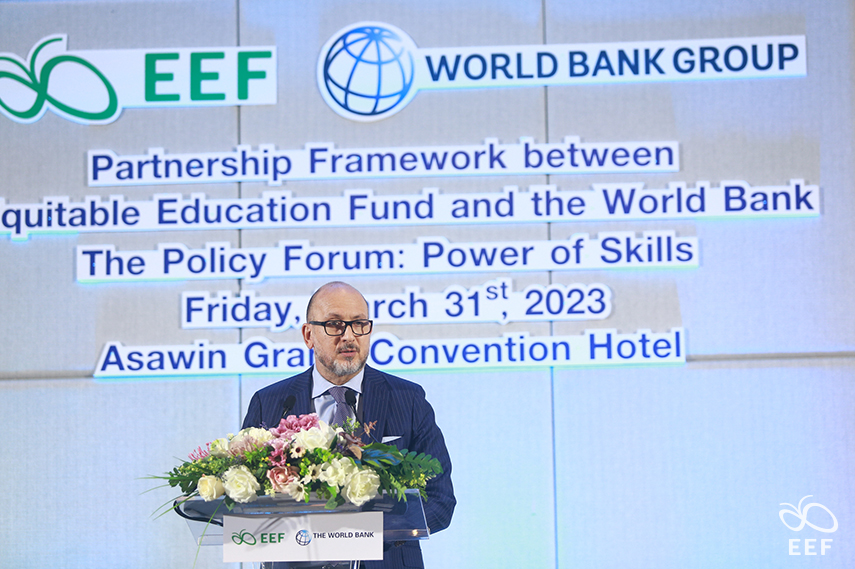 Dr. Fabrizio Zarcone, World Bank Country Manager for Thailand
Dr. Fabrizio Zarcone, World Bank Country Manager for Thailand, concluded the signing ceremony by pointing out the significance for Thai people to have the right skills and competencies, stating, "For Thai people, having the necessary skills and competencies can make all the difference when it comes to obtaining productive employment and securing a better future, as well as to breaking out of the cycle of poverty and achieving economic mobility. Moving forward, investing in reforms that address inequalities and inefficiencies in resource allocation, improving the learning experience in education, and strengthening training institutions will be critical to unlocking Thailand's potential for growth and development. By prioritizing human capital and promoting access to quality education, the country can lay the groundwork for a more prosperous future for all of its citizens.
The implementation of the partnership framework will be carried out using the World Bank's Reimbursable Advisory Services (RAS). Through RAS programs, the World Bank provides advisory and analytical services, as well as implementation support, to middle- and high-income countries upon their requests. This approach enables greater flexibility and customization in addressing specific development challenges faced by each country and enables them to leverage the expertise and knowledge of the World Bank to achieve their development goals.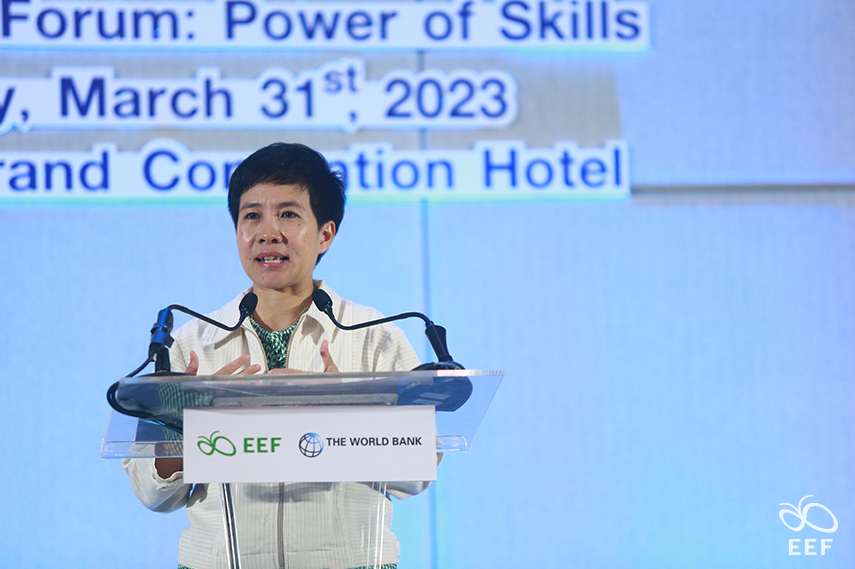 Ms.Thantida Wongprasong, Director, Office of Partnership, Innovation and Scholarships
Equitable Education Fund (EEF) Thailand
To further advance their concerted efforts, the EEF and World Bank have also collaborated with a network of policy and academic sectors. These collaborations have resulted in additional projects aimed at developing the readiness skills of both youth and adults in Thailand. One of these projects is the Provincial Adult Skills Assessment. This initiative aims to provide a more comprehensive understanding of the skills and competencies of adults in Thailand. With this understanding, the EEF can tailor its education programs to meet the specific needs of adults throughout the country and develop more effective strategies to assist adults in enhancing their skills and overcoming new challenges.
In addition, the organizations have also launched the Fostering Social and Emotional Learning in Vocational Education and Training project. This initiative recognizes the importance of social and emotional learning in preparing youth for success in the workforce. By focusing on the development of these skills, the EEF aims to equip youth with the necessary tools to become successful in their respective fields. Overall, the EEF's collaboration with the World Bank and other sectors demonstrates a firm commitment to creating a more equitable education system in Thailand. With these new initiatives in place, the EEF is well-positioned to make a significant impact in the lives of both adults and youth across the country.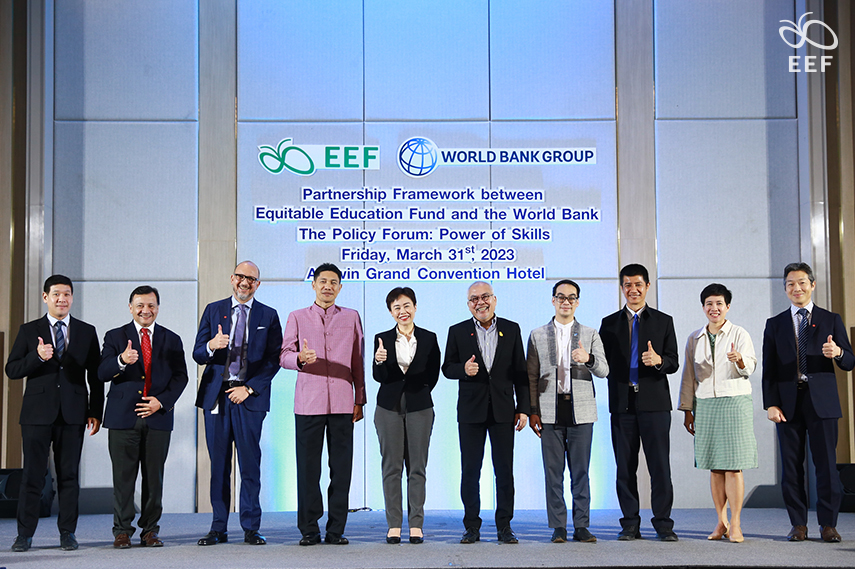 Policy Forum "The Power of Foundational Skills"
Lastly, the event also holds a series of policy forums under "Power of Skills to Develop the Readiness in the Future of the Thai Labor Market." There were many experts and professional representatives from different sectors such as government agencies, the private sector, academic sectors, and practitioners from both international and local. The second series launch focused on evidence-based policies and programs to foster foundation skills from Canada and exchange views of importance in the power of foundational skills. The series is the momentum approach toward the final launch of a report for the Adult Skills Assessment in Thailand project which will be published at the end of 2023. 
Left to Right : Mr. Patanapong Sukmadan, Assistant Managing Director, Equitable Education Fund (Thailand) l Dr. Kraiyos Patrawart, Managing Director, Equitable Education Fund (Thailand) l  Dr. Fabrizio Zarcone, Country Manager for Thailand, World Bank l Mr. Cristian Aedo, Practice Manager for Education, East Asia and Pacific, World Bank 
Source: 
Here: Record of The Signing Ceremony of the Partnership Framework between the Equitable Education Fund (Thailand) and the World Bank The Policy Forum: Power of Skills to Develop the Readiness of Thailand's Future Labor Market
Here : Picture of the event