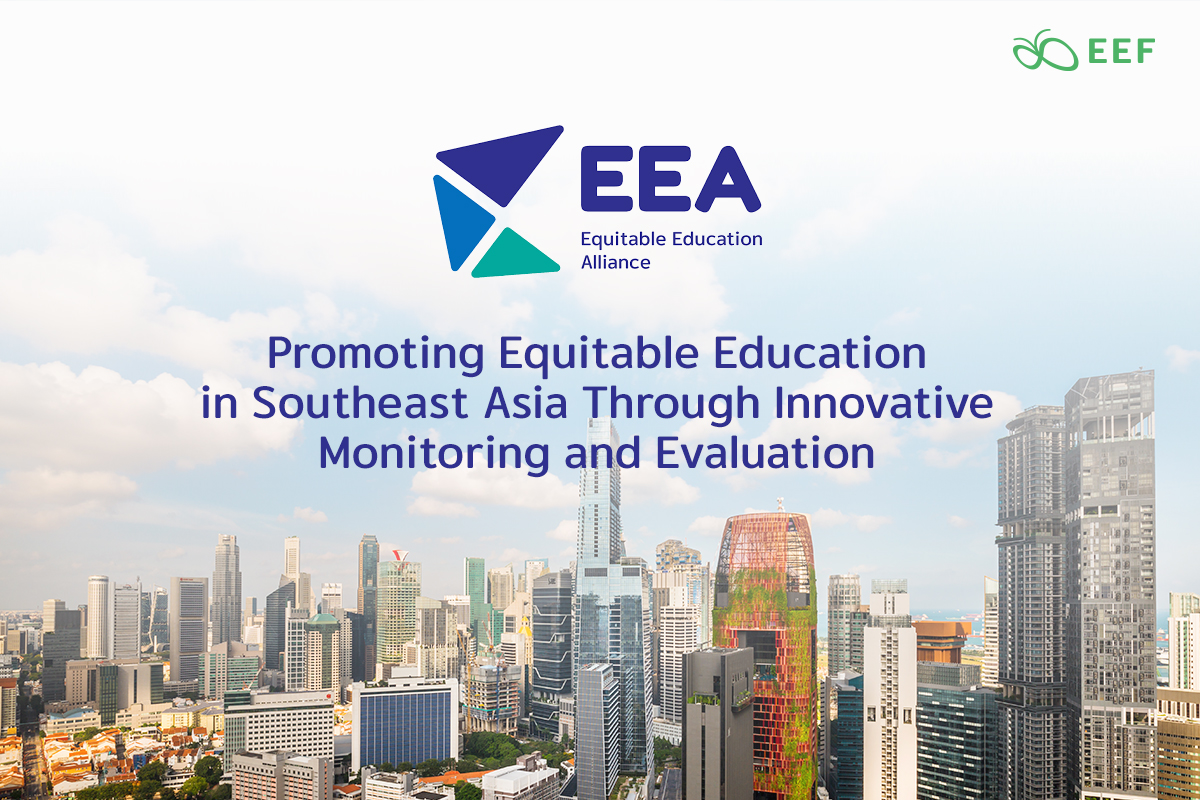 In an era where education is the key to unlocking opportunities, fostering social equity, and driving economic growth, Southeast Asia stands at the forefront of a transformative journey. On August 31st, 2023, education experts from across the region came together for the 8th Equitable Education Alliance (EEA) Meeting—an online conference dedicated to the pursuit of equitable education. From groundbreaking tools to inspiring success stories, the event shed light on the path to a brighter educational future.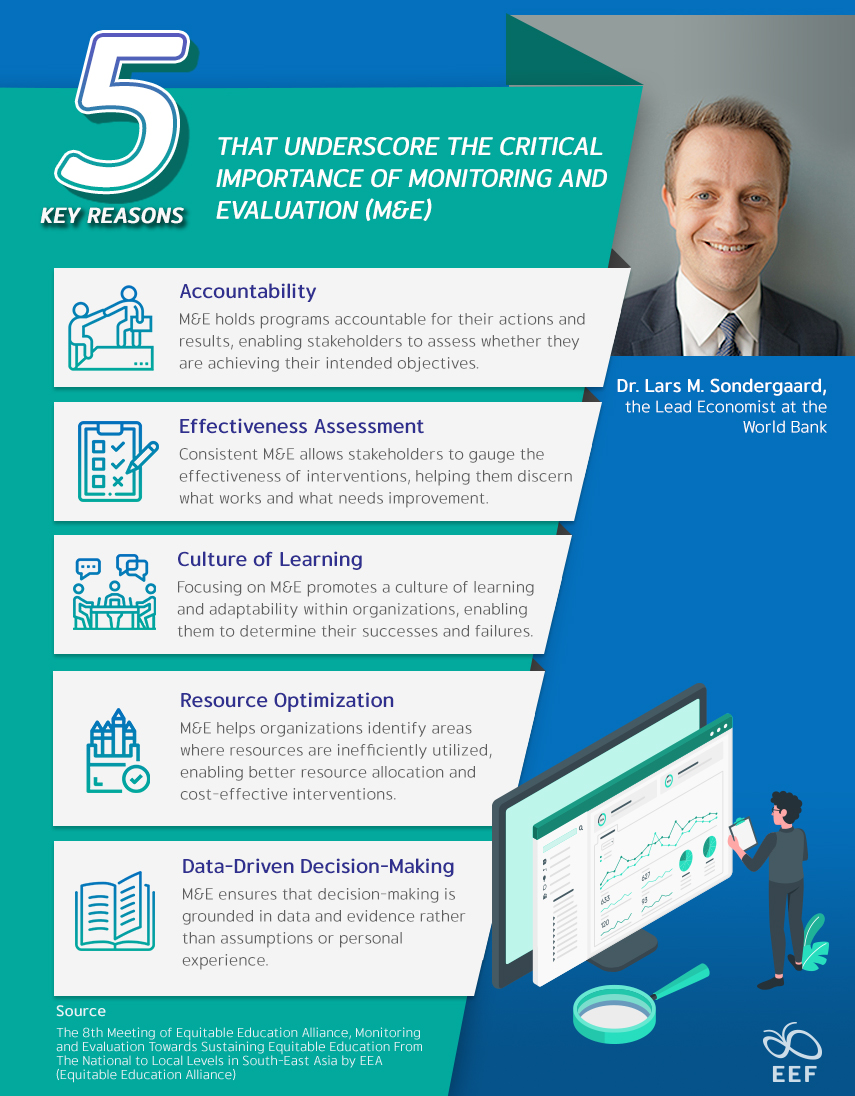 Dr. Lars M. Sondergaard, the Lead Economist at the World Bank, highlighted the significance of monitoring and evaluation (M&E) as a fundamental component of their projects. He emphasized 5 key reasons that underscore the critical importance of M&E:
Accountability: M&E holds programs accountable for their actions and results, enabling stakeholders to assess whether they are achieving their intended objectives.

Effectiveness Assessment: Consistent M&E allows stakeholders to gauge the effectiveness of interventions, helping them discern what works and what needs improvement.

Culture of Learning: Focusing on M&E promotes a culture of learning and adaptability within organizations, enabling them to determine their successes and failures.

Resource Optimization: M&E helps organizations identify areas where resources are inefficiently utilized, enabling better resource allocation and cost-effective interventions.

Data-Driven Decision-Making: Dr. Sondergaard stressed that M&E ensures that decision-making is grounded in data and evidence rather than assumptions or personal experience.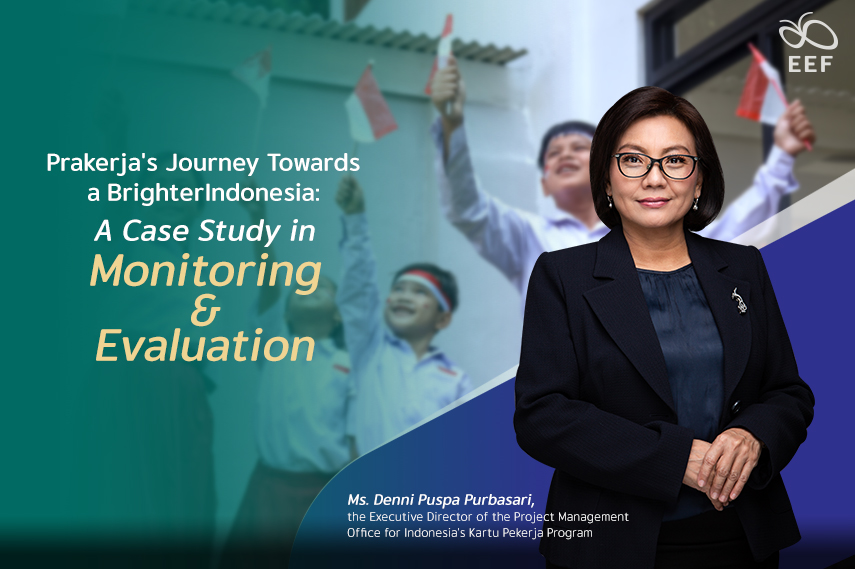 Prakerja's Journey Towards a Brighter Indonesia: A Case Study in Monitoring & Evaluation
Ms. Denni Puspa Purbasari, the Executive Director of the Project Management Office for Indonesia's Kartu Pekerja Program, unveiled the remarkable impact of this transformative initiative. Born from President Joko Widodo's 2019 campaign promise, Prakerja aims to provide educational access and social assistance to a staggering five million people annually.
Ms. Purbasari, a key architect of the program's framework, navigated unprecedented challenges, including the onset of the COVID-19 pandemic. Prakerja deftly transformed into a dual-purpose platform, offering both educational opportunities and social support. Leveraging digital technology, it expertly matches participants with relevant training courses and integrates seamlessly with job portals, fostering skill development and job placement.
The program's impact is undeniable. External evaluations by esteemed institutions like the World Bank and J-PAL revealed an 18% increase in job placements and a 10% surge in monthly income for participants compared to non-beneficiaries. Prakerja boasts an impressive 15.5% Return on Investment (ROI) and significantly boosts entrepreneurial skills and income for its beneficiaries.
Beyond these numbers, Prakerja contributes positively to the 8th Sustainable Development Goals, mainly by providing quality training and promoting lifelong learning for millions of Indonesians. 
Education Scalability Checklist (ESC): A Tool for Transformative Scaling
Ms. Maud Seghers, the Global Strategic Education Advisor at VVOB – education for development, introduced the Education Scalability Checklist (ESC) as a powerful tool for scaling up effective educational initiatives. VVOB, a critical member of the Equitable Education Alliance, collaborates with Ministries of Education across eight countries to enhance professional development for educators and school leaders.
Key principles embedded in the ESC emphasize scaling for impact rather than merely expanding innovations. Government involvement is vital for scalability and sustainability, and the checklist's scaling methodology typically involves replicating innovations within government-run education systems.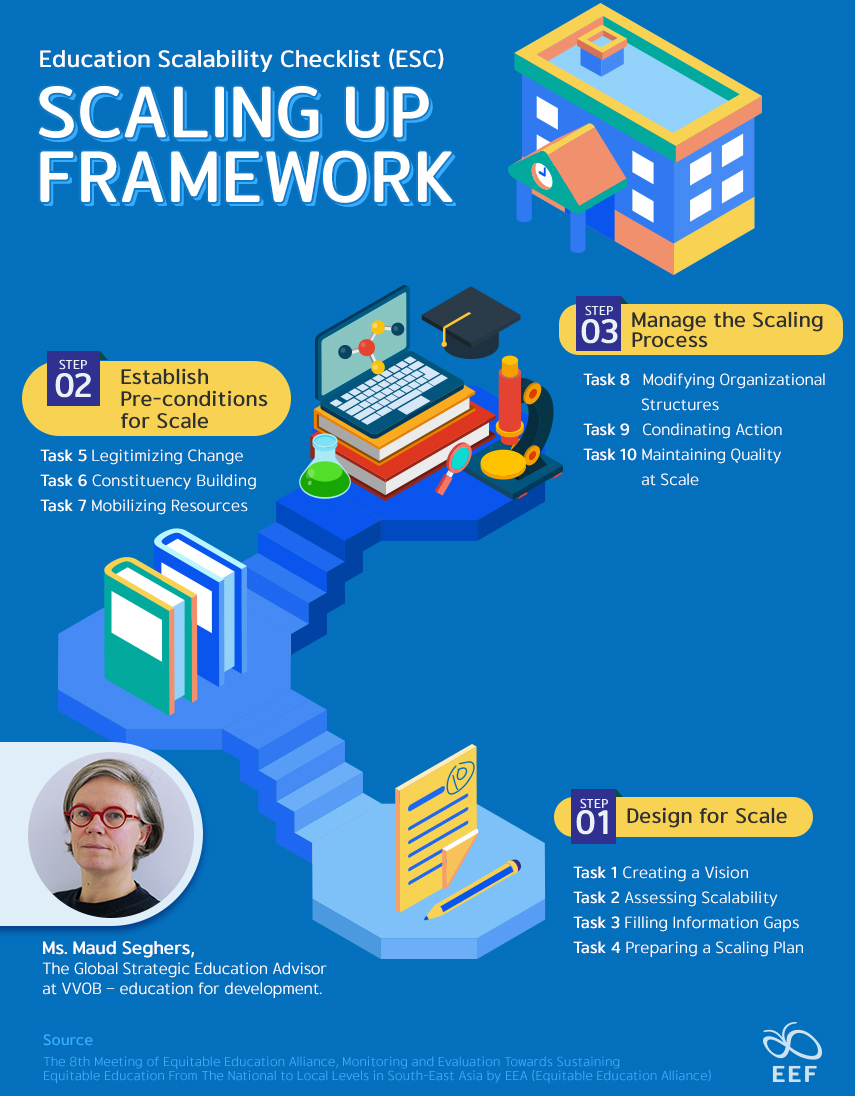 The tool comprises diagnostic and planning sheets organized around seven critical dimensions, including strategy development, credibility, support, relative advantage, transfer ease, alignment with government institutions, and funding sources. It emphasizes standardization, data-driven decision-making, and alignment with existing curricula.
Ms. Seghers illustrated the tool's use with the example of "Teaching at the Right Level (TaRL)," emphasizing the importance of assessing the feasibility of transferring initiatives to new contexts. Qualitative insights and strong relationships with stakeholders drive effective scaling plans, transitioning leadership to government partners, and ensuring financial sustainability.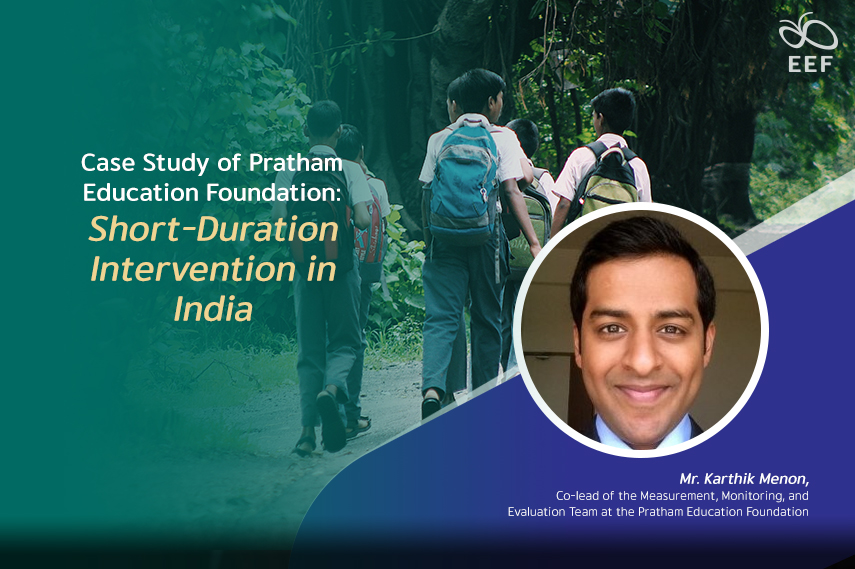 Case Study of Pratham Education Foundation: Short-Duration Intervention in India
Mr. Karthik Menon, Co-lead of the Measurement, Monitoring, and Evaluation Team at the Pratham Education Foundation Presented a case study on a short-duration educational intervention in India. This initiative aimed to enhance basic literacy skills using the "Teaching at the Right Level" approach, leveraging volunteers during the summer break. 
The intervention responded to severe learning losses exacerbated by COVID-19 disruptions, with alarming statistics showing low literacy and numeracy levels among Indian children. In just one month, the campaign aimed to improve literacy skills in three major Indian states: Bihar, Uttar Pradesh, and Madhya Pradesh, focusing on children transitioning from grade 5 to grades 6 and 7.
Over 300,000 volunteers, primarily youth, were mobilized through various channels and government support, including social media and training sessions. The volunteers underwent brief training and utilized a web-based platform for data collection and monitoring.
The initiative reached 3.4 million children with a modest budget of US$334,400. The impact was assessed using a reading assessment tool, showing a 25% improvement in reading abilities among participating children.
Quality control mechanisms, including assessment verification, in-person monitoring visits, and remote monitoring calls, were implemented to ensure program integrity and effectiveness. Data collection was centralized through the Sahyogi web-based portal, allowing real-time tracking.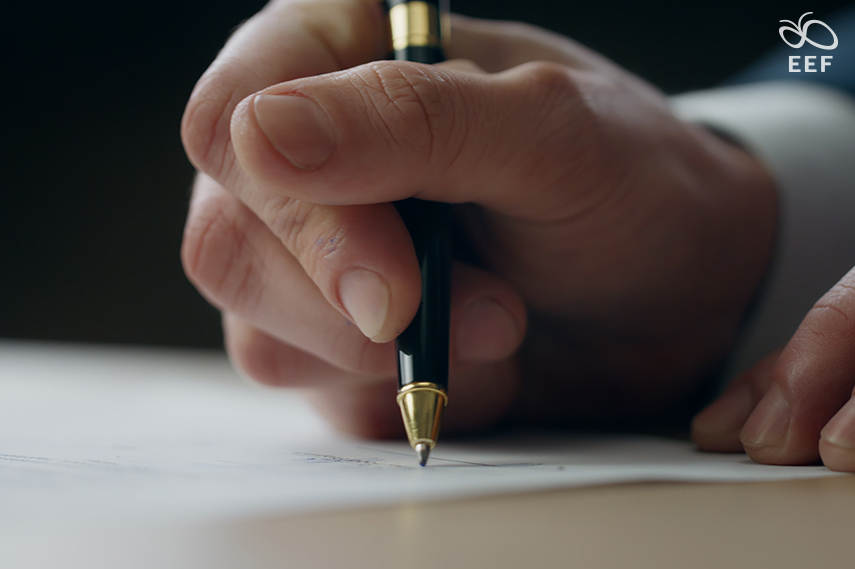 Recommendations for Monitoring Systems with Limited Resources:
 In resource-constrained settings, integrating Monitoring and Evaluation (M&E) practices directly into educational interventions is crucial. Assessments should not only serve external evaluators but also those implementing the programs. Additionally, process monitoring should evolve into a form of mentoring, with observers providing constructive feedback.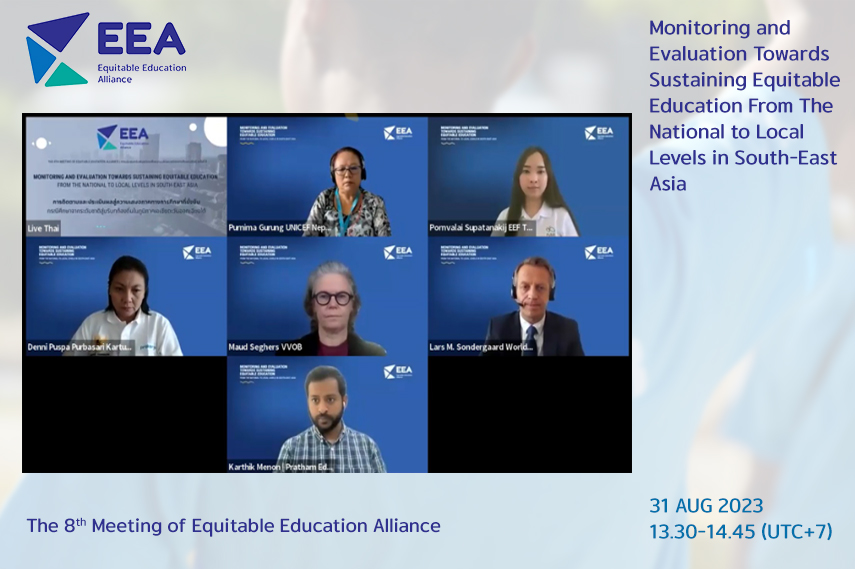 Source: The 8th Meeting of Equitable Education Alliance, Monitoring and Evaluation Towards Sustaining Equitable Education From The National to Local Levels in South-East Asia by EEA (Equitable Education Alliance) 
https://fb.watch/mL_e55WIyz/