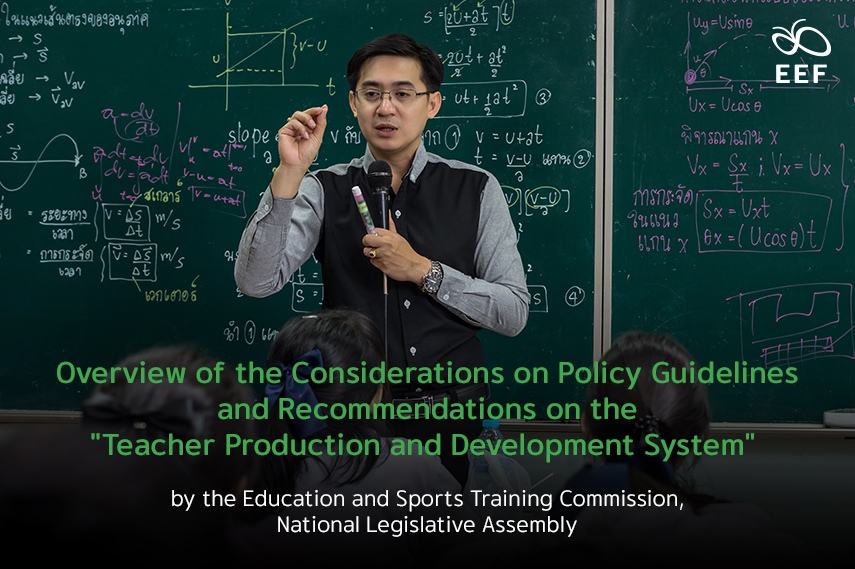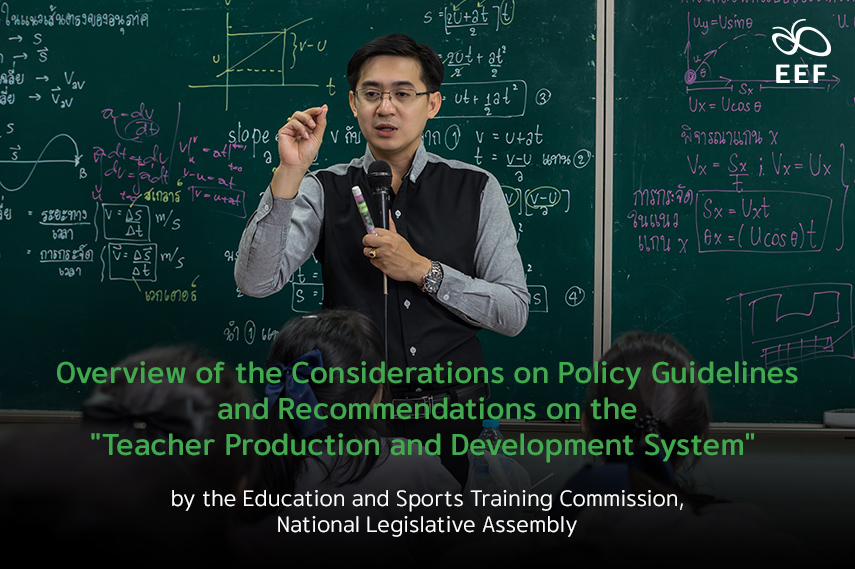 The reform of the teacher production and development system in Thailand encompasses various interconnected systems such as education, schools, teacher licensing, and teacher placement. The Committee on Education and Sports of the National Legislative Assembly has proposed policy recommendations to address the existing issues and provide guidance. The Ministry of Education supports these recommendations and is committed to implementing them continuously. However, reforming the entire system will require a significant amount of time, likely spanning several years. Under the Ministry of Education, relevant units are working in a coordinated manner to ensure the effective implementation of the reform.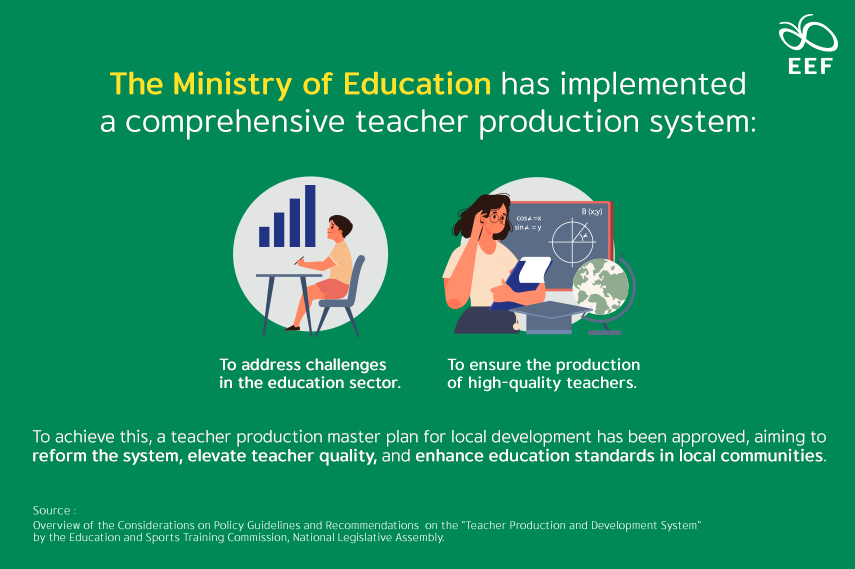 Teacher Production System
The Ministry of Education has implemented a comprehensive teacher production system to address challenges in the education sector and ensure the production of high-quality teachers. The primary objective is to meet the annual retirement rate of 25% mandated by the National Education Act. To achieve this, a teacher production master plan for local development has been approved, aiming to reform the system, elevate teacher quality, and enhance education standards in local communities. Aligned with international benchmarks like O-NET and PISA scores, the master plan aims to equip teachers with essential 21st-century skills and position them as leaders in education reform. Participating institutions will transform to enhance education quality in their regions, while continuous support and development will strengthen teachers' capabilities. The system aims to recruit 48,374 individuals in 10 cohorts from 2016 to 2025.
Regarding curriculum development, the Office of the Higher Education Commission has established standards for education bachelor's degree programs. Institutions must align their curricula with these standards to ensure standardized learning outcomes across six dimensions: moral values, knowledge, intellectual skills, interpersonal skills and responsibility, numerical and communication skills, information technology skills, and learning management skills. The Teacher Council of Thailand evaluates teacher production curricula based on the core curriculum, production, and graduate standards. These evaluations assess curricula's compliance with minimum credit and content requirements, as well as various aspects within institutions, such as student admissions, faculty members, learning resources, curriculum management, and teaching practices. Furthermore, the evaluations also assess graduates' knowledge, practical teaching skills, and expected conduct. The aim is to produce high-quality teachers equipped with the knowledge, skills, and attributes necessary for success in education.
Teacher Licensing System
The 2013 amendment of the Teachers Council and Educational Personnel Act addressed several important aspects. One key area of focus was the need to establish pathways that prepare individuals with knowledge and teaching skills before they enter the teaching profession, thereby ensuring teacher quality and meeting the demand for teachers in diverse educational institutions. However, the current preference for teachers without professional licenses by user agencies negatively impacts the education received by learners. To rectify this, coordination among relevant agencies is necessary to establish guidelines that produce qualified teachers, meeting the specific needs of both licensed and vocational teachers.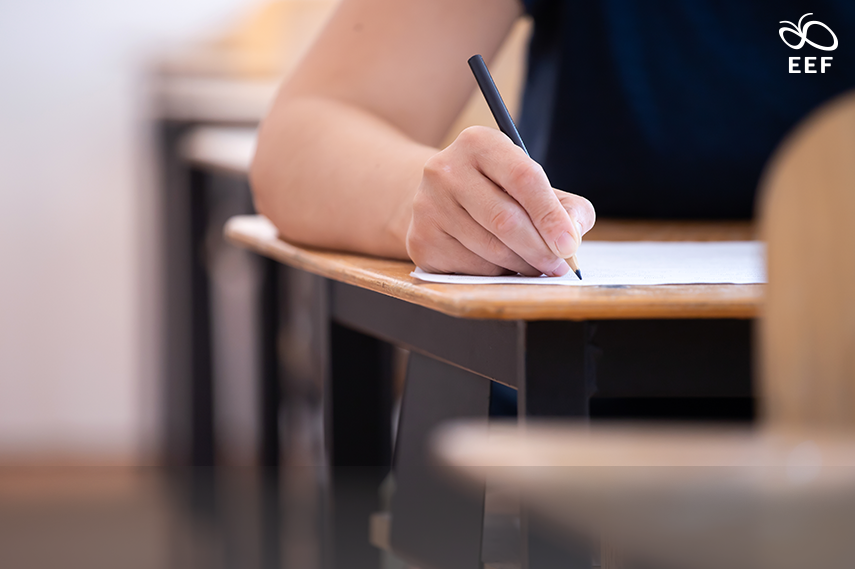 To promote equity, an inclusive teacher licensing examination process has been implemented. This process would provide opportunities for individuals from various backgrounds, including those who have studied in teacher training programs and those with expertise in other relevant professional fields required by educational institutions. By doing so, the teaching profession can be enriched with diverse talent.
Furthermore, to ensure clarity and maintain high standards, educational institutions need to establish a mandatory requirement for teachers to hold a professional teaching license. However, alternative paths and recognition of career advancement have been made available for those institutions that do not enforce this requirement. Additionally, a regular renewal process for licenses every five years has been implemented to promote ongoing professional growth and development. This process has incorporated diverse formats, methods, and procedures that cater to various forms of teacher development.
Since 2016, the Teachers Council of Thailand has been actively involved in the preparation of testing for professional teaching licenses. Experienced professionals in education and assessment have been collaborating to establish guidelines aligned with teaching standards for the testing processes, components, and procedures. Valuable feedback from stakeholders, including experts, deans, faculty members, students, employing agencies, education recipients, and parents, has been obtained to ensure comprehensive insights. 
Teacher Recruitment and Appointment Examination System 
The Office of the Civil Service Teacher and Educational Personnel Commission (OTEPC) is actively engaged in enhancing the criteria and methods for recruiting and appointing teachers. It has established a centralized standardized system, prioritizing teaching management and conducting examinations. Applicants must meet the general qualifications outlined in the Civil Service Teacher and Educational Personnel Regulations. Government agencies determine vacant positions and examination dates and oversee the preparation of the examinations to ensure standardized criteria. Provincial Education Committees (PECs) identify subject groups or specialized fields based on educational institutions' needs and manage examination preparation accordingly. Similarly, the Office of the Vocational Education Commission (OVEC) has also established centralized standardized examination criteria and assumes responsibility for examination preparation.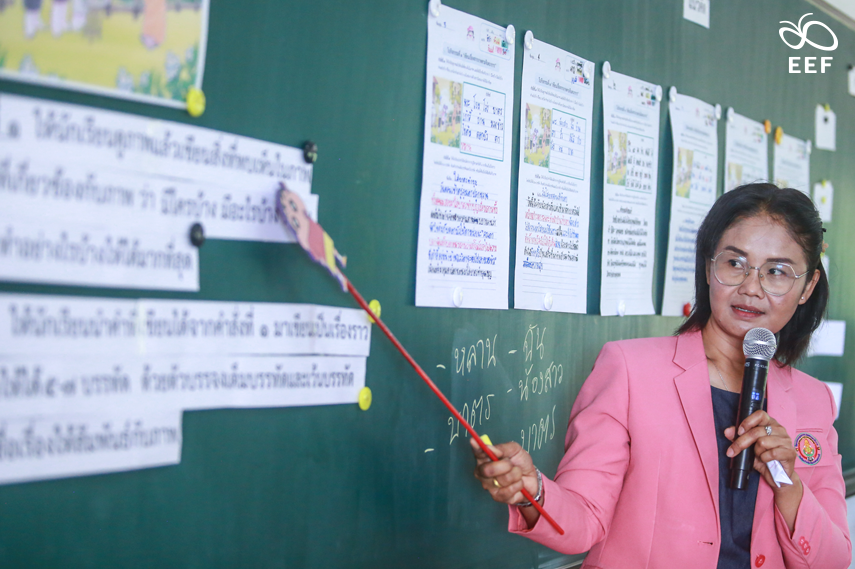 Teacher Development System
The OTEPC is instrumental in enhancing civil service teachers' and educational personnel' knowledge, skills, and competencies. It has established criteria and methods for the development of teachers at different stages, from recruitment to specialized positions. Newly recruited teachers are required to undergo a comprehensive two-year preparation and development period to enhance their job performance and professional conduct before the appointment. In contrast, in-service teachers are required to engage in at least 15 days of self-development per year, supported by their supervisors. 
The OTEPC has also improved the positions and professional standards to develop teachers who contribute to student quality. Meeting these standards qualifies teachers to apply for professional positions. Additionally, the OTEPC has established criteria and methods for the development of teachers before appointment or promotion to specialized positions within three years. The OVEC, on the other hand, focuses on developing vocational education teachers, school administrators, and support personnel. Vocational teachers are required to gain experience in business establishments for 10-20 days per year to keep up with evolving workplace technologies and real-world professions.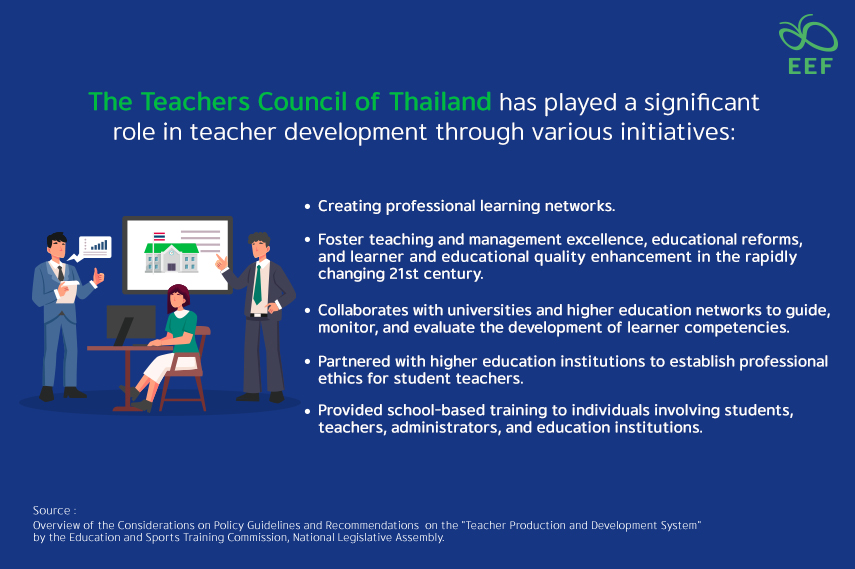 The Teachers Council of Thailand has played a significant role in teacher development through various initiatives, most notably by creating professional learning networks. These networks foster teaching and management excellence, educational reforms, and learner and educational quality enhancement in the rapidly changing 21st century. The Teachers Council collaborates with universities and higher education networks to guide, monitor, and evaluate the development of learner competencies. It has also partnered with higher education institutions to establish professional ethics for student teachers and provided school-based training to individuals involving students, teachers, administrators, and education institutions.
The Teacher Professional Development Institute (TPDI), established in 2017, serves as a high-level academic institution supervised by the Teachers Council. It focuses on policy proposals, research and innovation in education, certification of training curricula, and support for teacher training and development. The TPDI offers certified teacher development curricula that integrate content, knowledge, and professional teaching principles. Online systems are utilized for monitoring, evaluation, reporting, and course management.
Professional Position Promotion System
The Teachers Council has been engaged in enhancing the professional positions of civil service teachers and educational personnel by implementing new assessment criteria and methods. These criteria emphasize active participation in Professional Learning Communities (PLC), with a minimum requirement of 50 hours per year. Experienced teachers are also tasked with providing guidance and mentorship to their less-experienced counterparts. Additionally, the newly-introduced system for promoting professional positions aligns teacher performance with 13 criteria across teaching management, classroom management, and self-development. Teachers are required to self-assess annually, while school administrators evaluate their performance based on their teaching practices during the year. Meeting the criteria enables teachers to apply for and advance their professional positions.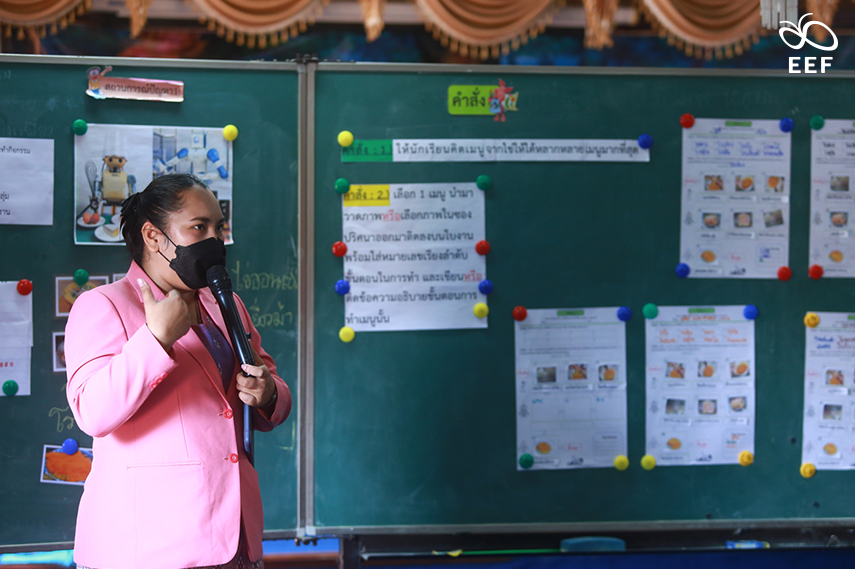 Teacher Transfer System
The Teacher Council has proposed a system for teacher appointments and transfers to address existing challenges faced by civil service teachers and educational personnel. Currently, limited opportunities for transfers exist for teachers who wish to be appointed to well-performing schools, leading to back-door maneuvering for transfer requests. To address this, a dedicated committee has been established in collaboration with provincial authorities to oversee teacher transfers nationwide. Clear guidelines have been set regarding years of service before transfer eligibility to allow for experience in different school settings. Experienced teachers can assist schools facing shortages, with additional incentives if necessary. 
Additionally, relevant laws and standards have been amended to accommodate these measures outlined in the Civil Service Teacher and Educational Personnel Act. This allows for the reassignment or transfer of civil service teachers and educational personnel with specific term limits. Furthermore, the Office of Basic Education Commission (OBEC) has established criteria and procedures for teacher transfers, and the Provincial Education Subcommittee and Committee approve transfers. Meanwhile, the Teacher for Local Development Project by the Office of the Higher Education Commission reduces transfers, promotes consistent teaching, and fosters professional learning communities within schools.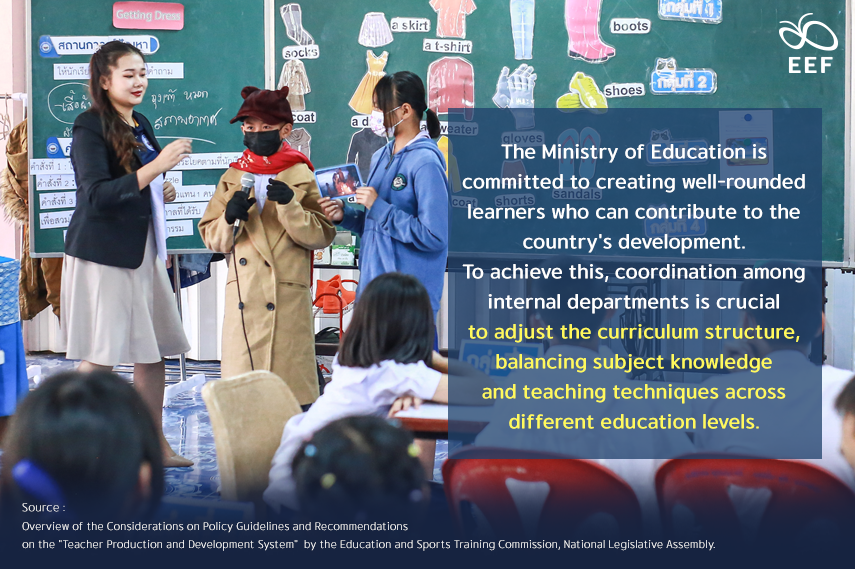 Future Directions of the Ministry of Education 
The Ministry of Education has been playing a key role in implementing the recommendations of the Committee on Education and Sports on teacher production and development. The Ministry is committed to creating well-rounded learners who can contribute to the country's development. To achieve this, coordination among internal departments is crucial to adjust the curriculum structure, balancing subject knowledge and teaching techniques across different education levels. Teachers' knowledge and professional skills, particularly in Pedagogy Content Knowledge (PCK), should be enhanced through collaboration with other teachers. Clear policies on teacher production should be established, optimizing resources and elevating teaching as a high-level profession. Teacher training institutions need to develop robust networks and cooperation to produce graduates who meet demands while monitoring and guiding their growth as teachers. Collaborative development schools can provide practice spaces for teacher candidates, with mentoring teachers guiding their learning experience. Regional integration efforts should involve various stakeholders, creating a network of training institutions responsible for producing and developing teachers for schools in the area. Establishing professional learning communities within schools can foster a self-learning environment for teachers. The Teachers Council will improve standards and certification for educational degrees and diplomas, ensuring a rigorous process and testing for teaching licenses.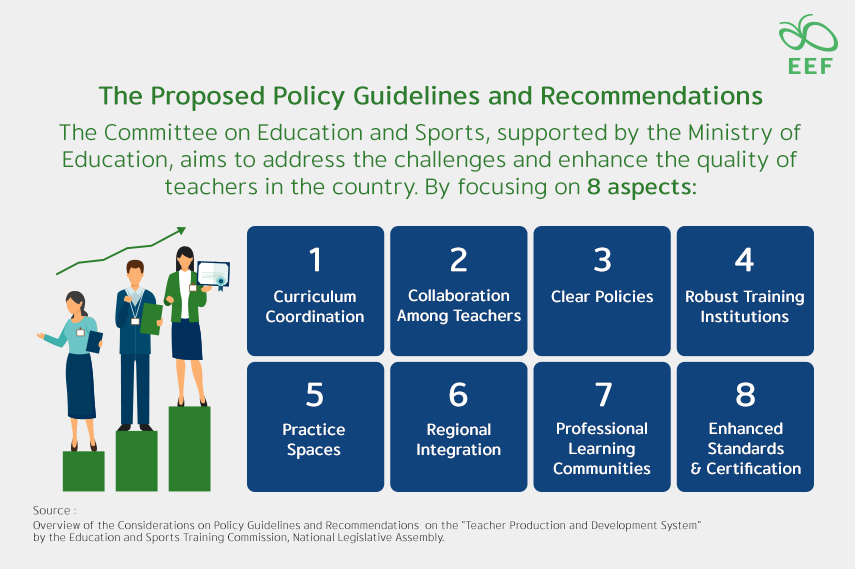 In conclusion, the reform of the teacher production and development system in Thailand is a comprehensive and ongoing process that involves multiple interconnected systems. The proposed policy guidelines and recommendations by the Committee on Education and Sports, supported by the Ministry of Education, aim to address the challenges and enhance the quality of teachers in the country. By focusing on curriculum coordination, collaboration among teachers, clear policies, robust training institutions, practice spaces, regional integration, professional learning communities, and enhanced standards and certification, Thailand is paving the way for a well-rounded education system that empowers teachers and prepares students for a brighter future. Through these efforts, the Ministry of Education is committed to creating a high-level profession and nurturing well-rounded learners who can contribute to the country's development.
Source: 
Overview of the Considerations on Policy Guidelines and Recommendations
on the "Teacher Production and Development System"  by the Education and Sports Training Commission, National Legislative Assembly. 
https://www.senate.go.th/document/mSubject/Ext83/83534_0001.PDF