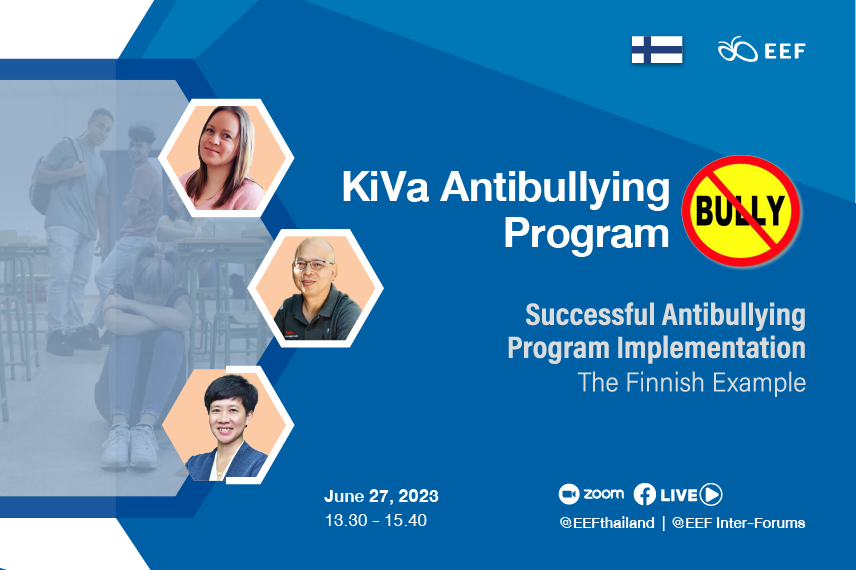 Bangkok, June 27, 2023 – About 600,000 Thai school children had been subjected to school bullying, the second highest in the global ranking according to the Department of Mental Health in 2018. With the issue still prevalent in Thai schools, the Equitable Education Fund (EEF) Thailand organized an online seminar to discuss the issue from national and international perspectives and seek a systematic measure to combat school bullying and ensure that school is a space for a safe learning environment.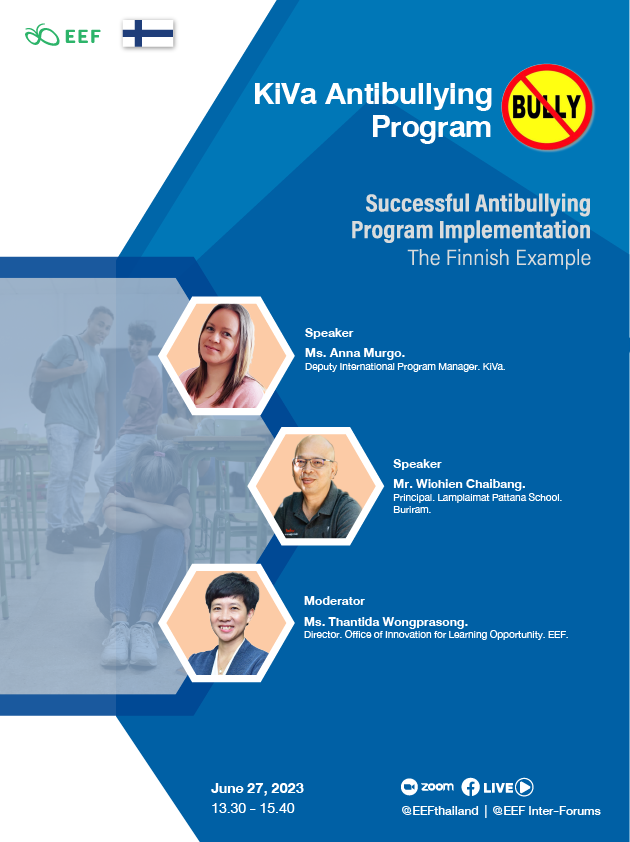 Bullying is defined as systematic aggressive behavior against a person who finds it difficult to defend themselves against the perpetrators. A UNESCO report published in 2019 revealed that the issue is still prevalent globally, with one in three children having experienced bullying. And it is no different in Finland, the happiest country in the world.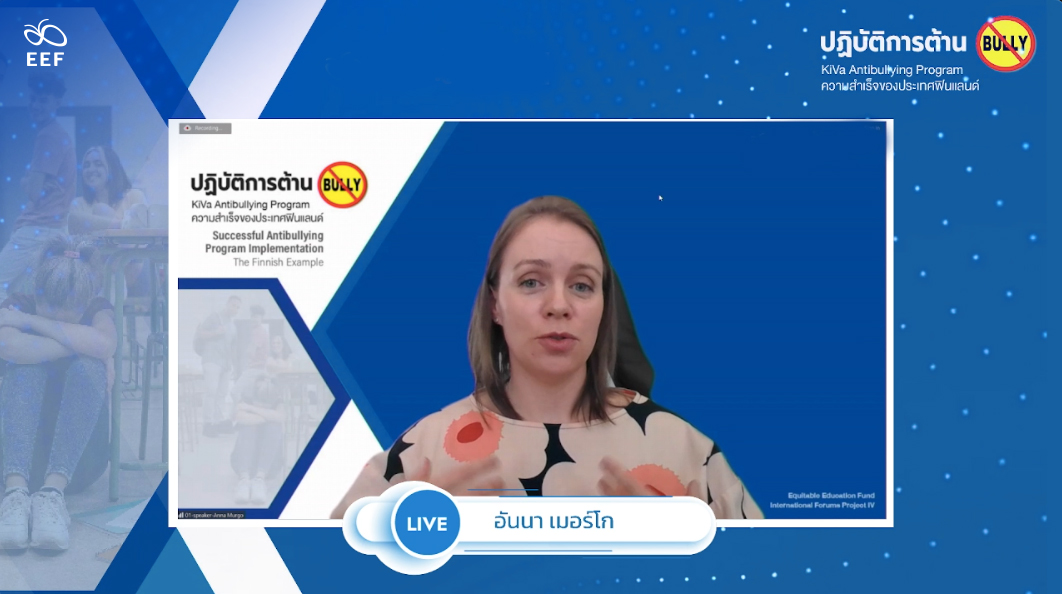 Anna Murgo, Deputy International Program Manager of the KiVa Antibullying Program
Anna Murgo, Deputy International Program Manager of the KiVa Antibullying Program, explained that Finland used to have a high number of cases of school bullying, but after the government took serious measures against the issue, it prioritized bullying prevention. And then the KiVa Anti-bullying Program was later launched. The number of bullying incidents has decreased.
The KiVa program is an anti-bullying program based on Professor Christina Salmivalli's study that bullying is not a situation between the bully and the victim but a phenomenal group. The whole group in a classroom plays an important role in a bullying situation. It provides practical bullying prevention and monitoring tools and provides teachers with clear guidelines when tackling bullying cases.
"The program aims to promote empathy to promote victimization, raise awareness about the whole peer group's role in the whole process, and provide strategies to support and help the victim," Anna explained.
In Thailand, the school bullying situation has also been critical. The most recent tragic case was on Monday (June 26), when a 15-year-old school student in the southern province of Phatthalung took a drug overdose because of classmates' bullying. Thai PBS further reported that she was ridiculed for her physical appearance.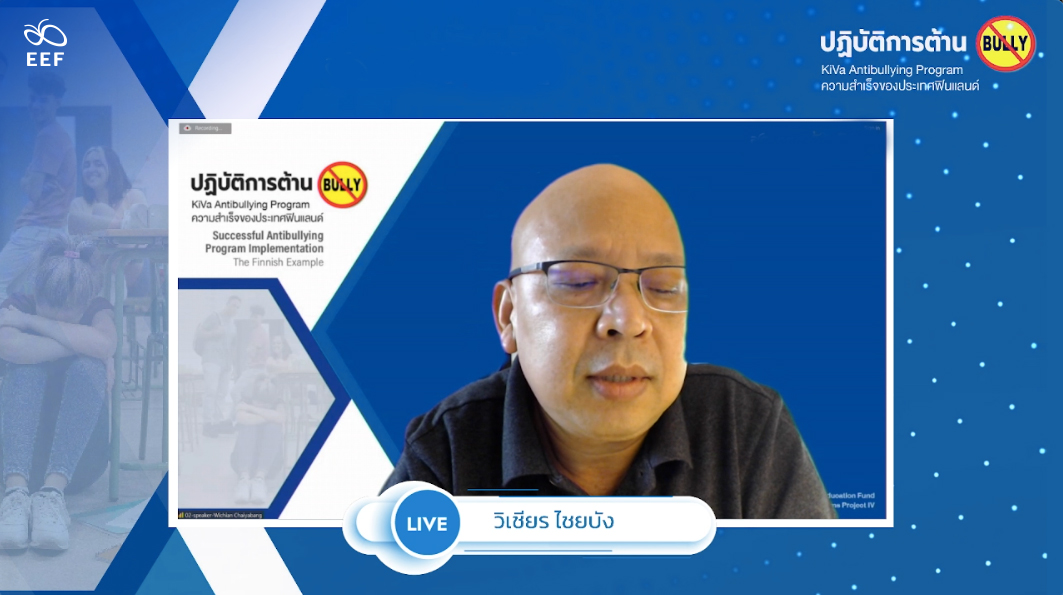 Mr. Wichien Chaibang. Principal, Lamplaimat Pattana School. Buriram.
There have been different approaches implemented to combat bullying in schools across Thailand. One of the examples is the Lamplaimat Pattana School, located in Buriram Province. Wichian Chaibang, principal of the school, explained that while the structure is important to prevent bullying, mindfulness, and empathy among students are critical to stopping the issue in the long run.
"We need to look beyond learning outcomes (of education) and ensure that school is a safe space and has positive interaction between various players to prevent fear and avoid harm. Bullying is a group phenomenon; even though you are not the bully, you may be part of the phenomenon. It is vital that we respect diversity.
"Therefore, the core idea is that all of us need to recognize and embrace people's differences and diversity. We need to see values that go beyond ourselves; we need to have empathy for others. This is the ideology that must be embraced. They need to be expressed through our behavior," he added.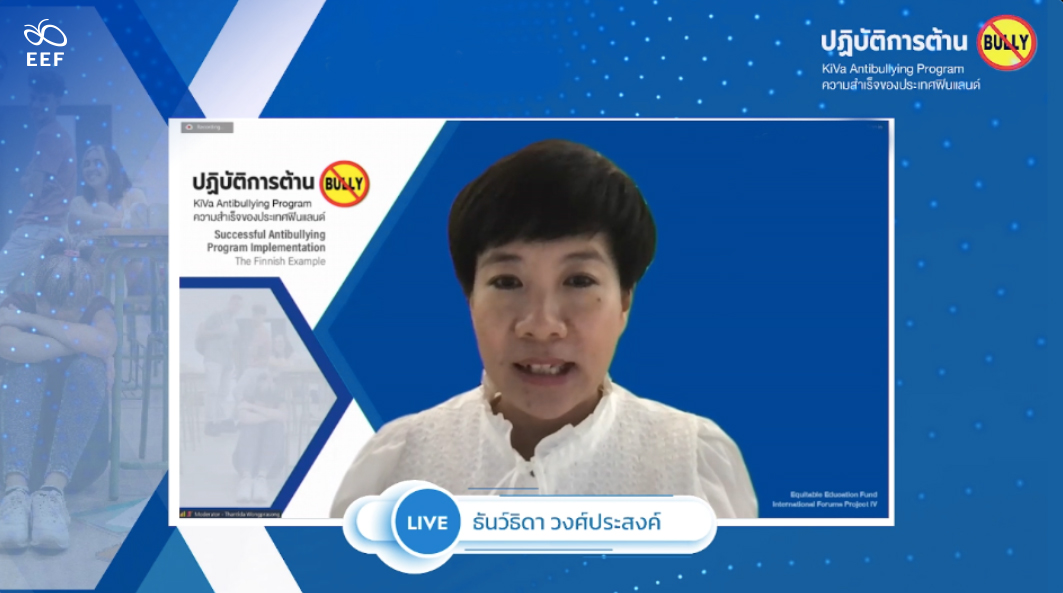 Ms. Thantida Wongprasong, Director Office of Innovation for Learning Opportunity. EEF.
After a thorough discussion ranging from the definition of bullying to the effective mechanism to prevent school bullying in Finland and Thailand, Ms. Thantida Wongprasong, Director, of the Office of Innovation for Learning Opportunity, Equitable Education Fund Thailand (EEF) Thailand, gave a conclusion to the seminar, stating that "research by the Network of Lawyers for Children and Youth in 2020 revealed that of the 15,000 surveyed, ninety percent of students taking the survey said they were at some point a victim of bullying. This segment of students accounts for around 7 percent of the total population in Thailand.
"If students are already vulnerable due to their socio-economic status, they are likely to be victimized by bullying, and they are likely to be more vulnerable psychologically. This discussion provides us with a great opportunity to reflect on our current situation, whether bullying is prevalent in our school or not, and how we are planning to cope with it and be able to prevent it in a better and more effective way."
Record of the Forum: https://drive.google.com/file/d/1GgcGdURGq-hb6IIQ8SbcGp2MKmaff6Ml/view
__________________________
For information about the seminar, please contact
 Mr. Akarin Vibultangman               Line OA: @eefinterforums             Tel. 089-497-4229
Mr. Peraporn Sinprasert                E-mail: eef.inter@gmail.com           Tel. 062-630-9995
 About Equitable Education Fund (EEF) Thailand:
Established in 2018, the Equitable Education Fund (EEF) Thailand is committed to reducing education inequality in Thailand. EEF provides financial support to disadvantaged and vulnerable children and youths, ensuring their educational, social, and mental needs are met. The organization also supports skills development projects, empowering marginalized individuals to secure steady sources of income and overcome poverty. For more information about the Equitable Education Fund and the EEF International Forums, please visit https://en.eef.or.th
 About EEF International Forums:
EEF International Forums serve as a platform for sharing knowledge, experience, views, and innovations related to education and vocational training for disadvantaged children and youths. Since its inception in 2019, the project has successfully organized on-site and online seminars, featuring speakers from various countries. The online events are broadcast via Zoom and Facebook Live, with seminar videos available for later viewing on Facebook and YouTube. For more information about the Equitable Education Fund and the EEF International Forums, please visit https://www.facebook.com/EEFInterForums?mibextid=ZbWKwL and EEF International Forums – EEF – Equitable Education Fund