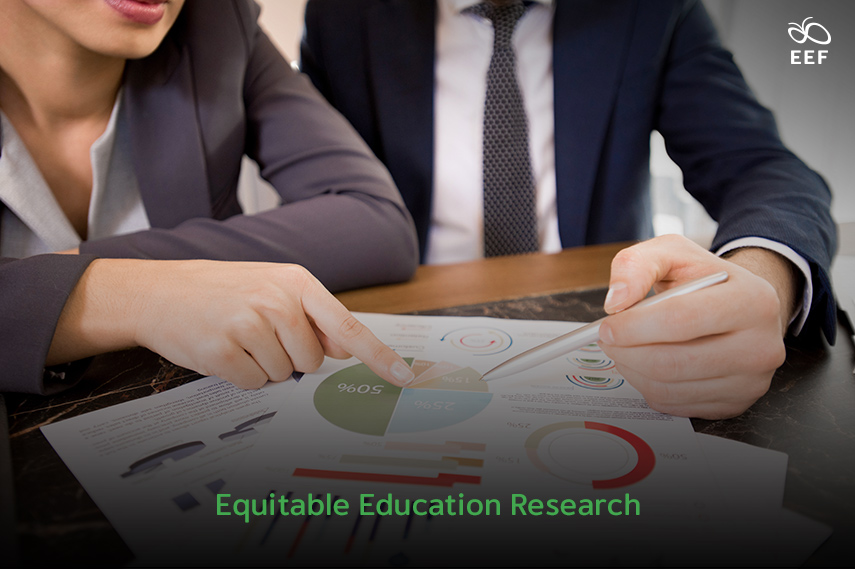 In its commitment to advancing educational equity, the Equitable Education Fund (EEF) Thailand actively implements a range of research and innovation projects. In 2022, a total of 24 projects were initiated, specifically designed to promote equal access to education, with funding allocated from the 2021 budget. Within these projects, 8 focused on developing innovative IT systems for educational equity, such as the iSEE 3.0 platform and provincial-level database and information systems. Simultaneously, 16 projects were dedicated to research and evaluation, aiming to enhance the overall quality of education. These research and evaluation initiatives addressed various aspects of educational innovation development, carefully tailored to the unique needs and circumstances of Thailand. These projects include: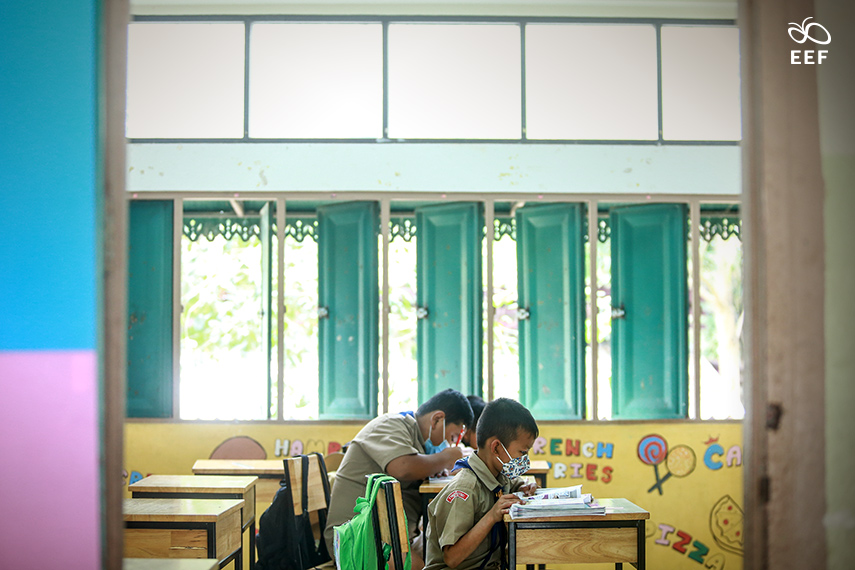 1) Developing Fundamental School Quality Level (FSQL) Standards 
The EEF, in collaboration with OBEC, the World Bank, and Thammasat University, is developing the Fundamental School Quality Level (FSQL) standards for small schools in remote areas. These standards, based on 63 indicators across four domains, aim to improve school quality. They have been tested in 275 schools and have provided a framework for monitoring progress and allocating resources effectively. Future plans include implementing data-driven resource allocation mechanisms and providing support for school development.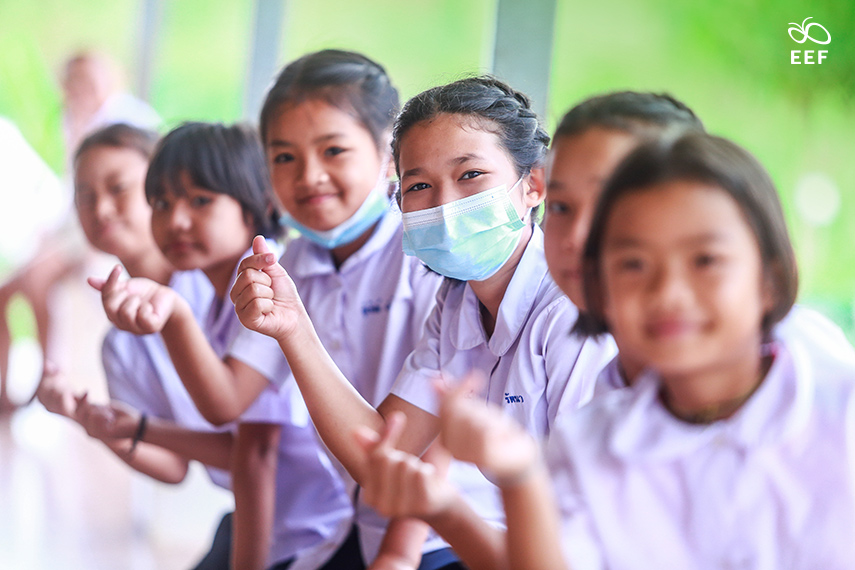 2) Understanding the Impact of Emotional and Social Skills on Academic Outcomes
In a study by the EEF involving 2,459 students aged 15-16 from 66 schools in 12 provinces in Thailand, emotional and social skills were found to significantly impact academic outcomes, particularly for disadvantaged students, irrespective of socio-economic status. Among the exceptionally disadvantaged students, 33.7% achieved high scores on the PISA test, outperforming their economically advantaged peers. Parental support, teacher involvement, and a conducive learning environment were crucial in nurturing these skills. Bullying had a negative effect, while positive emotional and social skills correlated with improved academic performance and life satisfaction, benefiting disadvantaged students.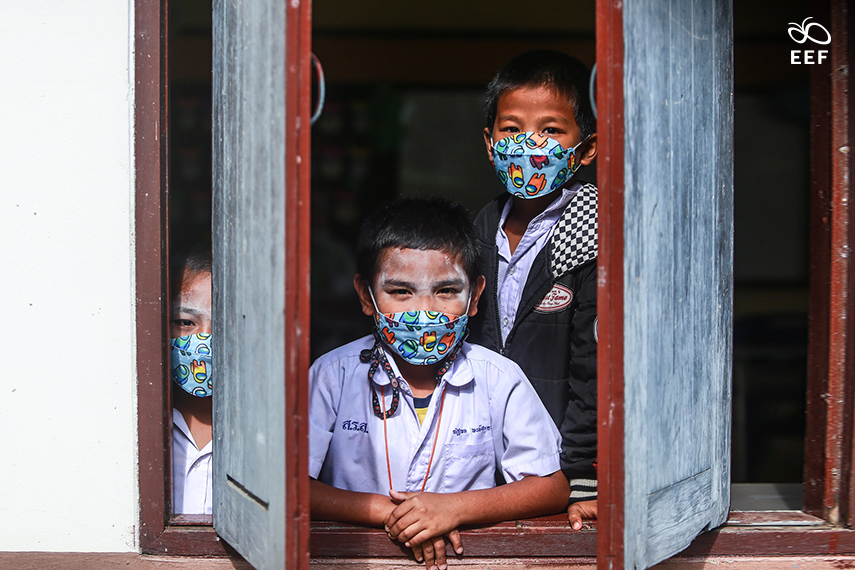 3) Promoting Educational Opportunities and Monitoring Equity-based Budgeting Policies for Underprivileged Students
In a follow-up study by the EEF, underprivileged and disadvantaged students were found to have limited future opportunities and low-income expectations compared to their peers. The study involved 3,211 students from 251 schools and identified that additional activities, such as vocational curricula and growth mindset training, improved students' intellectual skills and understanding of income calculations and career prospects. Setting clear career goals was found to enhance students' motivation to learn. The study recommended the development of vocational curricula aligned with students' future careers and the suitability of curricula at different educational stages.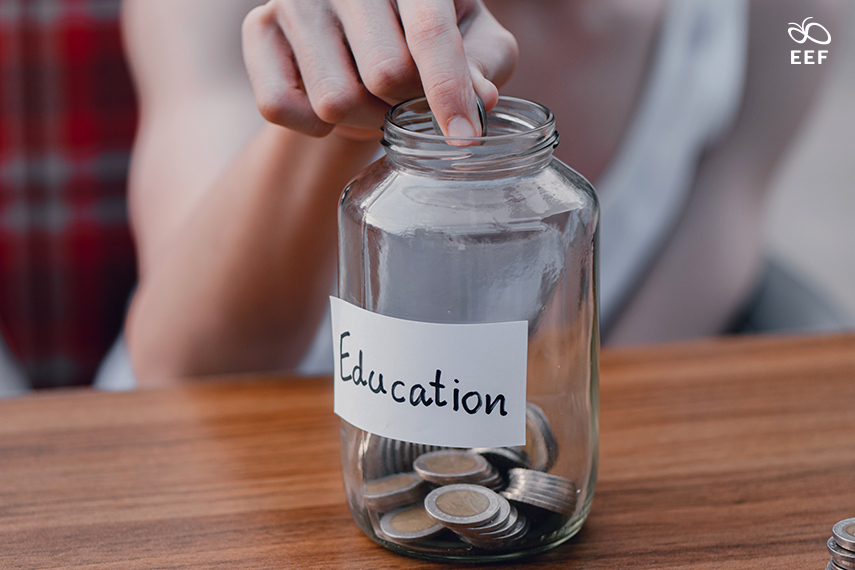 4) Investigating Equity-based Budgeting Approaches for Educational Equity
In a study by the EEF, equity-based budgeting for small schools in remote areas was examined. The analysis used a quadratic programming model and included 907 schools. The study found that the average annual budget per student in primary schools was 50,135 Thai Baht, while for secondary schools and schools providing extended opportunities, it was 43,027 Thai Baht and 51,458 Thai Baht, respectively. Small primary schools in remote areas faced higher costs, with an average of 52,150 Thai Baht per student per year. The study recommended differentiated resource allocation for remote and plain areas, as well as addressing teacher shortages in small remote schools.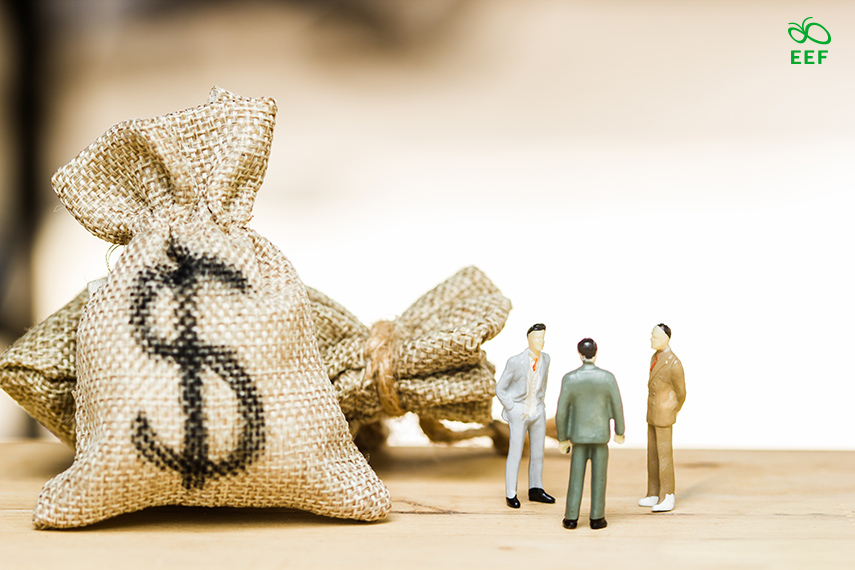 5) Advancing Financial Innovations for Educational Equity
According to a study on education in Thailand, the country has been increasing its annual investment in education. The government contributes around 60% of the education budget, while the private sector, including families and businesses, contributes about 20%. The private sector's interest in supporting education is driven by tax incentives and the adoption of ESG principles. The study proposed three investment approaches: an education bond/loan, a crowdfunding platform, and an outcome-based contract. The EEF has begun implementing ideas from the study by partnering with private companies to raise funds through convertible bonds, focusing on preventing school dropouts and benefiting vulnerable children.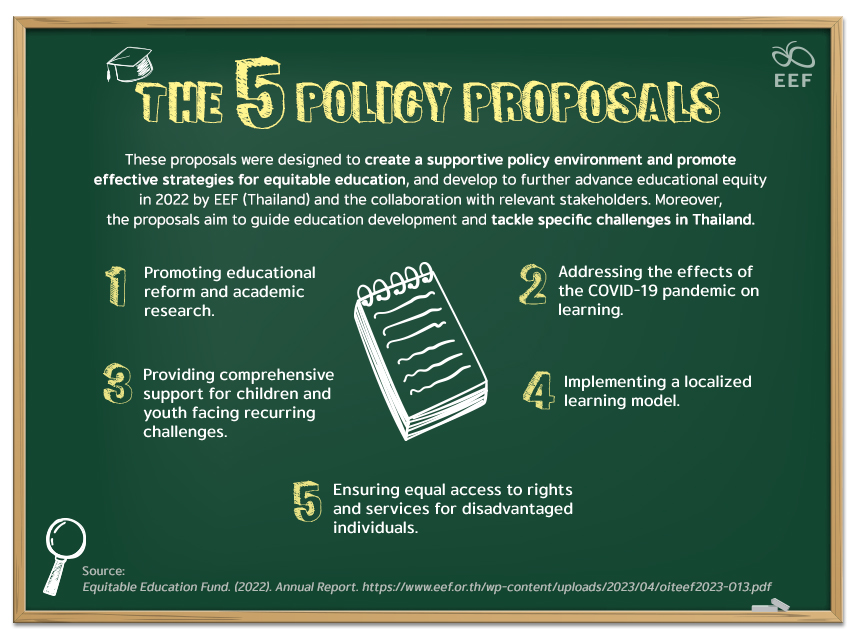 Additionally, 5 policy proposals were developed to further advance educational equity in 2022. These proposals were designed to create a supportive policy environment and promote effective strategies for equitable education.
The EEF has developed policy recommendations and implemented them through collaboration with relevant stakeholders. The policy proposals cover five topics: 
1) promoting educational reform and academic research;
2) addressing the effects of the COVID-19 pandemic on learning;
3) providing comprehensive support for children and youth facing recurring challenges;
4) implementing a localized learning model; and
5) ensuring equal access to rights and services for disadvantaged individuals. These proposals aim to guide education development and tackle specific challenges in Thailand.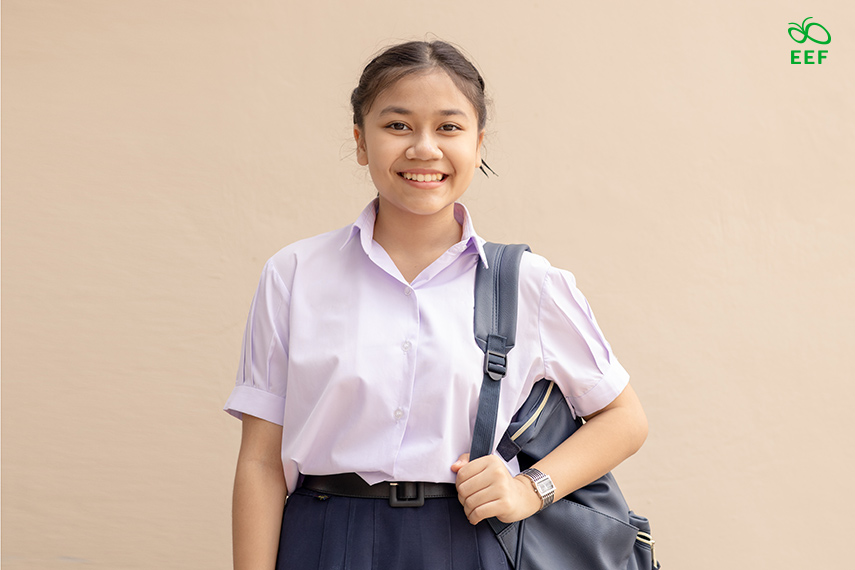 In terms of expanding academic networks for educational equity, there are 107 networks that foster collaboration among researchers, entrepreneurs, social innovators, and educational institutions. These initiatives aim to create cooperation and synergy among these entities. For instance, one initiative focuses on integrating student databases to support financially disadvantaged students and prevent dropouts.
Source: Equitable Education Fund. (2022). Annual Report.
https://www.eef.or.th/wp-content/uploads/2023/04/oiteef2023-O13.pdf