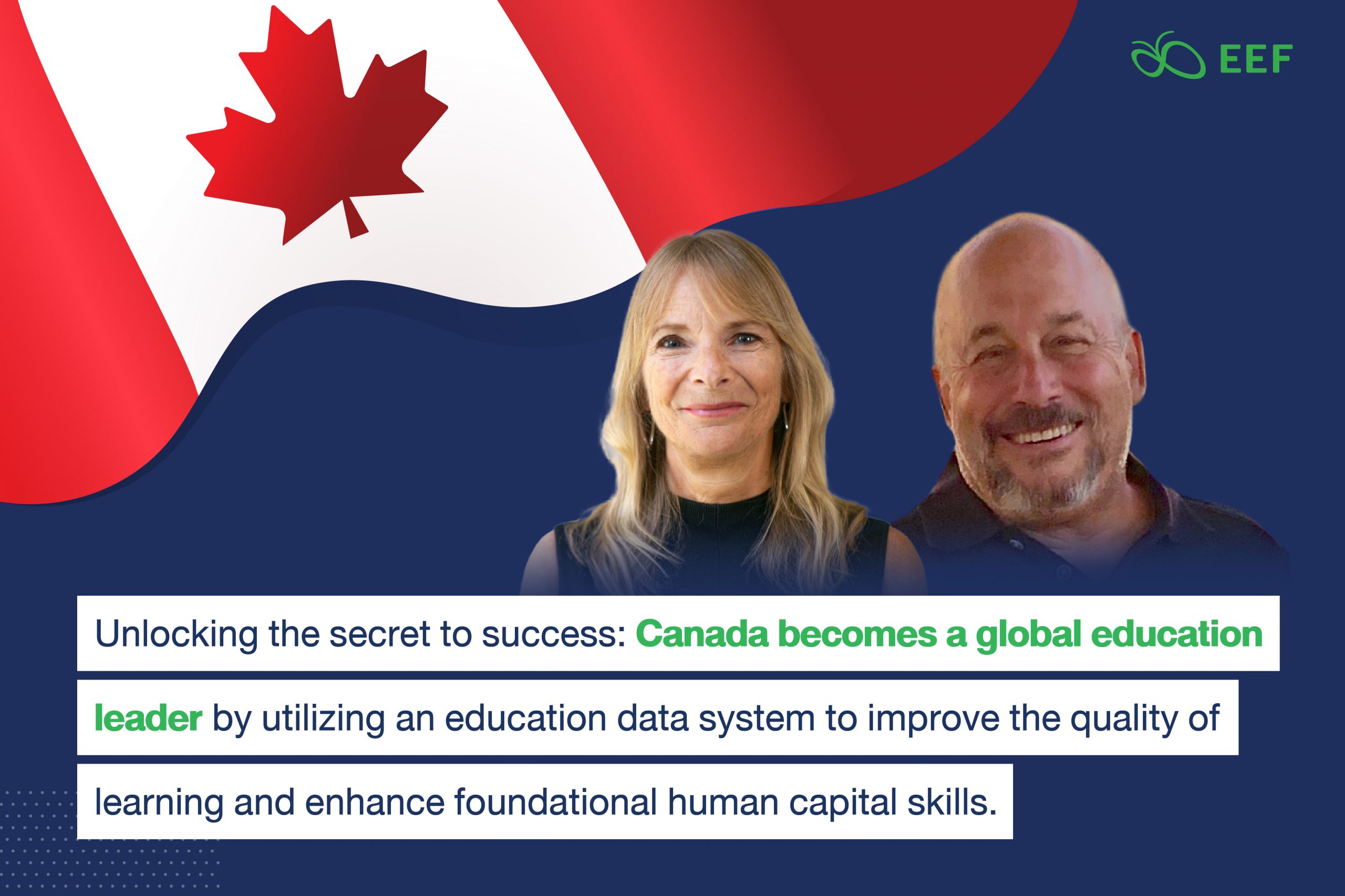 Human capital refers to the cost of human resources, which consists of skill, experience, knowledge, creativity, personality, and other intangible personal assets that enable individuals to create economic value for themselves, organizations, and society. The education system plays a vital role in developing human capital by helping students grow into quality individuals who can drive the country's economy forward.
Even though agencies and organizations realize that education is essential for the development of a country's personnel, many children can't access quality education, which hinders the development of their human capital skills. Additionally, many schools are investing in advanced skills development without strengthening the basic skills of the students.
The Equitable Education Fund (EEF) Thailand, in cooperation with the World Bank, established "The Policy Forum: Power of Skills to Develop the Readiness of Thailand's Future Labor Market" on March 31st, 2023. The forum aimed to propose policies that could address the educational inequality faced by small schools in remote areas and to sign a partnership framework between the EEF Thailand and the World Bank. The opening remarks were delivered by Dr. Kraiyos Patrawart, Managing Director of the Equitable Education Fund (Thailand), and Dr. Fabrizio Zarcone, Country Manager for Thailand at the World Bank.
At the event, there was a presentation of "Evidence-based Policies and Programs to Foster Foundational Skills: A Case Study from Canada and Emerging Global Best," moderated by Cristian Aedo, Practice Manager for Education, East Asia and Pacific, World Bank, and two academic speakers from Canada, Scott Murray and Jennifer Adams, shared their experiences.
Scott Murray, former Director General of Economics and Social Statistics at Statistics Canada, former Director of Learning Outcomes at UNESCO, and President of DataAngel, made significant contributions to the establishment of international skill assessments, including the International Adult Skill Assessments, Adult Literacy, and Life Skills Assessment of the Organization for Economic Cooperation and Development (OECD). He shared his efforts to improve education systems for many decades through the collection and analysis of data at the policy forum.
Scott explained that lots of data about education systems matter, but what truly matters is what students have learned. He found that most education systems treat data as a tool for control and management. However, the school system does not work like a business. The educational data is not a tool for controlling the system but rather means a way for cultural exchange to support shared goals and build on success.
"So always keep that in the back of your mind. You're on a collective cultural journey rather than making a business relationship." Scott said.
Scott gave an example from the "New Zealand Competent Children Longitudinal Study: Hierarchy of Skills". He pointed out that efficient skill acquisition depends upon the mastery of lower-order "enabling" skills such as literacy and logical problem-solving skills, which influence the development of learning mathematics. This has profound implications for educational reform and improvement because the relationships can indicate each person's expertise. However, the hierarchy of skills consists of 5 skill levels: knowing, playing, working, solving, and inventing.
"Investing in higher levels in a hierarchy of skills without focusing on lower-order skills first will end up wasting resources. We'll fail to yield the expected skill gains and rates of return on investment until students have an adequate level of lower-order skills," Scott said.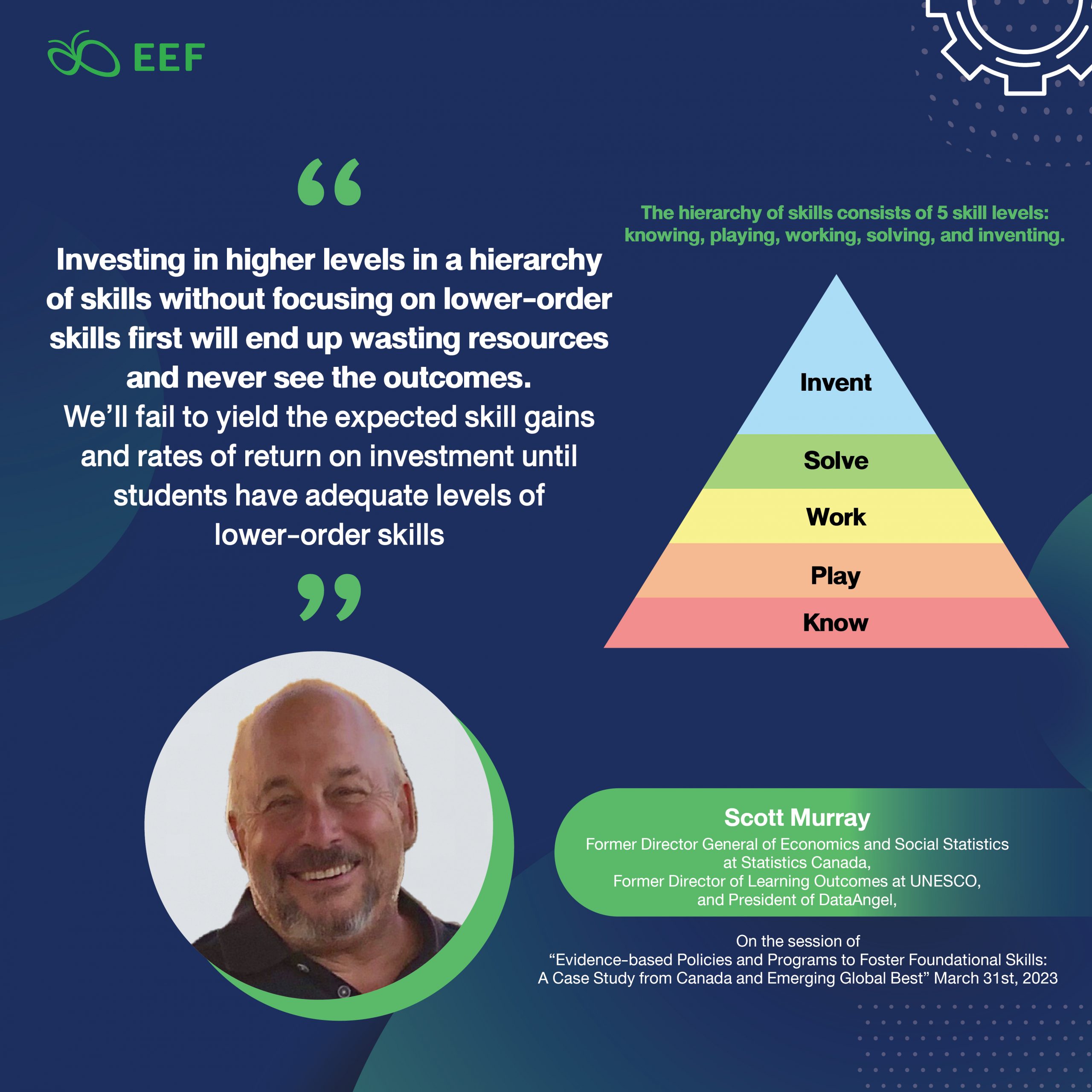 Scott also brought the data from the Programme for International Student Assessment (PISA), which showed the differences in the relative reading skills of each state, taking into consideration factors such as family history, school context, and teaching processes in each school. This data was adjusted appropriately to compare the abilities of students from each state.
For example, Alberta, Canada, has a high GDP per capita, which may make it seem that the reading skills of students in this state are at the highest level, compared with Prince Edward Island which has a lower GDP per capita. However, after adjusting for obvious differences, it was found that Alberta's school system is underperforming, while Prince Edward Island is outperforming.
Furthermore, Scott explained how can Quebec uses the data to improve the quality of education. Quebec used to have an educational performance that was ranked at the bottom of the world but found a way to be at the top of the educational performance rankings after almost 50 years of effort. They achieved this through the following elements:
The 40-year Quebec's secret sauce: Moving forward to be a global education leader.
Reasonable targets that reflect local conditions
Discretionary funds for schools to spend geared to need
Teachers with the requisite skills
Repeated school-level measures to track progress
A system for identifying, sharing, and acknowledging promising innovations
Supports for families outside the education system, e.g., health, dental, and eye care
At the same time, Jennifer Adams, former director of education at the Ottawa-Carleton District School Board and editor-in-chief of the Knowledgehook Signature Leadership Series, shared her experience regarding the Building on Evidence to Improve Teaching and Learning initiative in Ottawa, the capital of Canada.
Jennifer indicated that the priority of improving education is not only improving literacy and numeracy skills but also extending to social and emotional learning and life skills to ensure the success of each student's life.
"We know that all parents, regardless of their background, want their children to be successful in their work, to have strong mental health, to be excellent in school, and to succeed in life," Jennifer said.
Jennifer also mentioned that, back in 2011, when she became the head of the school district, she and her team went out for community consultations to ask parents, students, business leaders, and post-secondary institutions about the skills and characteristics they would like every student leaving their school district to possess.
After the consultation at that time, Jennifer and her team received interesting responses. They established 5 characteristics and 5 skills, which are still being used as a strategy nowadays, even after more than 12 years.
The characteristics and skills that students will need when they leave the school district are as follows:
5 Characteristics
Goal-oriented
Resilient
Globally Aware
Collaborative
Innovative/Creative
5 Skills
Critical Thinkers
Academically Diverse
Digitally Fluent
Effective Communicators
Ethical Decision Makers
In addition, the school district in Ottawa will be sending out a survey to students in grades 7–12 to ask them how they feel about their competencies in each of these areas. The survey results showed that students in grades 7–12 felt the most confident in the area of digital fluency, with 82% of them reporting good or excellent skills in that area. However, the least confident area for students was goal-setting skills.
"As educators, we thought about something that we need to put more focus on. How do we help our very youngest learners to set goals and think about what they want to do and to be at 4 and 5 years old or when they're entering the kindergarten system until they graduate high school level." Jennifer said.
Jennifer explained that the school districts in Ontario work in conjunction with the central Ministry of Education, and they implemented major policy reforms in the curriculum, starting with mathematics. They built social learning skills into the curriculum, which allowed teachers to think about how to embed social-emotional learning into different subject areas. Mathematics is probably one of the more challenging areas to do this and the ministry made the parallel between social-emotional learning skills and building competencies in mathematical processes. When the ministry embeds policy into what teachers use every day, it has a positive impact.
Example of Embedding SES (Social-Emotional Skill)
in the Ontario Math Curriculum, Canada
Social-Emotional Learning Skills
Identify and manage emotions.
Recognize sources of stress and cope with challenges.
Maintain positive motivation and perseverance.
Build relationships and communicate effectively.
Develop self-awareness and a sense of identity.
Think critically and creatively.
Mathematical Process
Problem-solving
Reasoning and proving
Reflecting
Connecting
Communicating
Representing
Selecting tools and strategies
"When students had high social-emotional skills, they tended to have better relationships with teachers and well-being. There is a connection between social-emotional learning and learning well-being; those pieces all have to come together in our education systems," Jennifer said.
Source:
Event News: Here
Event Picture: https://en.eef.or.th/media/
Event Record: https://web.facebook.com/EEFthailand/videos/235613462187952