The Equitable Education Fund or EEF (Thailand) was established in 2018 under the Equitable Education Fund Act B.E. 2561 (2018), as much as a new independent mechanism of equitable education funding as a solution to the lack of equitable funding for education in Thailand. With a focus on demand-side reform, the Fund aims to transform the education system in Thailand through the Equitable and Innovative Funding Model that prioritizes financial support for financially deprived individuals.
Education is a human right that should be accessible to all, regardless of their background or standing. The EEF recognizes this and is committed to ensuring that everyone has access to quality education. With the help of stakeholders from various sectors, the Fund invests in educational opportunities and works to reduce educational inequality. In doing so, it focuses on preventing learners from dropping out of school, especially during compulsory education, and supports education management within communities to ensure optimal learning outcomes for all learners.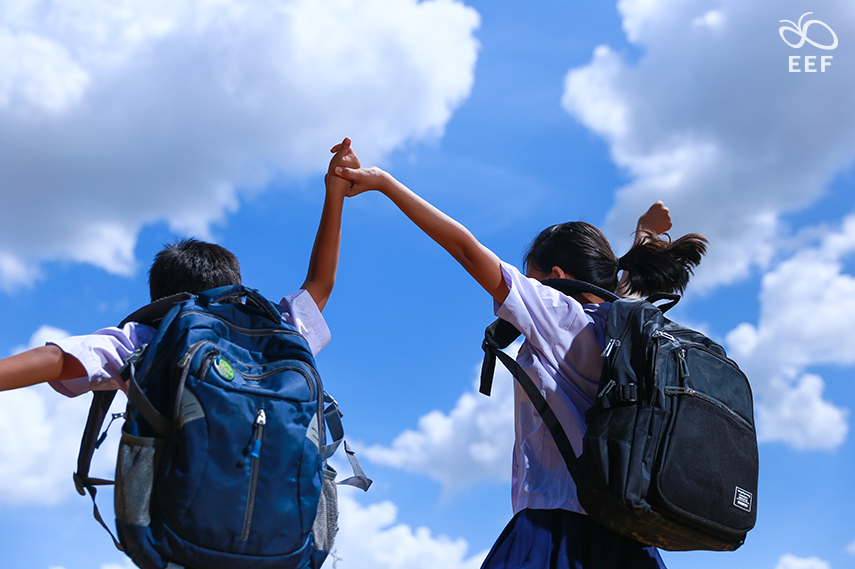 Furthermore, the EEF is also dedicated to building a strong network of connectivity to address educational inequality. It works to offer alternative education programs to give those outside the education system access to learning throughout their lives for personal and professional development through alternative education. Besides, the Fund creates and leverages innovations, bodies of knowledge, and databases that can drive systemic change and mobilizes resources to ensure equitable and inclusive access to quality education for all learners. 
Ultimately, the EEF seeks to transform the education system in Thailand and beyond, leading to an improved quality of life and learning for every child. By focusing on financing and utilizing a demand-side approach to education reform, the Fund parlays a more equitable and innovative funding model that emphasizes the importance of financially deprived persons into driving change in the education system and ensuring that quality education is accessible to all.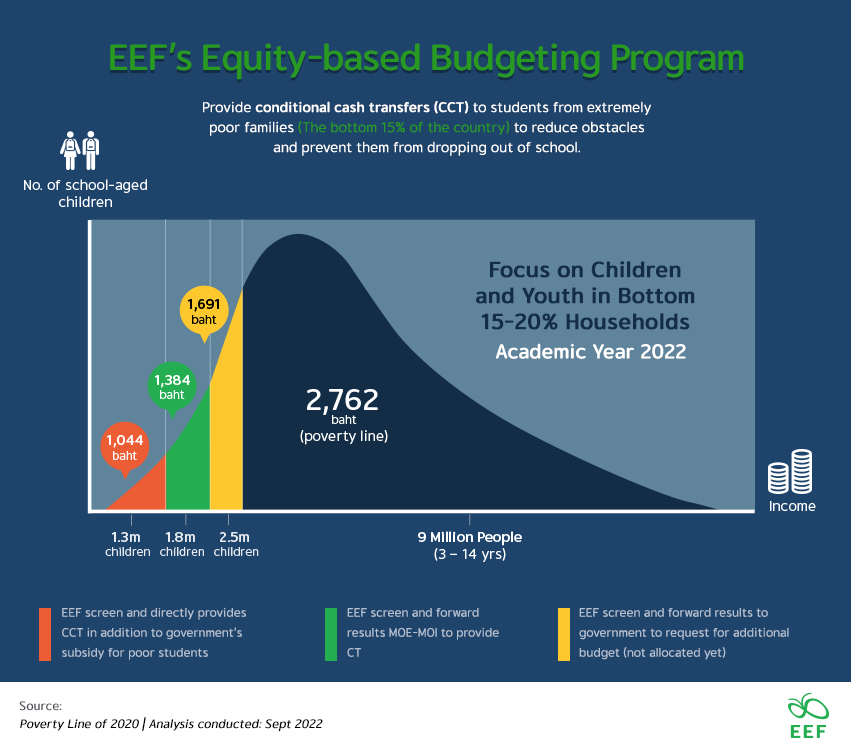 In Thailand's compulsory education system, there are a staggering 9 million children between the ages of 3 and 14 years old, 2.5% of which come from households that earn less than the poverty line, a heartbreaking reality that some of the country country's youngest and most vulnerable are facing financial hardship at such a critical time in their lives. It is an urgent mission to ensure that these children are given the resources and support they need to thrive in their education. 
To address this, the EEF has been actively taking action by conducting a thorough poverty screening to identify the poor and extremely poor children, ones whose households earn in the bottom of 15-20% of the country and countryearn less than XXX and a shocking 1,000 baht per month per person, which is below the global poverty line. With this screening process, the Fund is committed to finding every single one of these children and providing them with a helping hand, in an effort to make sure that no child falls through the cracks and that every young mind has the opportunity to reach their full potential.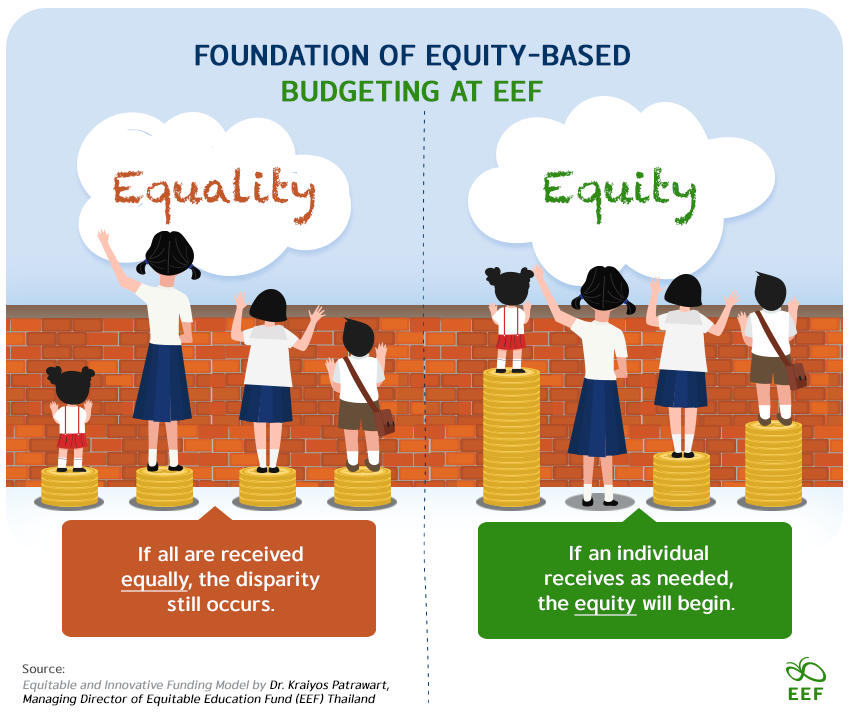 Many children have dropped out of school during these trying times of the pandemic, and poor and extremely poor children are particularly at risk. This is a worrying trend that cannot be overlooked. The EEF is leading the charge in ensuring that these children are not left out and behind. It focuses, first and foremost, on identifying financial barriers that prevent these children from succeeding in their education, such as a lack of resources, investments, or teachers, and works hard to eliminate them for each of the children until equity is achieved.
However, equity is not the same as equality. Giving everyone the same amount of resources is not going to cut it. Equity means providing each person with the specific resources they need to navigate the education system and realize their full potential. It is about taking an output-based approach that takes into account the unique needs of each individual, as opposed to an input-based approach like equality that is about providing each person with the same amount of resources. The EEF is not simply throwing money at the problem and hoping for the best; It is harnessing its expertise to identify exactly what these children need in order to succeed and allocating budgets to provide targeted and effective solutions that address their unique challenges. This approach ensures that every child has the opportunity to succeed, regardless of their financial situation, that no child is left behind.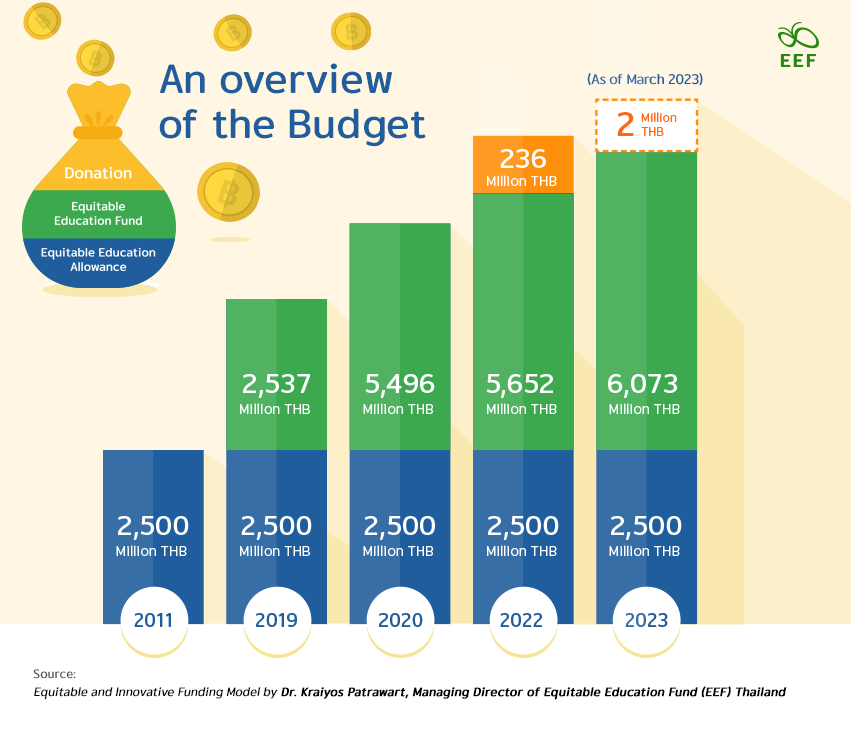 The education system in Thailand seemed to have not taken enough consideration of the exact needs of extremely poor children. With a measly budget of only 2.5 billion baht, which unfortunately remains the same through 2023, it was clear that something needed to change. For years, these children had been left behind — their financial needs unattended to, their potential unrealized, and their future uncertain. It was not until the EEF was established in 2018 that things started to change with its innovative programs that are conducive to a truly equitable education system. The EEF has since been working on conducting insightful research to empower teachers and schools to identify these financial gaps that are holding extremely poor children back from reaching their full potential. The Proxy Means Test (PMT) is just one of the many tools the Fund employs to identify the specific financial barriers that are preventing these children from succeeding in school. By analyzing various indicators, it is able to determine the specific resources needed to help each child navigate the education system and achieve their goals.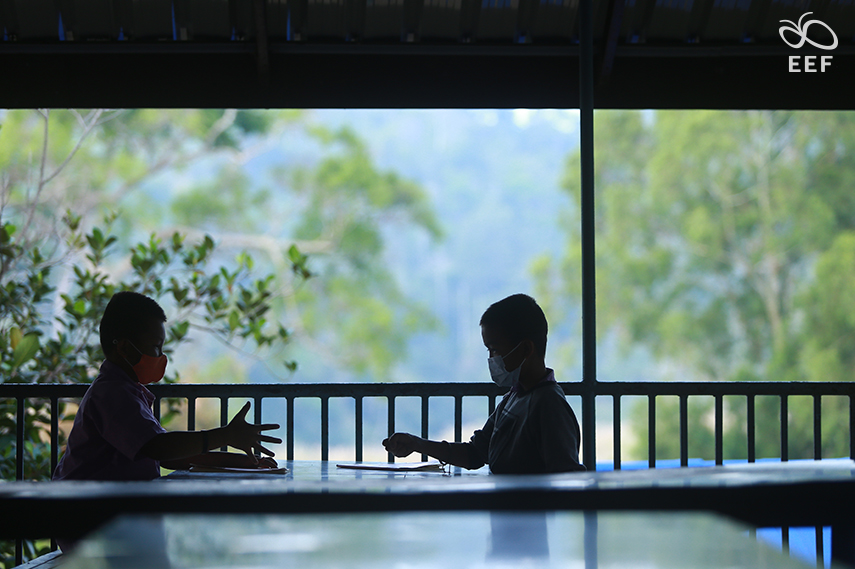 Besides, the power of technology has been leveraged to ensure that the most disadvantaged children have the resources and support they need to succeed in school in the most streamlined manner. To determine which children are most in need of financial assistance, the EEF has developed a revolutionary smartphone application that has changed the way teachers conduct home visits in Thailand.  Using their smartphones, teachers can now collect household information and photographs and conduct poverty screenings using the PMT right during home visits, all at the touch of a button, for local education administrators to later verify the data with e-signatures. With over 400,000 teachers already on board, this application is making paperless home visits a reality, saving time and resources while making the process more efficient than ever before. With this technology-driven data, the EEF can allocate resources and funding to provide targeted and effective solutions to bridge the financial gaps and ensure that each child has the resources they need to succeed.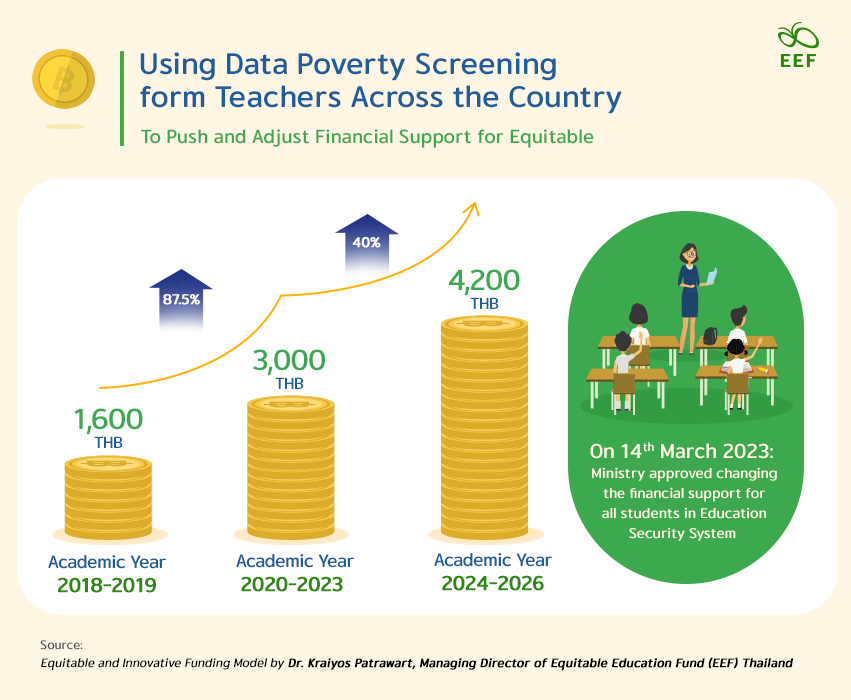 And the results have been nothing short of remarkable. Since the establishment of the EEF and thanks to its continuous efforts, extremely poor children have seen a significant increase in budget allocation, especially in the wake of the pandemic. In 2019, the budget allocation doubled, and in 2020, it tripled, providing these children with the resources they need to succeed. This has in turn resulted in an impressive increase in the number of extremely poor children who proceed to higher education.
Recently, the Thai government has just given the green light to another astounding 40% increase in financial support for all extremely poor children in the Education Security System for the academic years of 2024-2026. This move will see the annual amount given to each of these children surge to a generous 4,200 baht per year. The Education Security System is a comprehensive program that tracks children from kindergarten all the way through to university. By creating detailed profiles for each child, the system ensures that no one slips through the cracks, and everyone receives the support they need to succeed. Additionally, the Fund is already planning to propose another increase in financial support next year. 
This remarkable increase is a testament to the significance of data collection, participation from teachers and schools, and most importantly collaboration with educational agencies in financing the most vulnerable population of the country. By working closely and signing MOUs with six education administrative agencies, namely the Office of the Basic Education Commission, the Office of the Private Education Commission, the Department of Local Administration, the Bangkok Metropolitan Administration, the Border Patrol Police, and the National Office of Buddhism, the EEF has been able to identify and support the most vulnerable members of society in a more effective manner.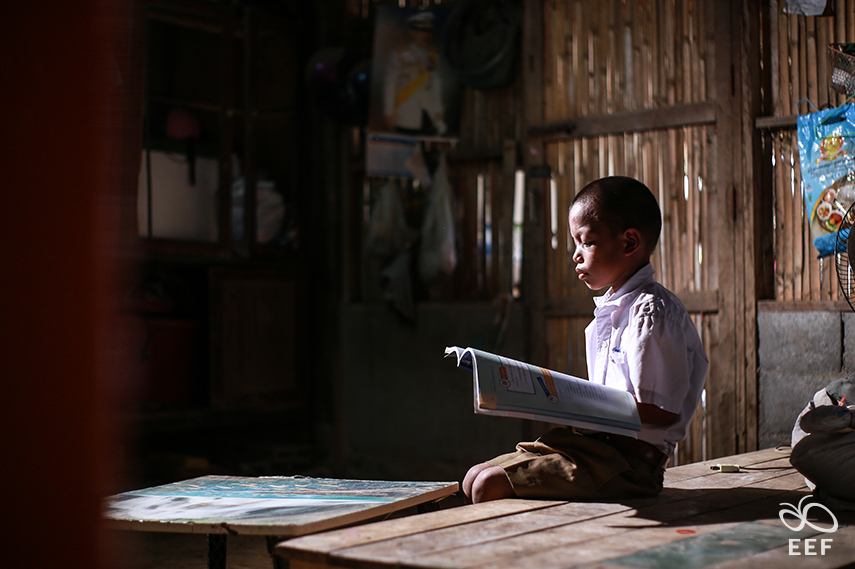 Besides, the EEF has also signed a number of MOUs with the Ministry of Higher Education, Science, Research and Innovation to ensure that universities and the Ministry itself provide scholarships to deserving extremely poor children, giving them the financial support they need to succeed. In doing so, the Fund aims to make sure that every child with the potential to enter higher education can do so, regardless of their financial situation, and that the funding does not always have to come from the EEF.  With its concerted efforts, the Fund is working to create a system where children receive the exact amount of funding they need, from a variety of sources, as part of its commitment to creating a brighter future for all of Thailand's children.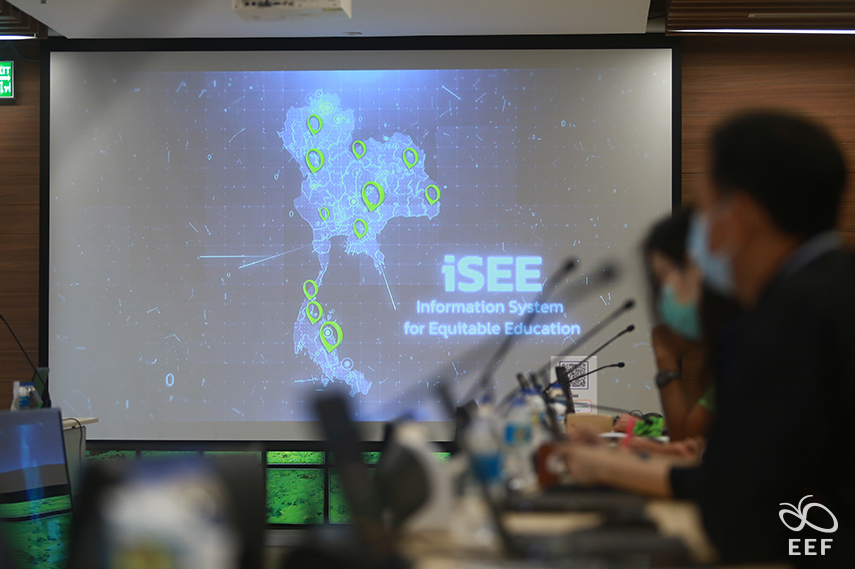 The EEF has so far implemented a range of innovative initiatives to tackle the educational disparity situation that has been further exacerbated in Thailand. One of its key initiatives in this regard is the Information System for Equitable Education (iSEE). This groundbreaking database draws information on beneficiaries linked to government databases from six government ministries and a geographic information system to monitor the educational disparity situation. Through it, the Fund can provide conditional cash transfers to extremely poor children according to its equity-based budgeting framework, improving their quality of life effectively, and to develop a conditional cash transfer model for education institutions.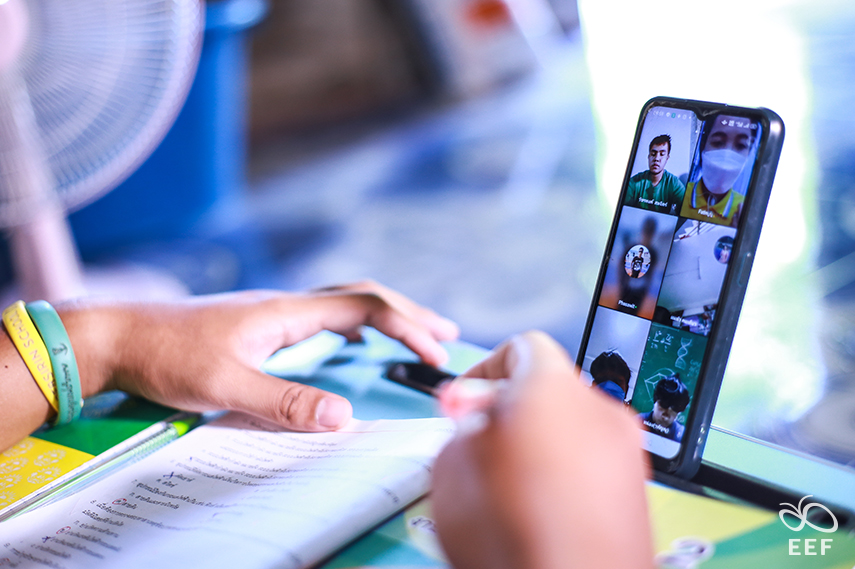 To mobilize extra resources, the EEF has partnered with private sector companies in the real estate and energy industries in the issuance of equity-focused public funds with a tax incentive. These companies issued corporate bonds that allowed the public to invest and receive a 3.20% interest on investment per annum, while simultaneously supporting the EEF's cause. The first corporate bonds issued under the EEF's Zero Dropout initiative raised a whopping 100 million baht to be in turn invested in the provincial education system. This truly is a win-win situation for everyone involved: The companies get the funding they need, the investors receive a return on their investment, and most importantly, the children receive the resources they need to succeed.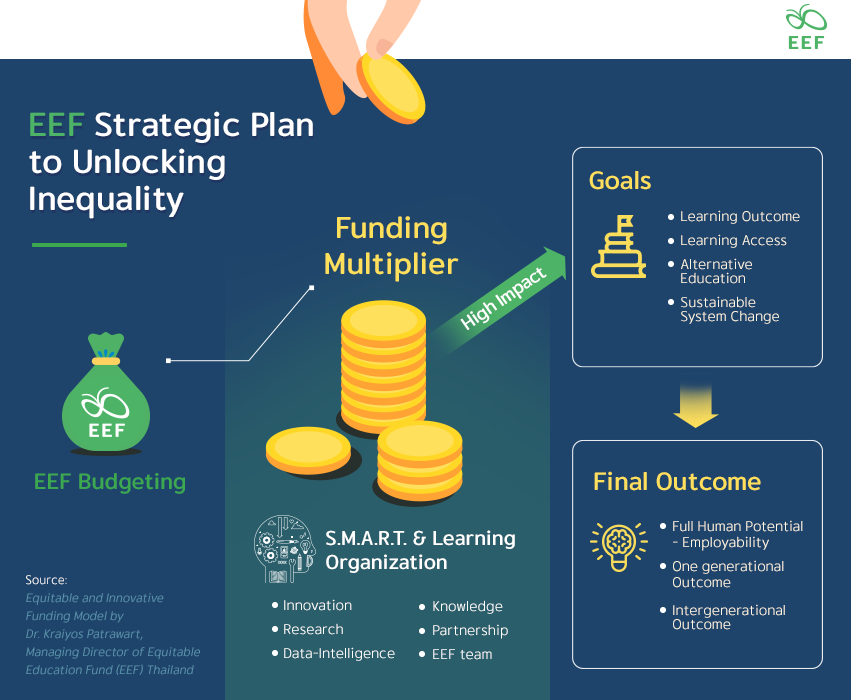 The EEF's success is due in no small part to the generous support of the public and private sectors. Not only does it have the support of the public sector, but it has also been receiving generous donations from the private sector. In fact, donations from private companies accounted for a whopping 200 million baht last year alone, thanks to a 2X tax exemption policy. This has proven that everyone has a role to play in transforming the education system and ensuring that every child has the opportunity to succeed, regardless of their financial situation. 
The EEF recognizes that achieving equity in budget allocation requires creative and innovative financing. By partnering with the public and private sectors, the EEF is catalyzing the transformation of education in Thailand. This public fund is not just focused on monetary donations; it also prioritizes knowledge, data, research, and partnership to multiply its funding. Through its innovative financing initiatives, the EEF is paving the way for a brighter future for all children in Thailand.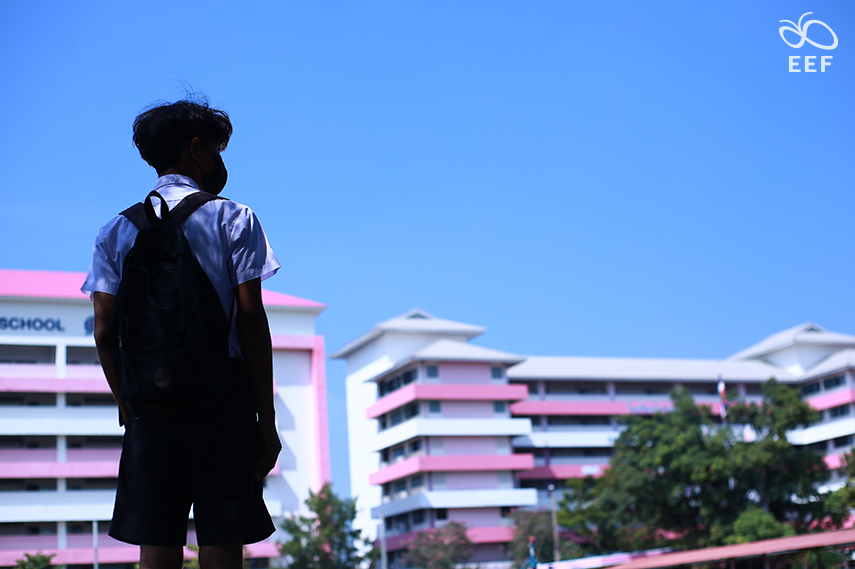 The EEF's approach to equity in education is fueled by data and technology, making it a powerful force for change. By leveraging data from teachers across Thailand, the Fund has been able to tailor financial support to the needs of each child, resulting in a sweeping change of the financial support approved by the government on March 14, 2023. Its approach is multi-sectoral and interdisciplinary, ensuring that all stakeholders are involved, and resources are distributed equitably to those who need them most. And its evidence- and research-based policy recommendations ensure that the solutions it proposes are based on credible data and are effective in their implementation. By continuing to invest in scalable innovation with partners, the EEF is able to amplify its impact and ensure that its initiatives have a lasting and meaningful effect. With continued support and collaboration, the EEF is confident that it can achieve its goal of promoting equity in education for all.
The EEF has transformed the education system financially, and with this newfound support, it is confident that it can continue to make a real difference in the lives of these children, one child at a time. No longer will extremely poor children be left out and behind, forgotten and overlooked. With its unwavering commitment to equity, the Fund is poised to create a brighter, more promising future for all of Thailand's children.
Source:
Equitable and Innovative Funding Model by Dr. Kraiyos Patrawart, Managing Director of Equitable Education Fund (EEF) Thailand >> https://en.eef.or.th/wp-content/uploads/2023/05/Equitable-and-Innovative-Funding-Model-by-Dr.-Kraiyos-Patrawart-Managing-Director-of-Equitable-Education-Fund-EEF-Thailand.pdf