When Opportunity Changes Life
Education Opens Up A World of Possibilities for the Future
Since childhood, Naiyana "Kade" Pannok has held a dream of becoming a nurse, caring for patients, and assisting those in need. However, her family's financial constraints made it difficult for her to pursue her dream. Growing up, she had to take on various jobs to help support her family from a very young age, making her dream feel more distant.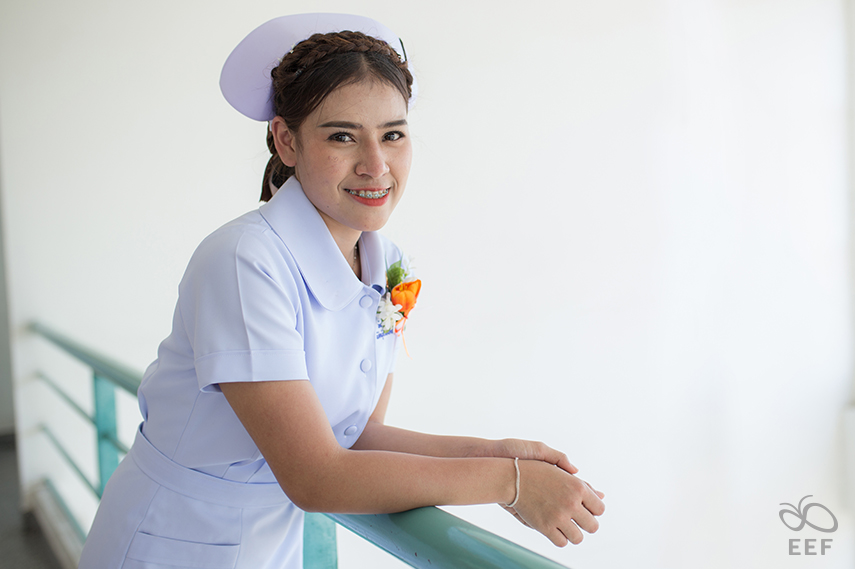 Naiyana "Kade" Pannok refused to bow to the odds in her life, and with an unwavering determination,
she set out to make her dream of becoming a nurse a reality.
It was not until Kade got to become a "High Vocational Innovation Scholarship" student that she was able to make her dream come true. She is currently a practical nurse at Ruam Phaet Hospital and is in the process of preparing to apply for a nursing program at Burapha University, rounding out her dream of becoming a nurse she had held since she witnessed the nurses working to take care of her father and other patients. It was that day that she made up her mind to pursue nursing.
Kade recalled that she had been living with her parents since she was a child. Her father fell ill during her elementary and high school years and was unable to work for a decade. Sadly, he passed away and her mother had to become a pillar of strength for her family. She took on any job that was available, ranging from peeling coconuts to collecting bottles for sale. On days when she got hired, she earned 100-200 Thai Baht per day; on days when she did not get hired, she did not make any money. Kade often assisted her mother whenever she was free from school.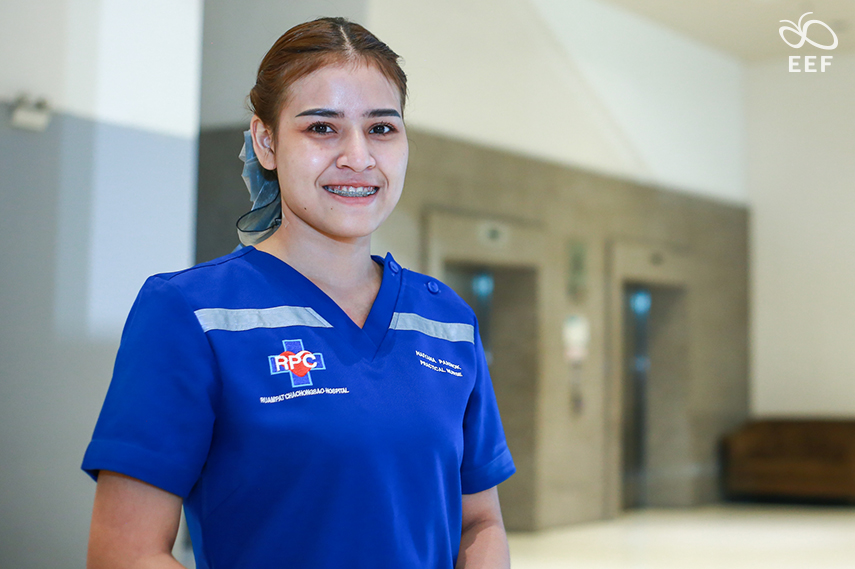 "We once got to a point where we had to make a choice: should I continue to pursue my studies, leaving her to work alone, or should I put aside my studies and take up a job to support her?"
At the end of Grade 12, Kade got to know from her school guidance counselor about the Equitable Education Fund's High Vocational Innovation Scholarships. This grant seeks to provide educational opportunities for financially disadvantaged youth from the bottom 20% of low-income households to pursue higher education in vocational programs in the in-demand fields of the labor market. In doing so, it helps to improve their quality of life, strengthen educational institutions in teaching and learning management, and support the production of high-potential professional personnel to help fulfill the Thailand 4.0 strategic plan.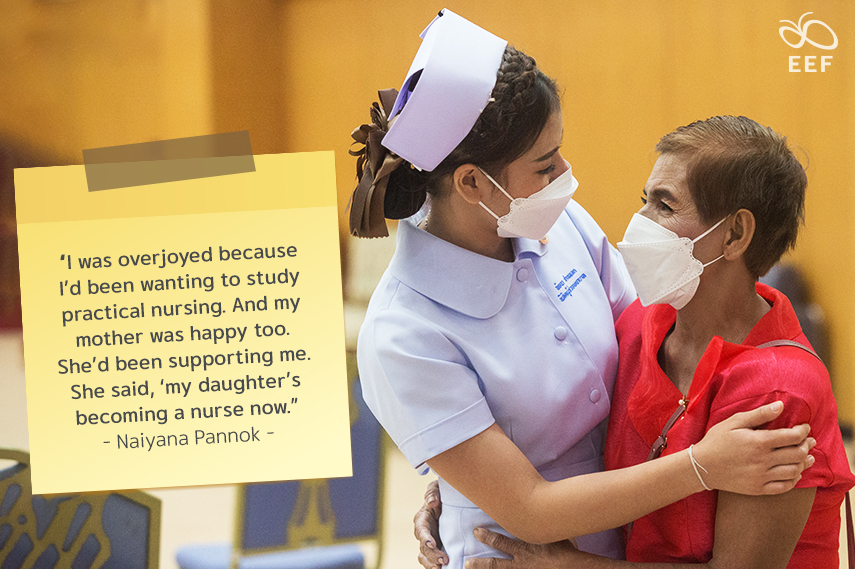 The financially constrained Kade was delighted to receive the scholarship, as it meant she could overcome those restrictions and pursue the dream she had set for herself. She had previously worked a range of jobs, from being a daily employee at a 7-11 convenience store to a backup dancer, in order to make a daily wage of 200-350 Thai Baht. She revealed, "I was overjoyed because I'd been wanting to study practical nursing. And my mother was happy too. She'd been supporting me. She said, 'my daughter's becoming a nurse now.'"
Kade was determined to make the most of the scholarship opportunity that had presented itself to her — an opportunity to further not only her education but also her life. She worked diligently and it paid off. She revealed, "This opportunity's been life-altering for me. I was someone who didn't know their purpose in life at all. I had an idea of what I wanted to do, which was to study nursing, but I didn't know if I'd ever be able to make it happen because I didn't have money. But now I made it, after receiving this scholarship. Though I'm not a full-fledged nurse yet, I'm in a related field. And I quickly secured employment upon graduation, and now I can work anywhere with a good salary. And my life has since changed for the better. The path to becoming a nurse has become clearer, and it's all thanks to that first step — becoming a practical nurse — that I was able to use as a foundation to move toward my goal."
What is interesting about Kade is her perspective on the meaning of "dream." Her journey from someone uncertain of their destination to someone charging forward full force to reach what they aspire. And this is what she would like to tell all children out there who are still waiting for opportunities to follow their dreams and make them a reality.
"I think everyone has a dream, but sometimes we need to put them off until we are in a better position to make them come true. If we don't have the money to pursue our dreams right now, then we can do something that will give us the means to do so. That's what happened to me. Before I could pursue my dream of studying nursing, I had to graduate as a practical nurse first."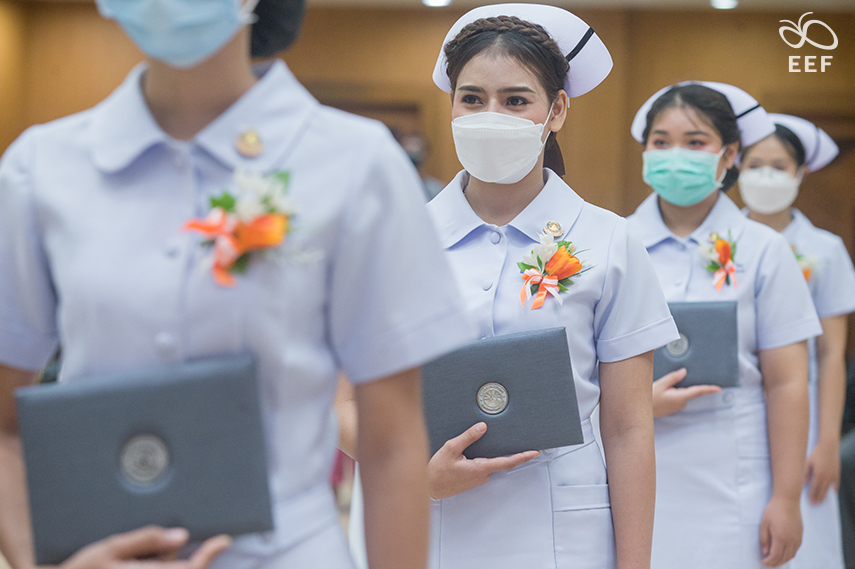 Youth who receive the High Vocational Innovation Scholarships will be able to benefit from a range of excellent opportunities in three aspects: learning from employers and then putting their newly acquired knowledge into practice, learning the skills of the future, and exchanging knowledge with Thai and international experts.
"Learning is crucial for advancing in our careers and realizing our dreams. Without learning, our dreams will remain just dreams. Therefore, I think learning is essential to maximizing our potential and extending our future further."
When a School Becomes a Market
Learning to Learn Through Play