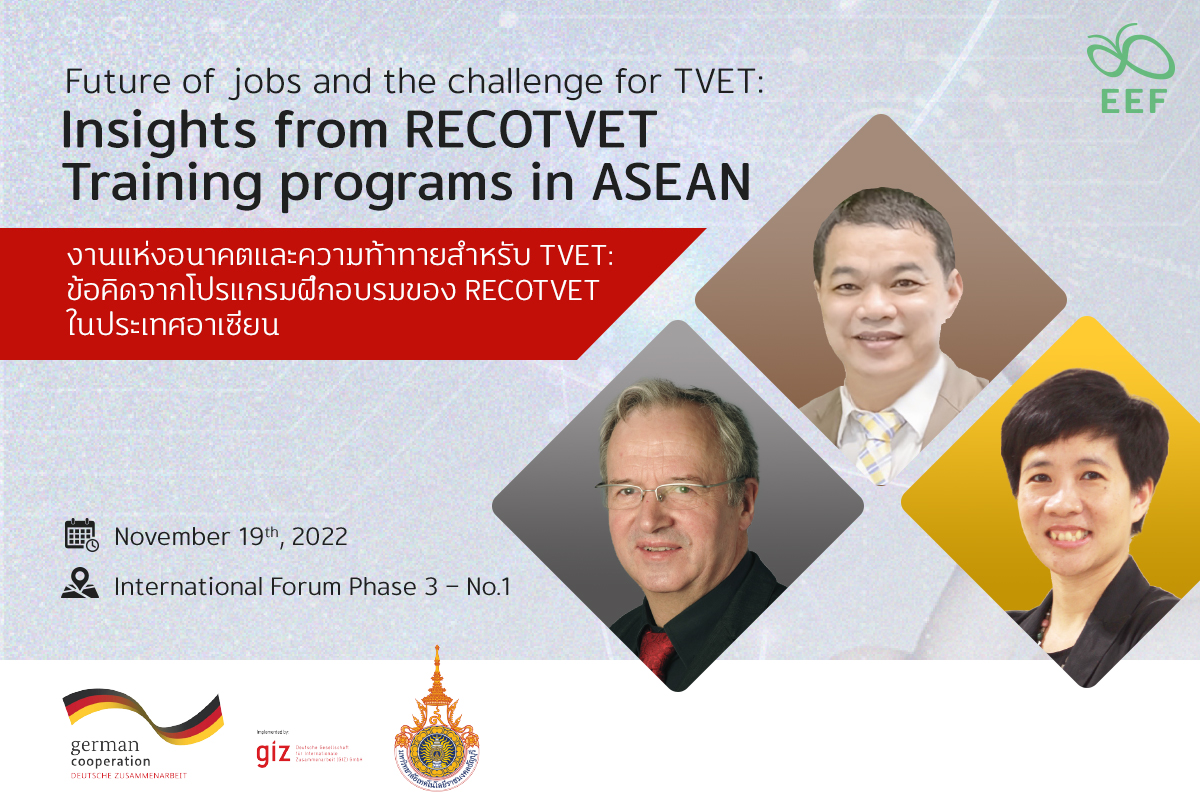 Future of Jobs and the Challenge for TVET: Insights from RECOTVET Training Programs in ASEAN
By: Prof. Dr. h.c. Georg Spöttl University of Bremen on November 19, 2021, Bangkok, Thailand
Amid the trends of Industry 4.0 and digitalization, jobs in various industries have become more and more complex. For instance, a car repair manual an automobile mechanic in the 1950s had to study was only about 500 pages long. By the 1990s, it became longer, up to about 14,000 pages long, and today's version could be 70,000 pages long easily.  This is because at present, the automotive industry no longer involves only the mechanic and the motorcar, and instead, represents an interconnection of multi-engineering disciplines embedded into the manufacturing, comprising mechanics, mechatronics, electronics,  software, and technology to control various systems of the vehicle.  A car is thus now comparable to an electronic network.  In the manufacturing industry, many factories around the world have turned to the internet to create a network known as the "Smart Factory," linking their production activities. With this change, the role of skilled workers has become less important while engineers with formal academic backgrounds have increasingly become an integral part of the industry. With this tendency, what should the Technical and Vocational Education and Training Agency (TVET) be doing to train workers, especially skilled workers to prepare them to deal with ever-increasing complexity in the industry?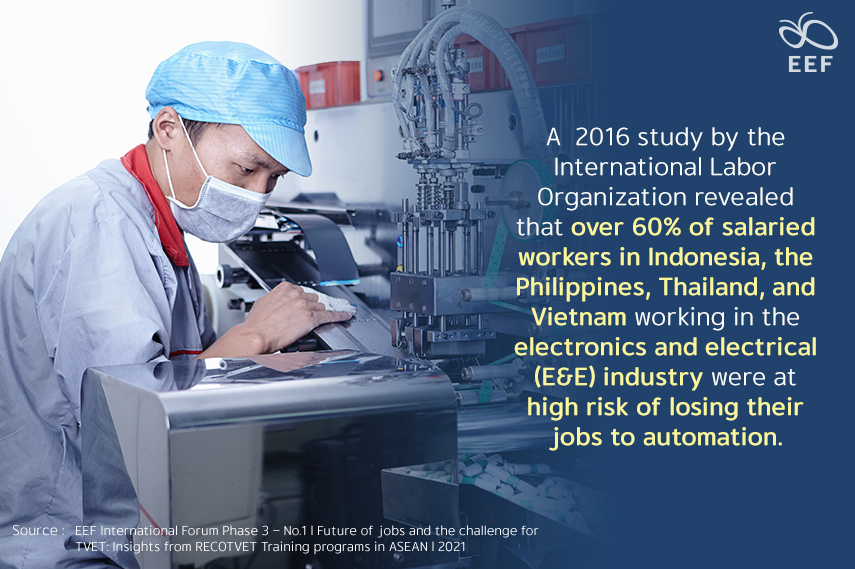 Impacts of Industrial Development on the Future of Jobs
Prof. Klaus Schwab, Founder and Executive Chairman of the World Economic Council pointed out in 2016 that industrial development and digitalization were radically changing the way we live, work,  relate to one another, and earn a living. A  2016 study by the International Labor Organization revealed that over 60% of salaried workers in Indonesia, the Philippines, Thailand, and Vietnam working in the electronics and electrical (E&E) industry were at high risk of losing their jobs to automation. This is especially true for low-skilled workers responsible for basic or repetitive, routine tasks. They were more vulnerable to replacement by computerized systems than others with jobs requiring higher skill sets. 
This trend may sound intimidating. On the other hand, a recent study in Germany found that industrial development will also create as many as three million new kinds of jobs,  especially in the production line in the future. In this way, TVET-related agencies should invent ways to prepare low-skilled workers to deal with this movement. Meanwhile, in Germany and many European countries, workers with higher vocational or engineering education geared towards Industry 4.0 are likely to have better employability and career progress opportunities. 
Industrial development has changed the skills and competencies demanded of workers. Being able to operate a machine just to complete one's work is no longer enough. As the production process becomes more complex and technology and software play an increasingly important role, the responsibility of controlling and troubleshooting software malfunctions should not lie solely with the engineer. Vocational workers need to know and understand the software system, be able to utilize the software to design their own workflows, and diagnose and repair mechanical failures through simple software coding. In addition, workers in the manufacturing sector need to understand the principles of mechanical electronics (mechatronics), develop an understanding of the manufacturing process as a whole beyond one's scope of work, and be trained to read and interpret numerical data to respond to systems crashes. Communication and collaboration skills are also required, especially between skilled workers and engineers with a formal academic background in case of software problems or when a software update is needed, etc. The complex structure of the factory inevitably requires these two groups of people to communicate and work together efficiently. In the past, miscommunications often took place due to communication gaps. One way to bridge this gap is to design a software system that is user-friendly for skilled workers. Low-code applications that vocational workers can learn to use easily are now available.  
TVET and the Creation of a "Human-centered" Industry
Technological developments may result in 2 possible scenarios in an industrial working environment: 
1) Automation scenario: This is where advanced automation and technology dominate over human work and humans are just one of the mechanisms working to serve what technology dictates. This situation may be conducive to mass production. The process is cheaper and requires fewer workers. However, currently, this scenario has not yet fully materialized in any company in the world. 
2) Expert scenario: This is where craftsmen, engineers and everyone involved in the production process have been trained to be proficient enough to design and shape the work processes, in which technology could render assistance while humans remain at the center of the system.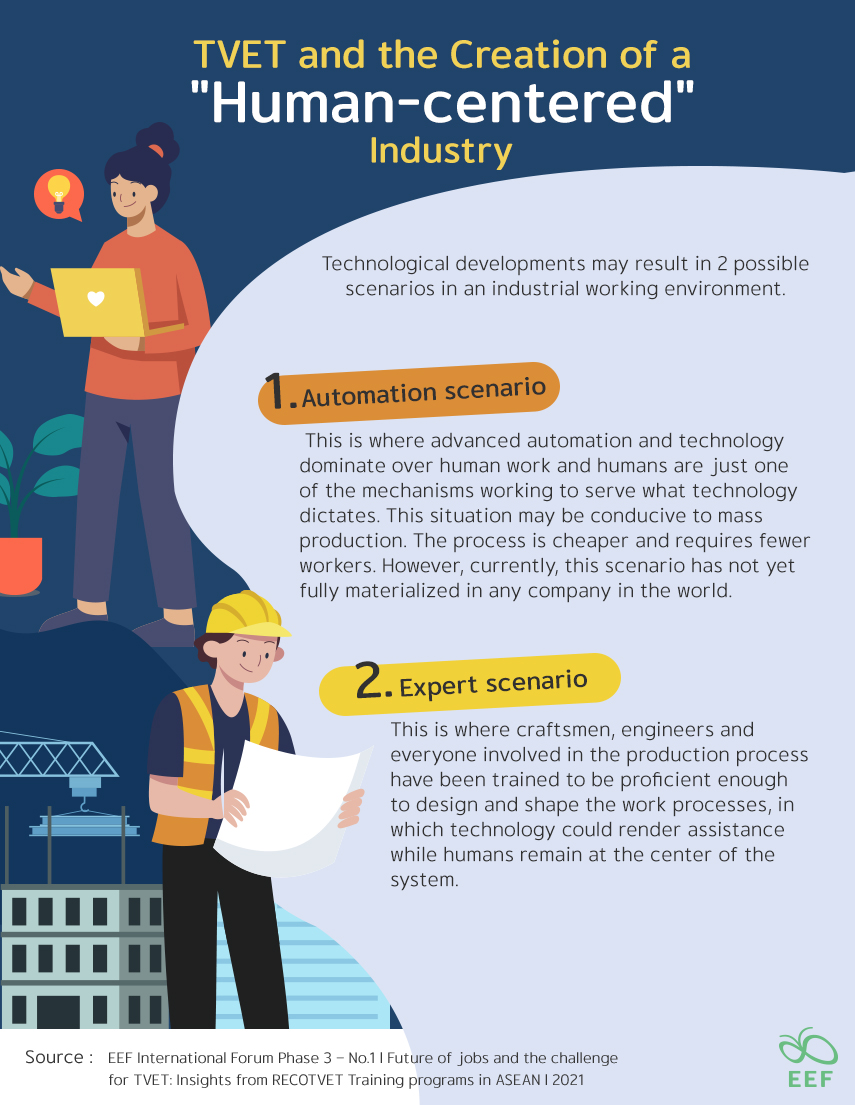 For developments to proceed in the direction of the Expert scenario, TVET needs to design a human-centered workforce training course. One important approach is to establish intelligent alliances for promoting Industry 4.0 in education, training, and learning. In this regard, several vocational institutions, national and regional, jointly design a curriculum that focuses on human beings. Regional Cooperation Programme to Improve the Quality and Labour Market Orientation of Technical and Vocational Education and Training or RECOTVET, is a prime example of intelligent networking. The project has mobilized organizations and experts from different countries in Southeast Asia to identify the most in-demand skill sets of the workforce for both today and future industries through a series of site visits and joint meetings of expert representatives. Once the key skill requirements are identified, vocational teachers can design training courses for workers to equip them with the qualifications required to perform in the modern-day industry.
One example of the teaching and learning model used in RECOTVET is the Learn and Work Assignments (LWA) approach that aims to train vocational trainers with an understanding of industry trends and impacts of Industry 4.0 and digitalization towards labor, human-machine communication, automatic control system development, lesson planning, multi-functional teaching approach, and course planning under the skills requirements of Industry 4.0, etc. This approach aims to advance vocational workers from beginner to expert level through various stages of learning:
1) Orientation & overview of course content 
2) Comprehensive knowledge of the system
3) Detailed functional knowledge 
4) Extended specialized knowledge of the system
—————————————————————————-
Lead Discussion on "Vocational Training and Education Support, Follow-up and Evaluation of Advanced Vocational Schools Project" 
By Assoc. Prof. Dr. Krischonme Bhumkittipich, Vice President of the Rajamangala University of Technology Thanyaburi.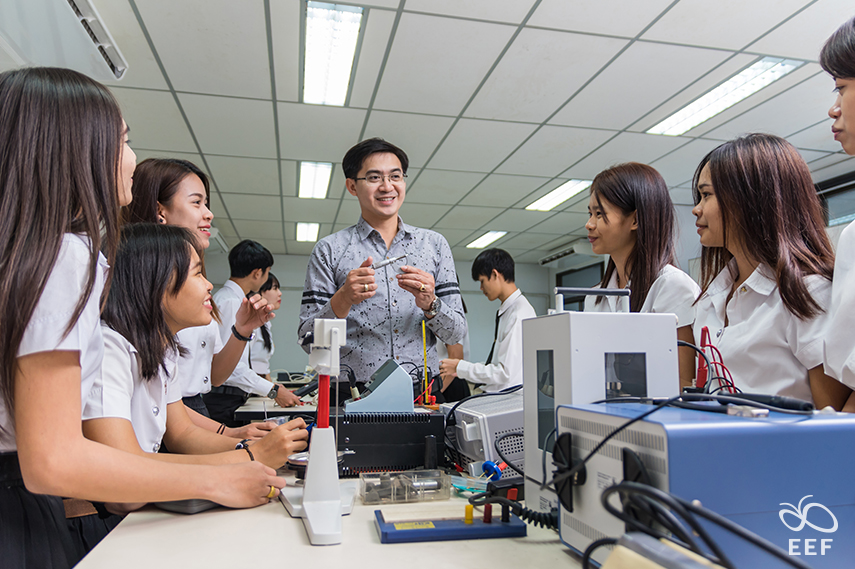 The Rajamangala University of Technology Thanyaburi, in collaboration with the Equitable Education Fund (EEF), has rolled out the "Vocational Training and Education Support, Follow-up and Evaluation of Advanced Vocational Schools Project" to support the creation of quality vocational graduates who are ready to cope with the changes of the industrial world in the future. Mainly, the project provides scholarships for those lacking educational funds in remote areas, who are well-cared for throughout the project, including their livelihood, learning development, and career opportunities upon graduation through cooperation between educational institutions and networked enterprises. 
Currently, the project has progressed to Phase 3, with educational institutions in the network divided into three groups:
1) 20 new educational institutions (Batch 3),
2) 55 existing institutions (Batch 1 and 2), and
3) 10 model institutions. 
In establishing a model institution, the project has pushed for collaborated teaching and learning activities between the aforementioned educational institutions and the networked enterprises, consisting of overall groundwork preparation, business performance analysis, lesson plans, and training development, trainer development, in-plant teaching, and learning activities, and follow-up competency assessments after the scholarship recipient has started working.
Watch EEF Int'Forum Record:
Part 1 https://youtu.be/w07at8aZ7vE
Part2 https://youtu.be/2Eqmb5cqjcw
Source: 
EEF International Forum Phase 3 – No.1 l Future of jobs and the challenge for TVET: Insights from RECOTVET Training programs in ASEAN l 2021