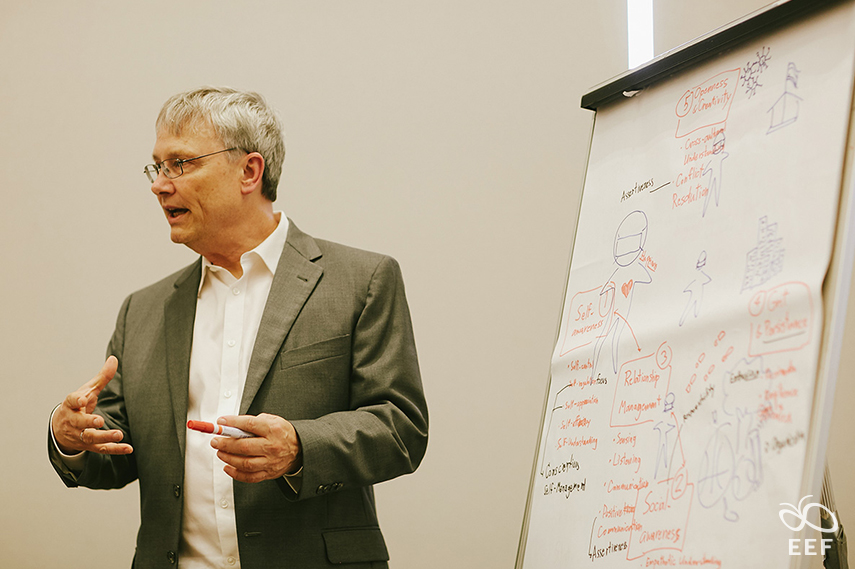 Oliver John, a psychology professor at the Institute for Personality and Social Research, University of California Berkeley, who has been researching Social and Emotional Skills, or SEL Skills, for 20 years, invites everyone to question existing curricula and start giving these skills, which have long been overlooked by Thai schools, a high priority. In Thailand's basic education system, curricula are already packed with only subjects designed for children to be academically excellent, despite the fact that SEL skills are just as important as academic skills, if not more so. Focusing too much on hard skills or too little on soft skills may have detrimental implications for children's education and, by extension, employment when they enter the workforce. Developing these social and emotional skills along with academic ones will allow children to deal and cope effectively with the numerous situations they may encounter in the future.
"Neither assertiveness nor self-management skills are taught at school, nor are we taught to empathize with others. All of these skills, however crucial they are to live and indicative of how well we will be able to live our lives, are not included in curricula. We have subjects like mathematics, physics, Thai, and English, but we don't have subjects crucial to our relationships," stated John.
The professor served as a guest speaker for the Social and Emotional Skills Workshop jointly organized by the Equitable Education Fund (EEF) Thailand, the World Bank, and the Faculty of Economics, Thammasat University. Since 2013, he has been visiting and conducting fieldwork in numerous educational institutions and schools across many countries under the aegis of the Organization for Economic Cooperation and Development (OECD) in an effort to assist in supplying practical training to teachers in the areas, as many of them do not teach enough SEL skills. Drawing upon his one-of-a-kind experience organizing SEL practical training, he entered into collaboration with the Ayrton Senna Institute in Sao Paulo, Brazil, one of the major initiatives propelling the teaching of these skills at school, particularly through hands-on training for professionals, educators, and stakeholders in other countries. And it is through such training that he aims to raise awareness of the significance of SEL skills in Thailand, both as something that Thai society should be aware of and as something that educational institutions or schools have to take seriously.
On this note, Oliver John also gave an exclusive interview on why we need to focus on SEL skills and how they are important for human development, which may be broken down into the following 12 topics: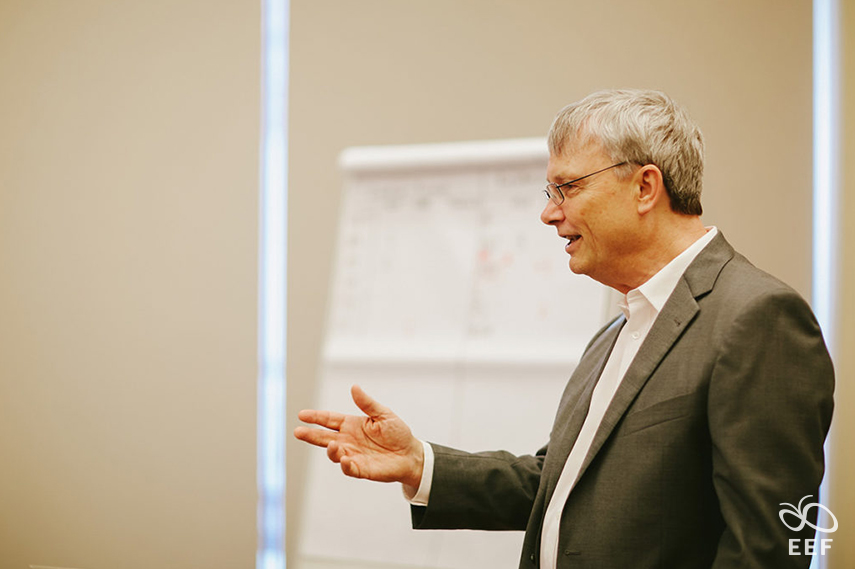 1) Role and Past Work 
John created a framework for developing social and emotional traits and skills, as well as guidelines for doing so, in both children and adults. He also underlined that although pervasive in the public consciousness is that these skills need to be taught to children, it is the lack of curricula for doing so in schools that makes the gap obvious. He wondered how, in the absence of such curricula, they might learn to be more assertive, empathize with others, and manage their own time. As a result, he was concerned that children cannot cope and deal with stress, especially when facing exams and competitions. For him, these skills are so essential for life and relationships.
2) How Are SEL Skills Important to Learning in the 21st Century?
John brought up Albert Einstein's statement, saying that while intelligence is important, 'imagination, creativity, and curiosity' are just as important because these are what help make a difference. Without these things, knowledge alone is insufficient. Through his research, he discovered that smarter children learn better. There are yet other factors, nonetheless, that is crucial for academic success at school. A 1994 research paper — almost 30 years ago — established that grades could be predicted by skills known as 'open-mindedness' and 'self-management,' which can be taught at school and are lifelong skills that accompany children as they grow into adults and join the workforce.
3) How Can SEL Skills Help Reduce Educational Disparities?
John commented that SEL skills can be taught to anyone — even less fortunate, less educated, and less resourced parents may still be able to teach their children these skills. Underprivileged children, as he argued, can understand them easily as they understand life's struggles. On this note, he suggested that while more privileged children can still live a good life even without SEL skills because they are more likely to have affluent and influential parents, underprivileged children substantially benefit from these skills. According to a piece of research conducted in Brazil, having strong SEL skills is another way to help children step out of poverty, allowing them to get better educations and have more opportunities to prosper in life. James Hegman, a Nobel Laureate in Economics, corroborated this, saying that relatively underprivileged children who are encouraged to continuously develop can do so and go on to lead better lives because of these skills.
4) How Can Results from SEL Skills Assessments Be Applied to Personal Life, Family, Work, and Policy Making?
John remarked that it is difficult to be 'assertive,' in particular refusing or saying what we want, in Thai society as the country places a high value on rapprochement, politeness, and courteousness for one another, which ends up making 'assertiveness' appear 'confrontational.' As a result, developing the skill at the social level is more challenging, yet it is still achievable at the individual and family levels. He then proceeded to present an example of family teaching. Girls between the ages of 12 and 13 begin to be less likely to be able to cope and deal with negative emotions, and, as a result, begin to have more problems handling them than boys do. Therefore, to control their emotions and prevent the problems that ensue, girls need to learn soft skills, which, although necessary, are still mostly untaught at school.
5) What Are SEL Skills Assessment Criteria?
John argued that it is important to first understand what issues each specific group needs assistance with to help them effectively, whether it be telling policymakers to devise policies or teachers to take good care of girls to prevent them from experiencing depression or engaging in self-harm, such as cutting themselves, which is a serious issue. Another serious issue is 'bullying,' which children need to be educated on so that they can better apply their SEL skills to cope and deal with it. It would be helpful to gather information from a variety of stakeholders — from children themselves to their parents and teachers — about what issues they are facing as well as their strengths and weaknesses. Information from these three groups must be obtained as much as possible first and then compared to shed light on how everything affects one another and how to develop meaningful curricula.


6) What Are Successful Examples?
John reflected on the change that happened to his youngest daughter, saying that at school she had learned SEL skills and 'breathing techniques,' a prevalent practice that involves taking deep breaths and concentrating on breathing, which reduces stress and upset. These tools are incredibly useful, and there are many such courses in the U.S. The problem, of course, is finding decent curricula that are appropriate for specific age groups and schools in Thailand, and figuring out how to effectively adapt them. The thing is, though, before teaching children how to utilize these tools, we must first convince them that they will work and can be applied in real life. It is great to see that Thailand is moving in the right direction, encouraging teachers to have children gather in a circle and express how they feel to one another — and so far they have done a good job communicating what they felt.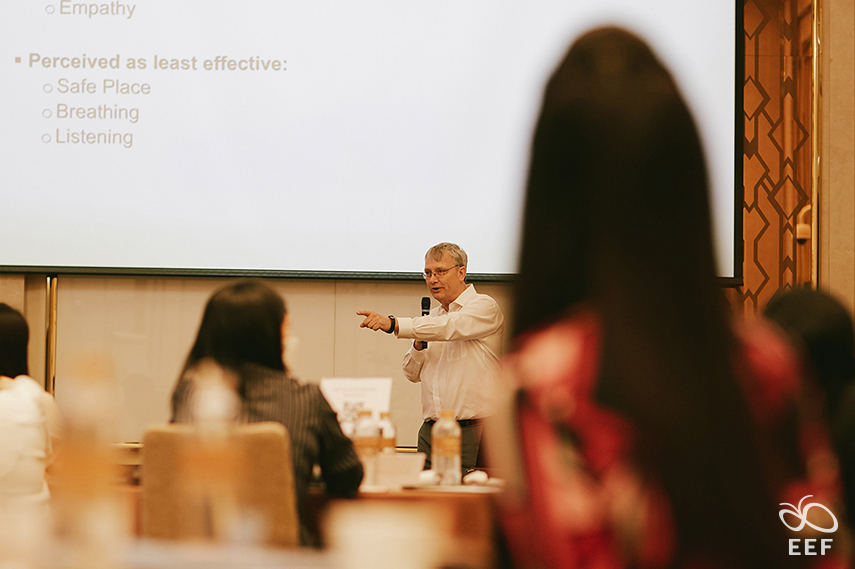 7) What Needs to Be Done So That This Concept Is Rooted Deeply and Spread Widely?
Teachers must be involved as much as possible because they are the ones who teach the concept in class. By doing so, it will be much simpler to incorporate these SEL skills into curricula and make their instruction a daily practice at schools. It is not wise to bring in experts to teach just a few lessons and then leave, because children will forget everything. To make it happen, this must be a collaborative effort school-wide.
8) John's Teaching Techniques That Everyone Admires
John loves teaching and his students, so the best advice he could give is to be enthusiastic about what you are doing because enthusiasm is contagious, and doing it with love will truly make a difference. After organizing workshops in Thailand, he believed that Thailand has a very special culture. What impressed him the most is compassion, empathy, kindness, respect, and trust — skills that Thais can easily acquire, as opposed to independence, self-reliance, assertiveness, and creativity, which are skills that Thais need to actively cultivate. Using creativity is a very effective technique for teaching children to think outside the box and consider many different possibilities. It is about attempting to be innovative rather than being stuck in one mindset. He also saw a lot of creative potential in Thailand. It would be wonderful to get children to the point where they can focus on this at school because some of them still rely on the memorizing method. A point of equilibrium must be found. Einstein was right when he argued that knowledge is indeed important, but so is creativity, thinking outside the box, and attempting new things — and it should be interesting and important enough to be developed further.
9) When This Concept Is Applied to Thailand, What Are the Problems, Obstacles, and Opportunities in Making It Come True?
One obstacle is that people typically oppose change. They have been doing the same things for decades, adamant that "it worked perfectly this way before, so it must work out fine this time too," so it can be challenging to persuade people to change. Another issue is how to subtly convince teachers, piquing their interest in the usefulness of SEL skills, because we do not want them to say, "No, we do not want to teach these skills alongside other subjects because we must make sure that everyone is literate and numerate," which is not inherently wrong. But we do not necessarily have to pick or prioritize one over the other. We can also do both at once.
10) Which Sectors Should Be Key Players and How Should It Begin?
John thought that in Thailand there are good organizations, like the EEF, that are pushing for this change in education, and that the Minister of Education must come to help as well. Without their help, the change would not happen — and we do hope to rely on them. In addition, he thought there should be a push from the grassroots as well. For example, 30-35 participants reported thinking that their attitudes were changing, saying, "Wow, this is something we can apply in real life." He did not say specifically who to hire to work on this, but he did know that there are many talented people out there who want to help. 
11) If There Is Another Chance, What Project Would You Like to Work with Thailand Again?
John said he had a great time in Thailand. Even though it was his first time visiting the country, he met a whole host of interesting people and was very impressed by them, from those working with children and teenagers to educators and teachers, and those working in the Ministry of Education as well as in the Departments of Economics and Psychology. He expressed his interest in keeping in touch with them and has already discussed potential projects they might be interested in, so he believed that this might be the beginning of a series of open-minded, fruitful collaborations. If he truly gets a chance to come back, he will be very pleased to assist anyone who wants to achieve more than this.
12) What Would You Like to Say to People Who Want to Promote SEL Skills in Thailand?
John believed that now is the right time to start. People have started to talk about the so-called '21st Century Skills,' which are the special skills that we must have for living in this globalized era. For people to be able to cooperate — regardless of their native tongues and countries —, curiosity, imagination, and empathy are much needed, as we have to be capable of working with others. These are very important skills in this day and age. And he thought that now is the ideal time to do so. And from talking with people both during and after the training, he observed that Thais are more than prepared for this. There is no better time than now.
Note: An interview with Professor Oliver John, an expert on SEL skills assessment at the University of California Berkeley, as a guest speaker for the Social and Emotional Skills Workshop from March 28th – April 1st, 2022, organized by the Equitable Education Fund (EEF) Thailand in collaboration with the World Bank and the Faculty of Economics, Thammasat University.
Source: https://research.eef.or.th/oliver-john-social-emotional-learning/