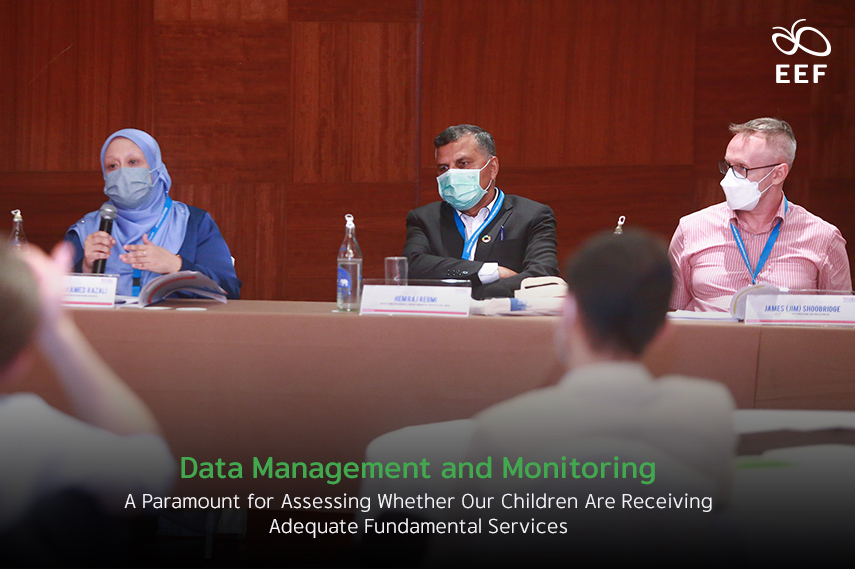 Access to high-quality data along with a highly-responsive monitoring system is essential for governments to effectively implement their educational policies and monitor their progress towards the fourth Sustainable Development Goal, or SDG4. Most of them still, however, lack access to the majority of the most up-to-date data for the SDG4 indicators. While conventional Education Management Information Systems (EMIS), which rely on data from Annual School Censuses, are either always too slow to respond to changing needs or unable to do so at all, the COVID-19 pandemic has already restricted and rendered obsolete numerous information systems. This can be attributed to inequitable connection and access to student data; fragmented, multi-part information systems; and data systems that are disconnected when the information is promptly needed.
The discussion at the 2nd Asia-Pacific Region Education Minister's Conference, or APREMC II, on "Development of Stable and Responsive Educational Information Systems," which took place on June 5th, 2022, addressed how to use and monitor data to accelerate the revitalization of learning and propel the transition towards a more equitable, comprehensive, responsive, connected, and flexible educational system. The following subtopics were covered: Discussing Regional Needs and Challenges in Data Management and Monitoring: Lessons Learned  from COVID-19 Crisis; Discussing Competency, Guidelines, and Technology Needed to Enhance the Education Monitoring System to Support Changes in the Educational System; and Adjusting the Vision of Future Educational Data and Monitoring Systems.
The discussion kicked off with Silvia Montoya, director of the Statistical Institute of UNESCO, commenting on the first subtopic, stating that educational system databases should be collected and connected to be able to effectively monitor the performance of policies. And it is on the linking of data between policymakers and educators that the development of the entire system depends. The significance of employing learning assessments to reach students has been driven home by the COVID-19 pandemic, and such assessment systems will shed light on what educational policies work. However, there are financial constraints that make it challenging to develop an effective learning assessment system, particularly in the context of such a large outbreak. Therefore, it is essential to have financial support and to encourage the feasibility of developing the tools to collect the data necessary to indicate the progress of student development. Sustainable funding and support are required to develop a sustainable system for monitoring and reviewing data.
In continuing on the second topic, Haryati Binti Mohamed Razali, senior assistant to the Chancellor, of the Ministry of Education, Malaysia, shared a case study of the country, stating that there is a system in place for managing students, teachers, and schools there. This online system consists of three management units, namely Student Management Module, Teacher Management Module, and School Management Module. Besides, there is also an examination of learning data that reveals how many hours students or teachers spend on learning materials, and, building on that, a new system has been developed that encourages student engagement during the pandemic or subsequent school closures. It allows for the analysis and monitoring of the pandemic's impacts on students and teachers, enabling the Ministry of Education to access and provide assistance.
The discussion then culminated in the statement of James Shoobridge, senior advisor and regular counselor to UNESCO and UNICEF, that in light of the rapid economic development occurring around the world, to make it possible for the implementation of the SDG4 by monitoring lifelong learning for early childhood development, systems must be constantly adapted and developed, not only for efficient monitoring but also for effective communication. Support is therefore required for data survey and management. Data from learning assessments must be managed effectively if kept separately as each source has its limitations. However, in Asia and many other regions, data in the data management systems are more often than not provided by the public sector. Therefore, visiting areas to explore and collect data is an excellent way to obtain other data from other sectors, other than those found only in the systems.
As for the challenges in educational system standard management, as added by the senior advisor, it may be argued that there are barriers to comparing educational data between countries and governments. The ability to develop data following local management systems is frequently lacking in many countries. Therefore, a system that can truly accommodate each child's specific interests must be employed. And in many countries across Asia that are putting such systems in place, this is becoming more and more crucial. It would be possible to collect and manage data from household surveys, be it on their parent, family income, or socio-economic standing where the systems to be developed to monitor each child. If so, now would be a good time to modify those data systems so that they can integrate with those employed in other sectors as well, such as public health, child protection, and education, among many others. And this will enable us to assess whether our children and by extension citizens are receiving adequate fundamental services in all sectors.
Source: 2ND ASIA-PACIFIC REGIONAL EDUCATION MINISTER'S CONFERENCE (APREMC II) – Session 10