When a School Becomes a Market of Opportunities
An initiative from a caring educator – and some seed money from EEF – bring hopes and smiles to a remote school and community in Mae Hong Son.
Seeking employment, applying for jobs and getting hired is no easy feat in today's hyper-competitive labor market. This situation is even more dire for teenagers fresh out of school in remote areas of Thailand.
When it comes to academic knowledge and resulting opportunities, there are clear discrepancies between disadvantaged hilltribe minorities and young adults elsewhere.  However, this imbalance can be offset through know-how and applied skills, says Suchat Chaikham, an educator and the acting director of the Ban Pongsa primary and middle school in Pai, Mae Hong Son.
Pupils at the Ban Pongsa school are among the 569,000 poorest primary and secondary schoolchildren in Thailand receiving a scholarship from the Equitable Education Fund (EEF). Established under the 2018 Equitable Education Act, the EEF provides financial support to the children and youths who most need it to reduce inequality in education.
Aside from providing funding — around 3000 baht per student per school term — the EEF has partnered up with schools and local bodies to fructify this "investment", turning relief aid into sustainable assistance that helps the students and community grow stronger.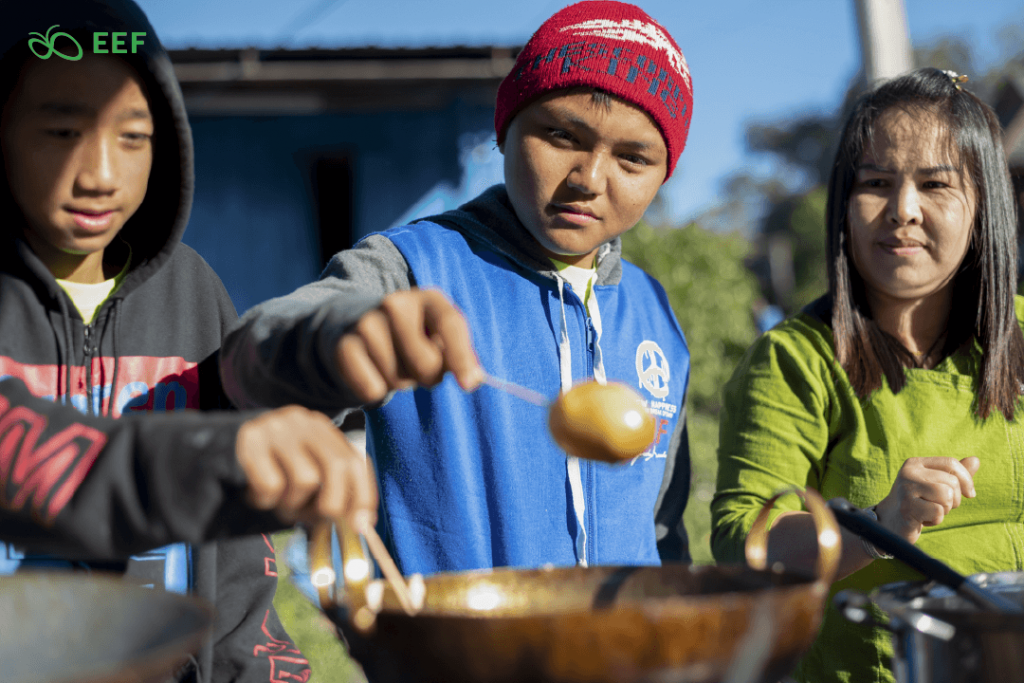 For the families of 68 students at the Ban Pongsa school who were recipients of the EEF aid in 2020, having school fees paid for was doubtlessly a relief — albeit a temporary one.
Teachers have long noticed that many graduating students had trouble finding employment, partly explained by their remote geographical location, and would soon experience financial difficulties again.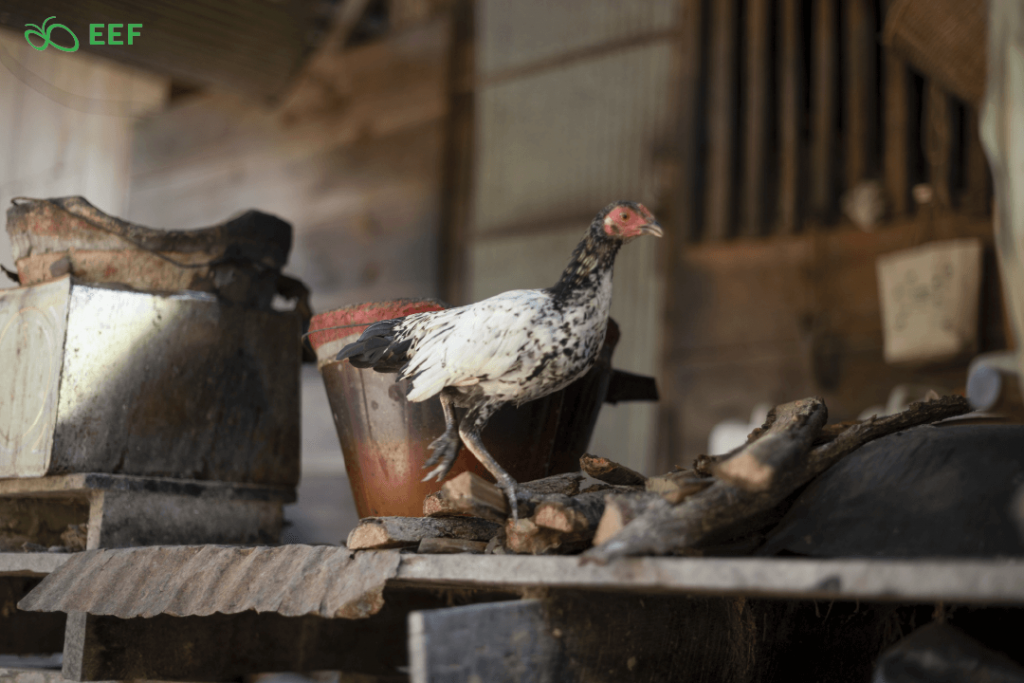 Targeting this problem, the school introduced a program of vocational learning activities and established the community's first-ever market. This dual initiative helps not only to alleviate local families' economic burdens but also teaches young children and teenagers valuable work skills and work ethics they can put to use in the future.
The driving idea behind this project was to allow pupils to earn an income while studying. In the past, school attendance problems were largely due to students' need to skip classes to help their parents earn daily wages and put food on the table. This has significantly dropped since the vocational learning activities and market were launched.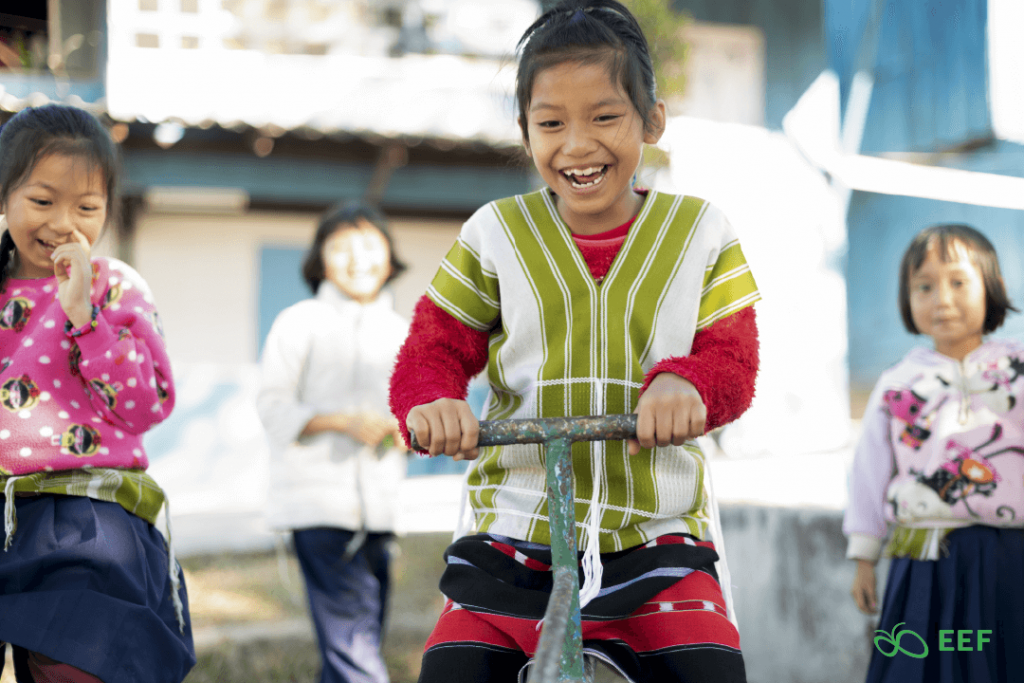 Teachers like Mr Suchat share knowledge across a variety of disciplines, from cooking to baking and coffee-making. Older pupils also learn the skills required to work as barbers, beauticians, do laundry and dry cleaning or repair bicycles in the event that they could not further their studies.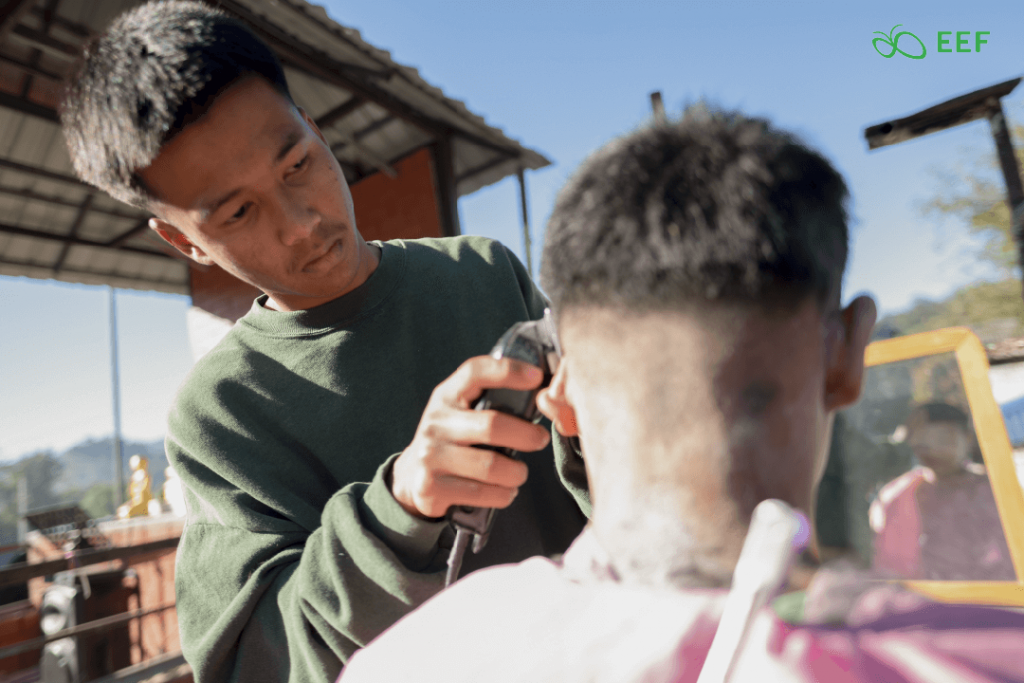 The whole community gets involved, Mr Suchat adds, as students are taken on field trips to a mechanic's workshop or learn tie-and-dye techniques from local villagers.
Furthermore, the community market, which takes place every Tuesday morning, provides the place and opportunity for students and their parents to sell crops, as well as prepare dishes or beverages, thus providing families with another channel through which they are able to earn income.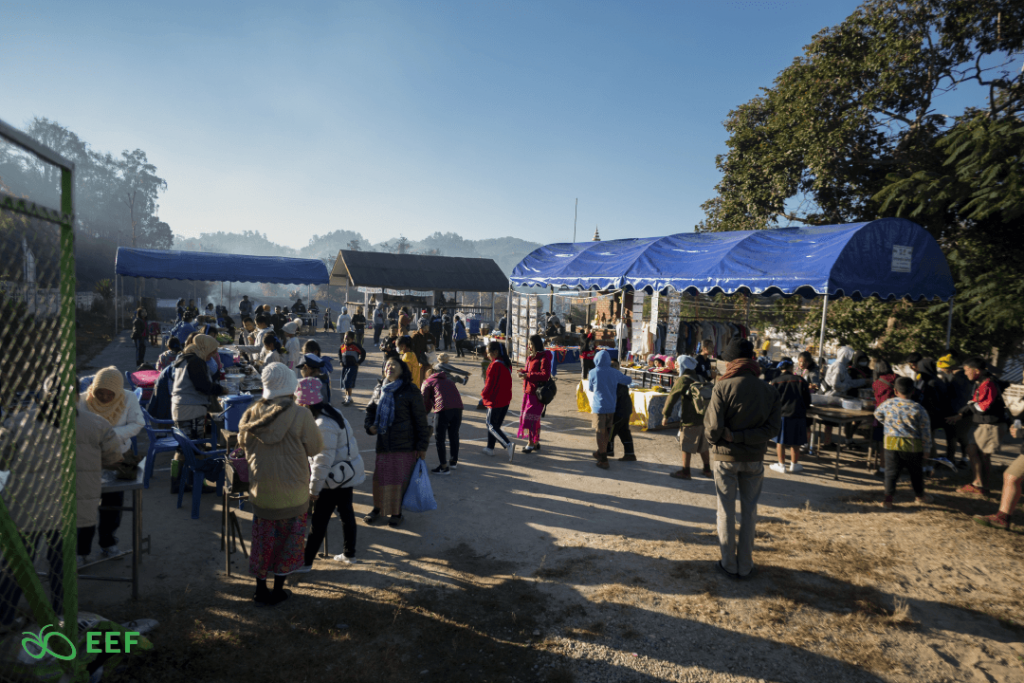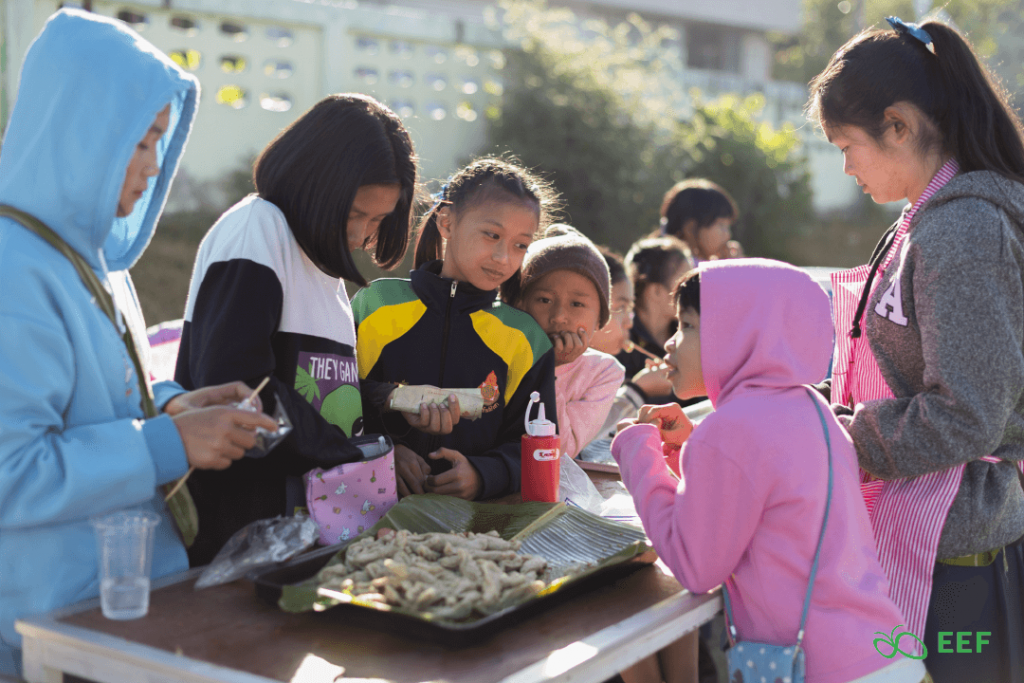 The results were astounding, as children contributed to their household expenses and no longer had to cut school. In addition, the school has introduced yet another policy in support of low-income families by allowing children who cook at school to eat free lunch.
Chanthakan Saedo is a Mathayom 3 (9th grade) student. She eagerly says that the EEF funding, along with her school's vocational learning initiative and market, has "changed her life".
The teenage girl comes from a family of farmers and helps her parents harvest crops every Saturday. She now sells those at her school market, along with baskets made by her grandmother, who gives her a commission.
"Some weeks, I earn up to 600-700 baht, which is a lot for me,"

she exclaims. 
"I now have my own money, which I can use to take care of myself, buy my own food or clothes without having to burden my parents."
In addition, she says she appreciates the opportunity to learn the entrepreneurial skill.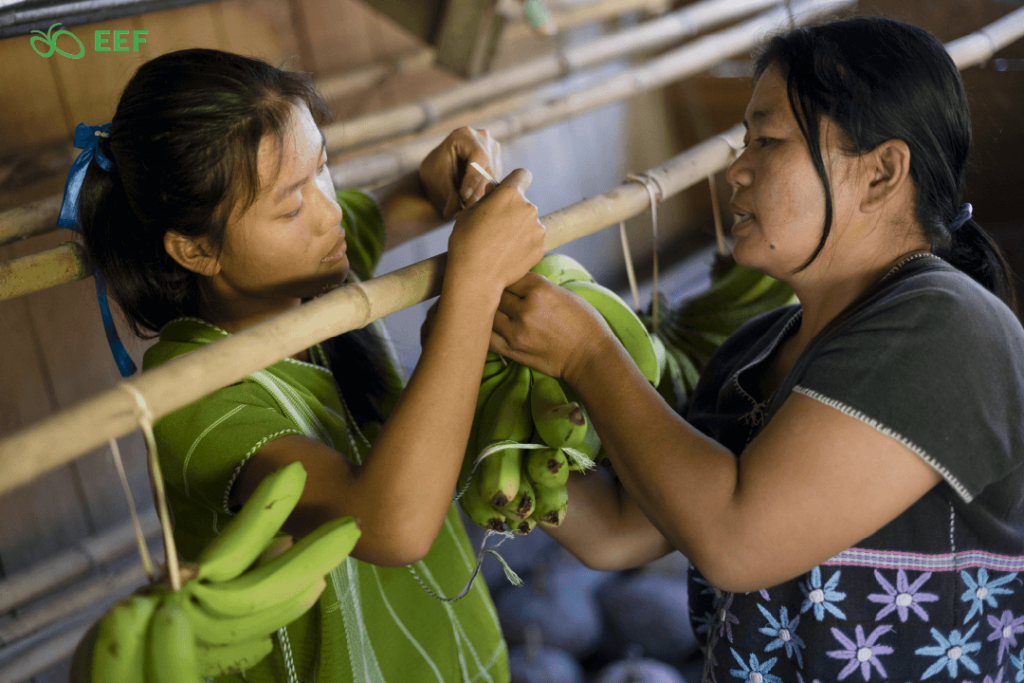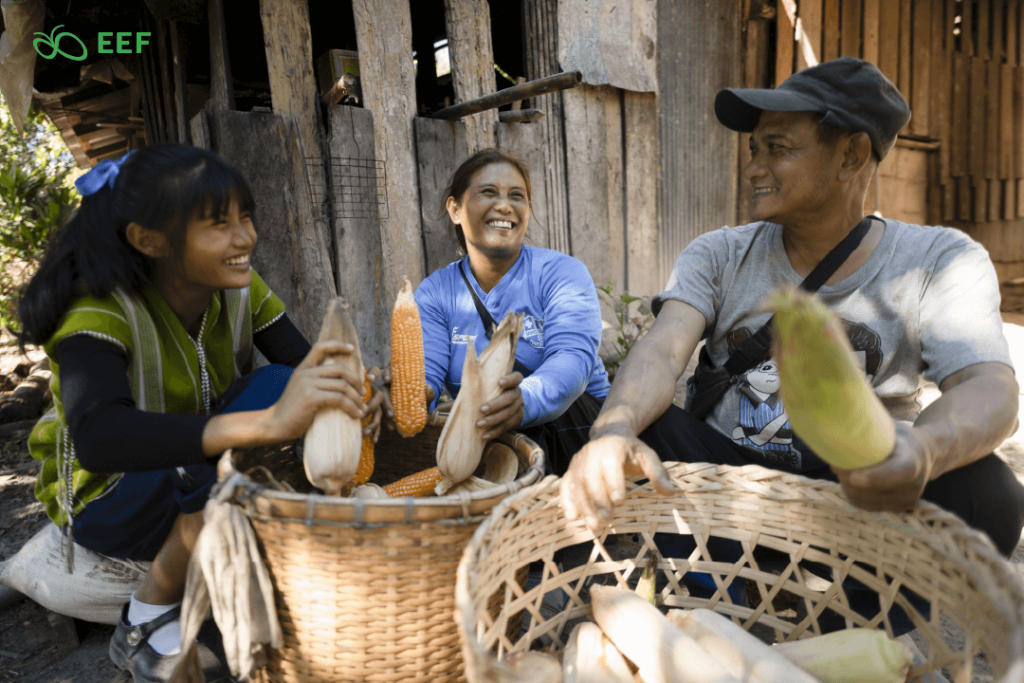 Like Chanthakan, her classmate Paliyos — nicknamed Pipo — sells coriander, cabbages, beans, pumpkins and bananas harvested from her family's farm at the school market. Although her family wholeheartedly supports her dreams of becoming a nurse, Pipo fears they can't afford the tuition fees. A recipient of the EEF bursary, she saves most of her scholarship money and additional income for her future plans.
The example set by the Ban Pongsa primary and middle school highlights a sustainable way forward for students who become self-reliant, having been trained to work and earn wages since a young age.
As a result of the vocational learning program, pupils get a sense of what it is like to manage a small business, as they learn to calculate costs and profits and even basic marketing and online retail skills.
The only regret expressed by the school's director Mr Suchat is that there isn't enough money to go around. A little over half of the enrolled students receive funding from the EEF but there are many more coming from very low-income families but ineligible for the bursary.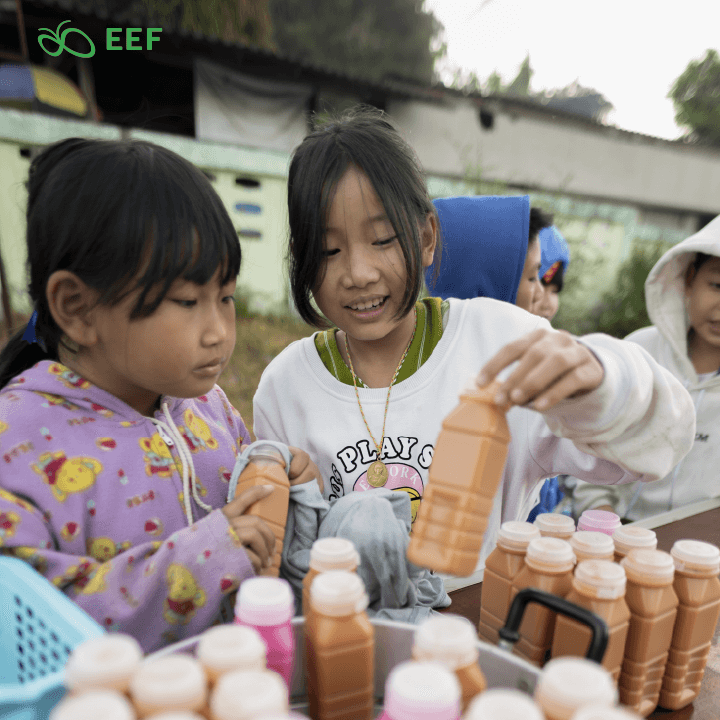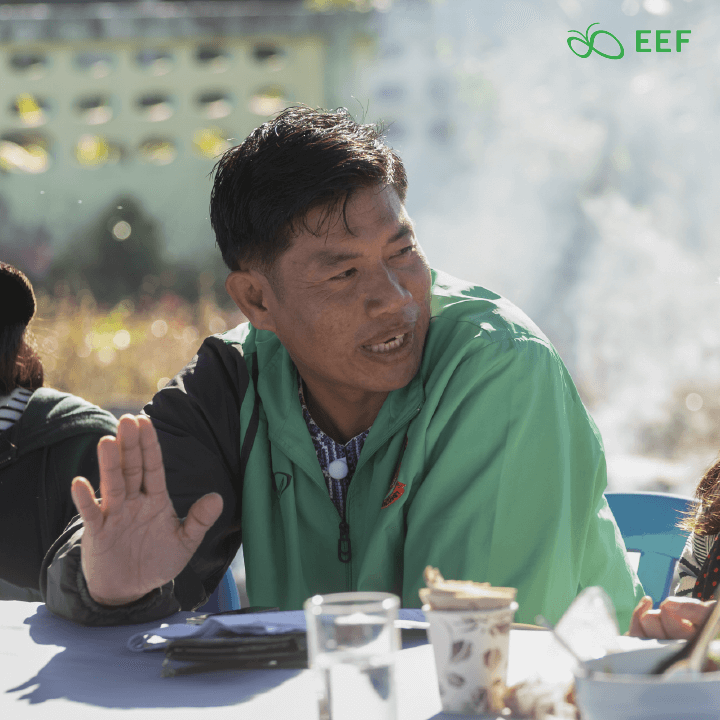 "There are times when parents don't understand why some children are sponsored and others aren't, and it's hard to give them a reason," says the headmaster, who sent the names of nearly all students enrolled at the school to the EEF for consideration.
Meanwhile, the mothers of both Chanthakan and Paliyos express gratitude that the scholarships would enable their daughters to realize their wishes to further their study.
But they are most appreciative of the fact that the school-initiated programs are character-building.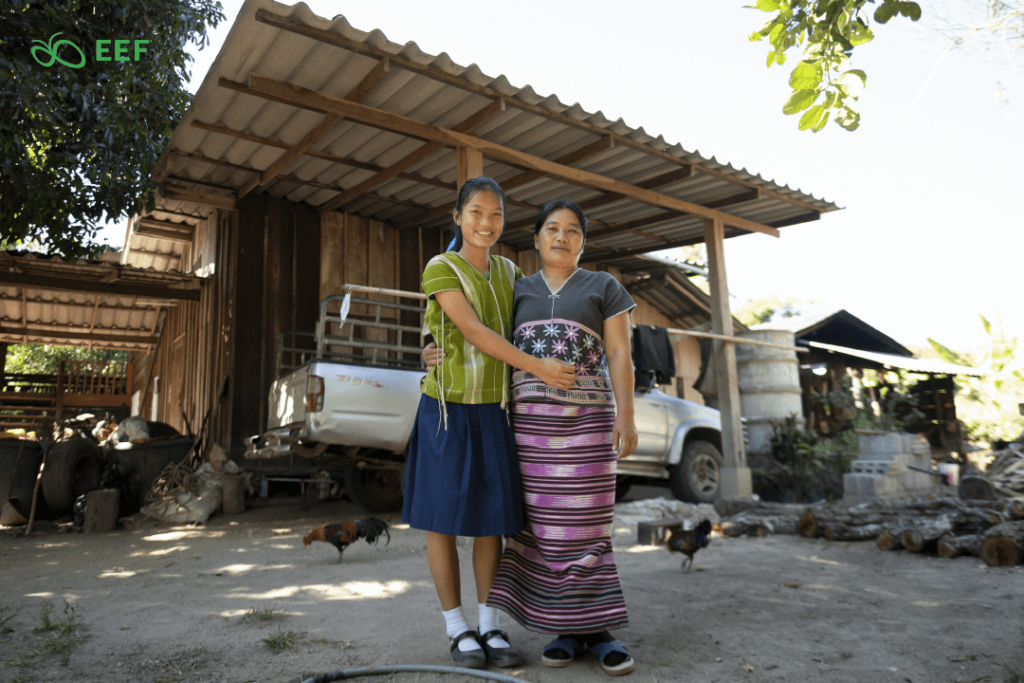 "Since joining the programs, my daughter has become more responsible and mature."
Pipo's mother Palida Sathakhiew said
When a School Becomes a Market
Learning to Learn Through Play