Building a Learning City: Fostering Inclusivity and Equity Webinar
157
157 people viewed this event.
Bangkok, October 26, 2023 – The Equitable Education Fund (EEF) warmly invites members of the press and interested individuals to an upcoming free webinar titled "Building a Learning City: Fostering Inclusivity and Equity." Scheduled for Sunday, November 5, 2023, from 2:45 PM to 4:45 PM, this event is a significant part of the EEF International Forums Phase IV (2023-2024) initiative.
This international academic webinar is held as part of the "City Administrator Course for Learning City and Education Equality", a learning platform to strengthen provincial effort to develop learning cities that would, among other goals, ensure equity and inclusivity. The workshop is a collaboration between EEF, Phayao University, Program Management Unit on Area Based Development (PMUA) and Phayao Learning City and will take place onsite from 4-6 November 2023 at Amari Don Muang Airport Hotel, Bangkok.
Meanwhile, the webinar "Building a Learning City: Fostering Inclusivity and Equity" will feature speakers from two 2021 UNESCO Learning Cities Awards winners that is Damietta from Egypt and Wyndham from Australia, who will share their knowledge and experiences to exemplify successful learning city management on a global scale. The presentation on Damietta Learning City focuses on the "Safe City Project," "Women Empowerment," and "Quality Education" whereas that of Wyndham Learning City will highlight its "Learning Community Strategy" and progress in enhancing education and lifelong learning opportunities for all. Both presentations will delve into various aspects, including the cities' unique historical, economic, and social backgrounds, educational and social inequity issues, inception, and implementation of the UNESCO Learning Cities concept, collaboration among partners and stakeholders, challenges, keys to success, and mechanisms for creating a sustainable lifelong learning ecosystem.
To offer a comprehensive perspective on Thailand's progress in building learning cities, Mr. Suradech Taweesaengsakulthai, CEO and Co-founder of Khon Kaen City Development Co., Ltd., also known as Khon Kaen Think Tank (KKTT), will give a brief talk on the innovative Khon Kaen model. This model is primarily focused on addressing poverty, reducing inequality, and enhancing transparency, providing valuable insights into how diverse cities in Thailand are actively working towards learning city initiatives.
Those who wish to participate in the webinar can either join online via Zoom Meeting where live bilingual translation is available. Alternatively, they can view via Facebook Live @EEFthailand and EEF Inter-Forums Media (without Thai translation). Media and interested individuals are kindly requested to register at:
https://docs.google.com/forms/d/1d_5_jpKMwKiJ5HHOZBfD3vTGauyeQqHupK0U54hE3nU/viewform?edit_requested=true or by scanning the provided QR code.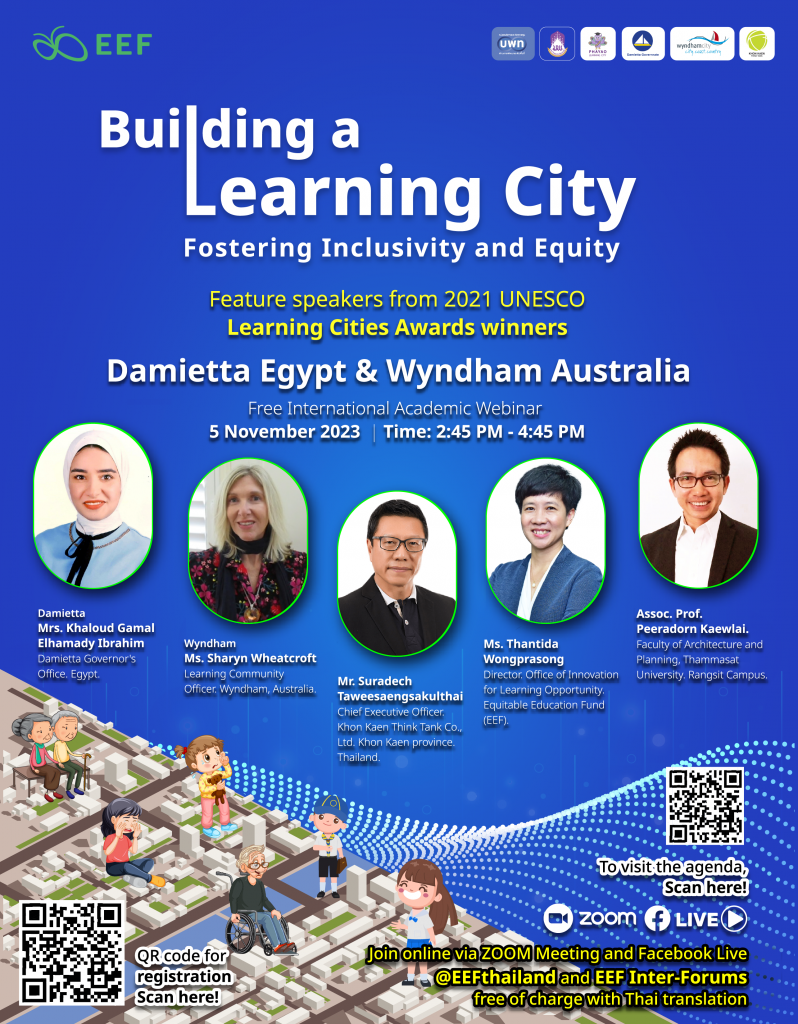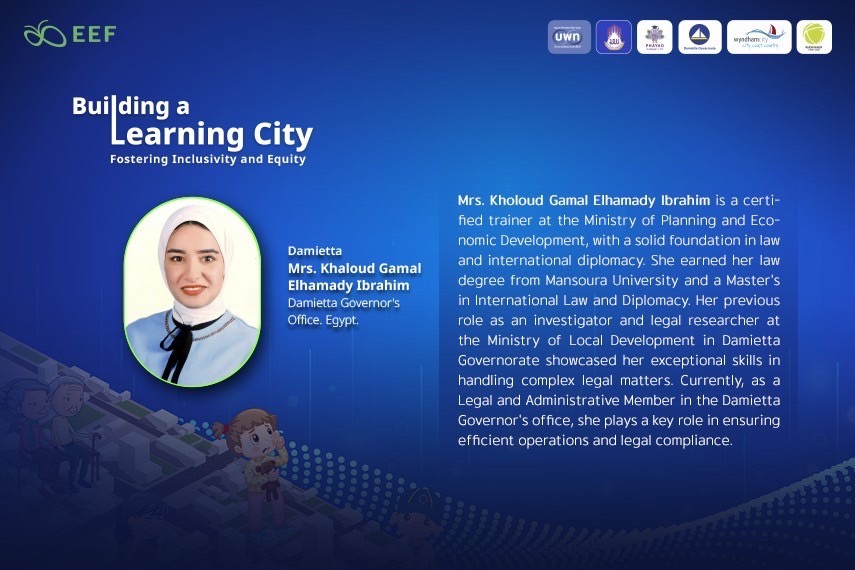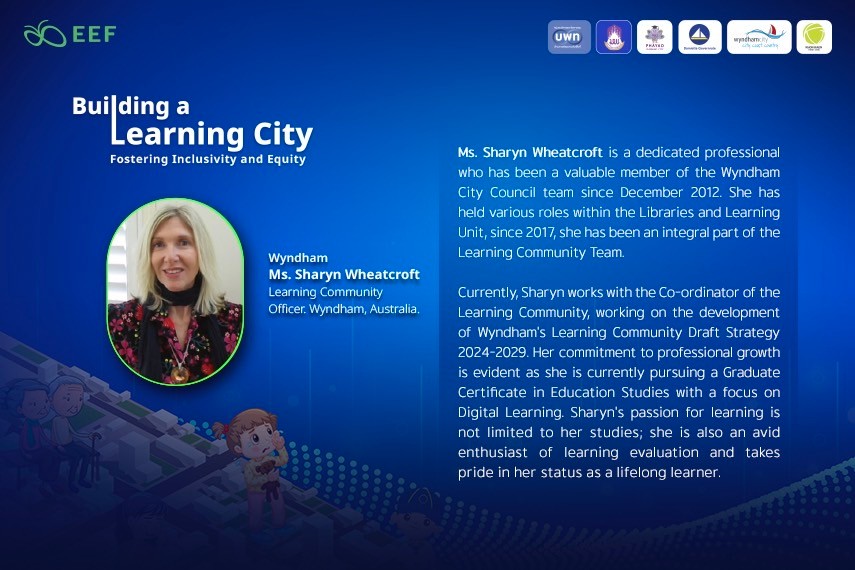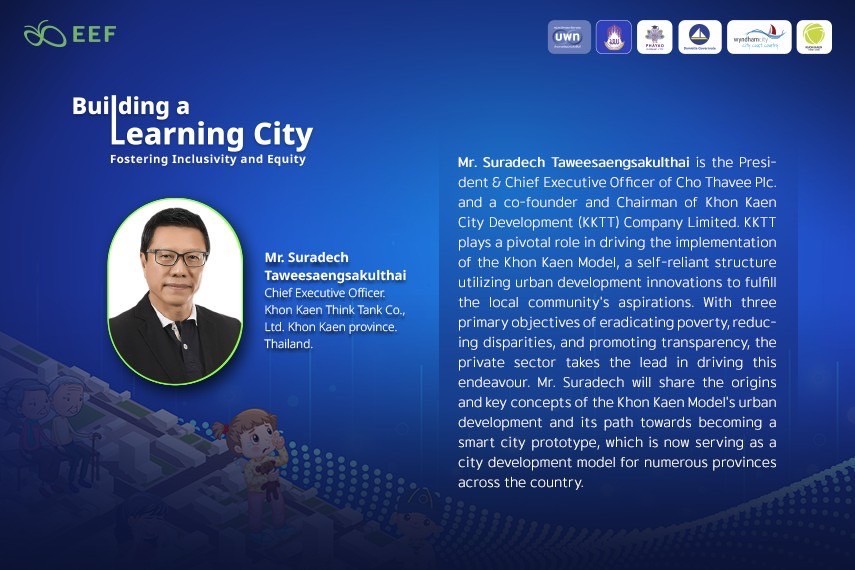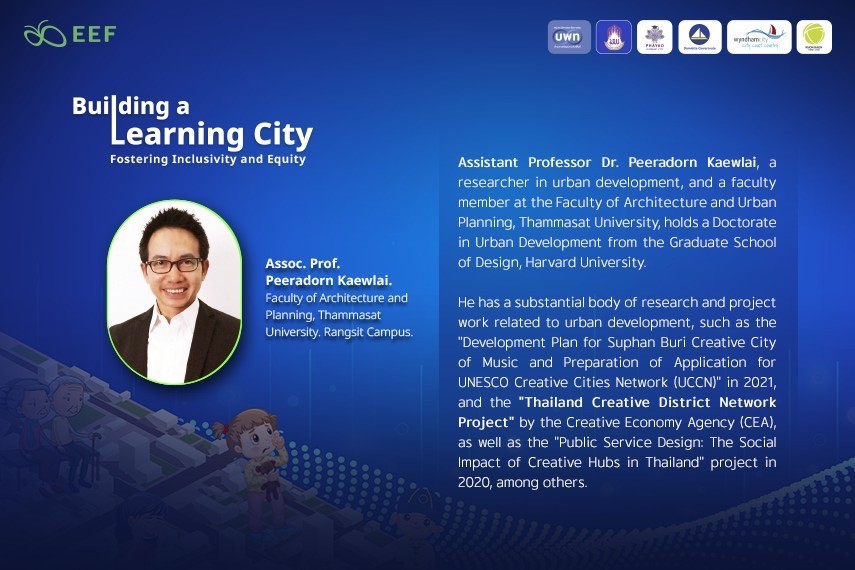 EEF International Forums Communication Teams:   
Akarin Vibultangman       Line OA: @eefinterforums                  Tel. 089-497-4229
Peraporn Sinprasert       E-mail:eef.inter@gmail.com                Tel. 062-630-9995
About Equitable Education Fund (EEF):
The Equitable Education Fund (EEF), Thailand was established under the Equitable Education Act 2018. The objective of the Act is to provide financial support for children and youth who are in greatest need, reduce educational inequality by forming partnership with different groups and conducting systematic research to support and develop teachers' effectiveness. For more information about the Equitable Education Fund and the EEF International Forums, please visit https://en.eef.or.th/.
About EEF International Forums:
EEF International Forums serve as a platform for sharing knowledge, experience, views, and innovations related to education and vocational training for disadvantaged children and youths. Since its inception in 2019, the project has successfully organized on-site and online seminars, featuring speakers from various countries. The online events are broadcast via Zoom and Facebook Live, with seminar videos available for later viewing on Facebook and YouTube. For more information about the Equitable Education Fund and the EEF International Forums, please visit https://www.facebook.com/EEFInterForums?mibextid=ZbWKwL and EEF International Forums – EEF – Equitable Education Fund
---