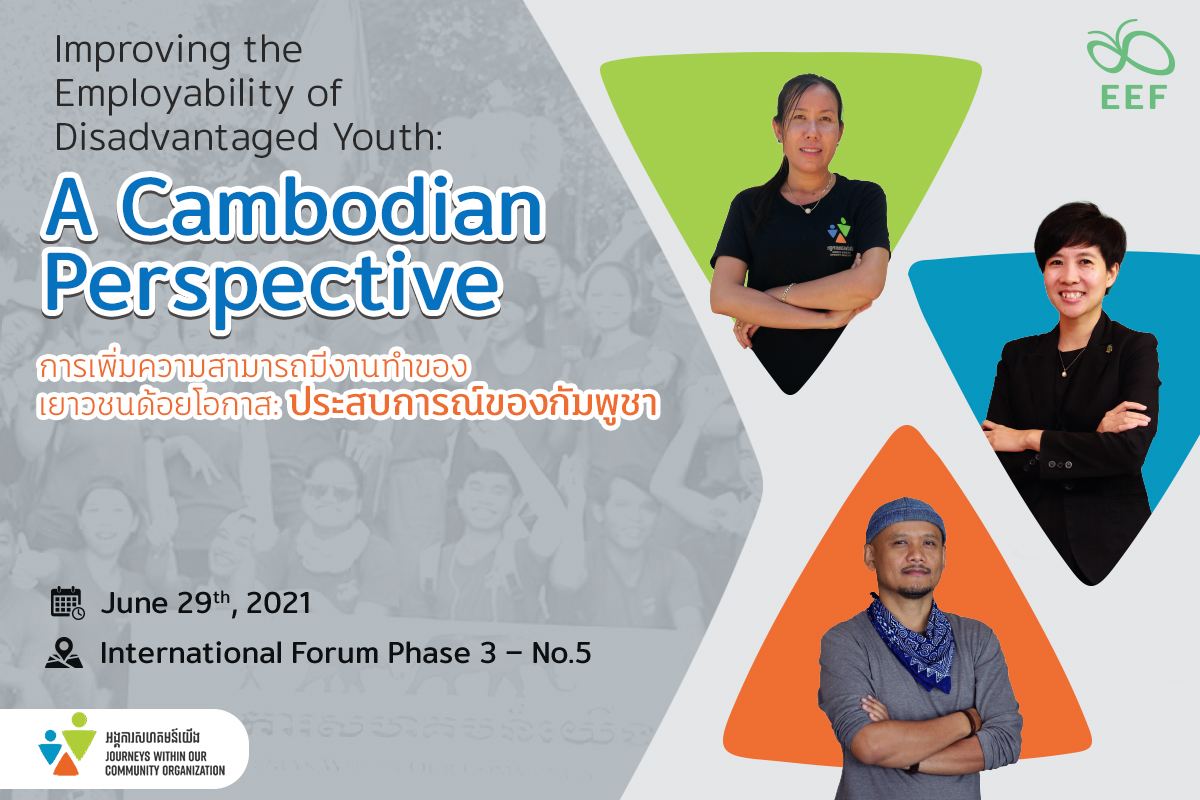 Improving the Employability of Disadvantaged Youth: A Cambodian Perspective
By: Konthea Mean Journeys Within Our Community (JWOC) Cambodia
Youth is a crucial stage of development in a person's life, and youths, or young people, are the major driving force for national development.  It is during this period of life when young people should acquire the knowledge, skills, and competencies required for future professional growth.  However, young people in Cambodia, or 27% of the entire population, gravely lack the necessary skills for employment. The Organization for Economic Cooperation and Development (OECD) estimates that 36% of Cambodian youths live below the poverty line. These youths do not have access to education either. As a result, just 14% of the country's youth completed primary education, and only 5% finished university. Many young people in Cambodia also lack the basic skills necessary even to search for and apply for a job. Journeys Within Our Community, or JWOC, an NGO organization with a focus on youth development in Cambodia, has been actively working to help Cambodian youth develop the potential needed to succeed in life and to contribute to the country's future development amid a growing global focus on the development of 21st-century skills and the impact of COVID-19.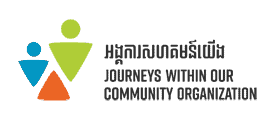 JWOC: Building a sustainable youth development organization from the ground up
The founders of JWOC, Brandon and Andrea Ross relocated from the United States to Cambodia in 2005 to open a boutique hotel. Once residing in the country, they saw firsthand the needs of the area's poor population. They observed at the same time how willing their friends and relatives and travelers are to offer assistance. Realizing they could act as a bridge between those individuals who want to help and those who need help, they took the initiative to find JWOC. The initiative has now grown beyond their wildest expectations, positively impacting thousands of lives — both on the giving and the receiving ends. Founded as a nonprofit organization to serve as a channel for transferring aid from international travelers to those young locals, JWOC's mission is to partner with low-income Cambodian youths to fulfill their potential in education, employment, and engagement with their community, with the vision of seeing all Cambodian youths contributing actively to the sustainable development of their society.
The Theory of Change has been repeatedly endorsed by JWOC as the cornerstone for accomplishing these objectives. JWOC is of the opinion that education during this crucial time of transition enables youth to acquire skills and a desire for personal and societal development. Youths should, in other words, be informed about their options and opportunities. This is feasible during the transitional time of each age level. For example, during the last few years of secondary school, young people should be aware of their options, including going to college, finding employment, or getting additional training. They should be able to think about how their decisions will impact their future. However, prior to making a decision, they should be fully informed of the consequences of their decision to take a particular route and should then be closely guided. Once they have chosen or found their own path, they should be allowed to develop themselves to the fullest potential to pursue that choice.
Another approach that JWOC takes as the core of its work is to create "sustainability." The organization believes that development should not end at one's graduation or cease at a certain age but should be continued and passed on to others or the next generation. JWOC, therefore, places great emphasis on the development of youth in all aspects, ensuring that they are constantly exposed to and have access to the three essential factors under the principle of "3Es", in the belief that youth development must gear towards;
Education: Not confined to the classroom or school-age only, education can take many different forms and must continue even after a person has graduated and even while working.

Employment: Youths should obtain a decent job that compensates them fairly for their skills and abilities and provides them and their families with a decent standard of living. 

Engagement in social development: Youths should be quality citizens and use knowledge and skills to help others for the betterment of communities, society, and the country.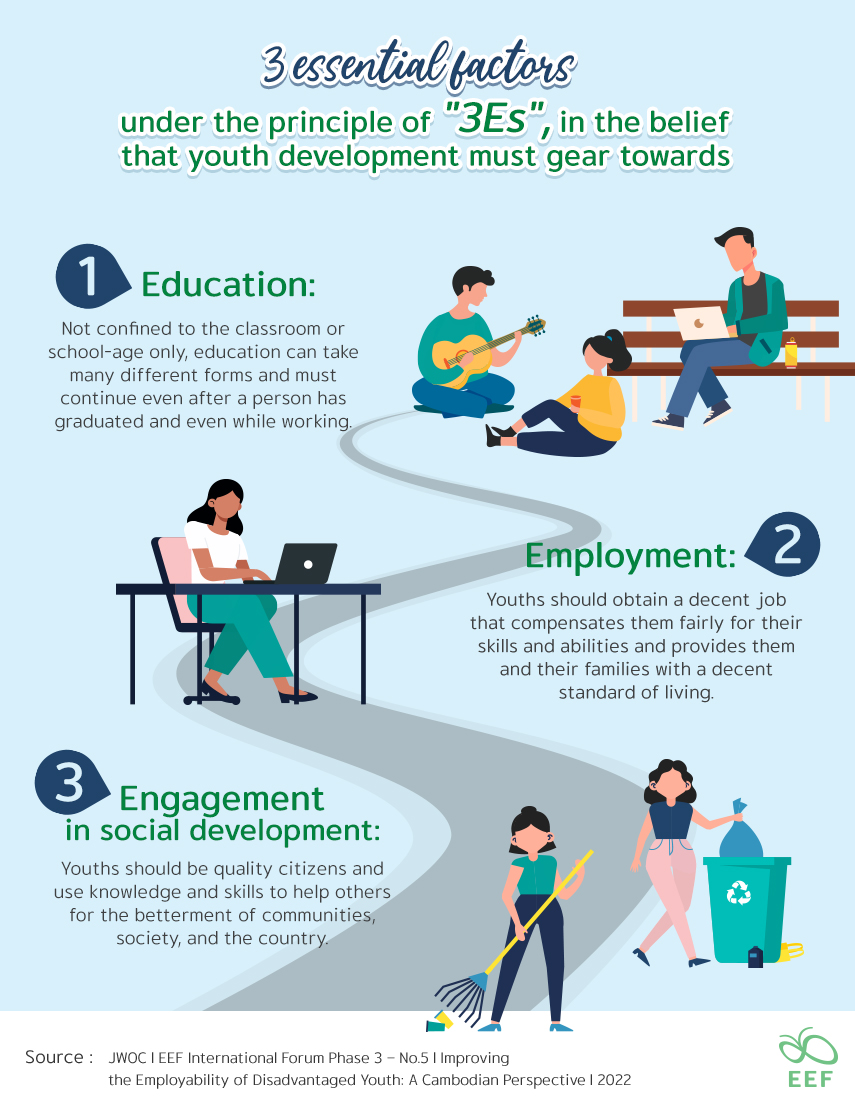 JWOC executes the organization's objectives through two key programs:
The program aims to help youth from two types of low-income families: 1) those youths in the upper secondary education system and 2) those youths who have completed secondary education but lack the necessary skills to work. These young people may be employed in an establishment or are unemployed and unsure of their future path. Under this program, JWOC will provide various types of training at the JWOC Training Center, including career guidance, English practice, digital skills, life skills, 21st-century skills, and youth leadership.
JWOC awards scholarships that enable gifted youth from low-income families to attend university in Siem Reap by paying for their tuition fees and textbooks. Additionally, at JWOC's purpose-built Learning Center, they focus on helping youths develop soft skills and build the capacity to overcome the challenges they may face in reaching their goals. JWOC also provides a platform for motivated changemakers to tackle social issues to improve their confidence and increase their level of civic engagement. 
In both programs, JWOC focuses on developing soft and hard skills, particularly English language skills, including resume and cover letter writing which are necessary for job search and job application. English is essential for young people who want to study at university too because all textbooks are in English. Also incorporated in both programs are non-classroom activities designed to prepare them to enter the workforce. An example is a job application simulation. Here they are asked to write a resume and cover letter and then attend a mock-up job interview where officers from other organizations serve as the selection committee. There are also classes on labor law, entrepreneurship, paid internship programs, community development project management, etc.
Through collaborations of businesses and organizations both in the public and private sectors, JWOC has established a support network in addition to providing education and skill development training. This network offers individual counseling regarding physical and mental health, parent involvement, various forms of financial assistance, rehabilitation after a crisis, as well as other services.
Measuring the success of the programs
JWOC considers the sustainability of the programs important and does not only use statistics to determine the organization's success. The three factors (based on the "3Es" principle) are also highlighted in gauging success in these areas: ongoing education and continual development; a decent job; and engagement in social development. For the recipients of scholarships, JWOC conducts follow-up evaluations one, two, and five years after they complete the scholarship program. Additionally, assessments for the Better Futures program are carried out annually and every three years for youths not enrolled in a formal educational institution, and every two and five years for high school students.
The Better Futures and Scholarship Programs have helped more than 200 young people from Siem Reap complete their degrees. After graduation, numerous young people have launched their own businesses, advanced to the position of corporate executives, or worked in a range of industries. Statistically, the scholarship program for university education has an 82% success rate; 85% of new graduates have found work easily; 73% earn more than the national average; and 58% volunteer to improve their communities in their spare time. These numbers clearly reflect how JWOC undertakings have considerably enhanced the lives of young people.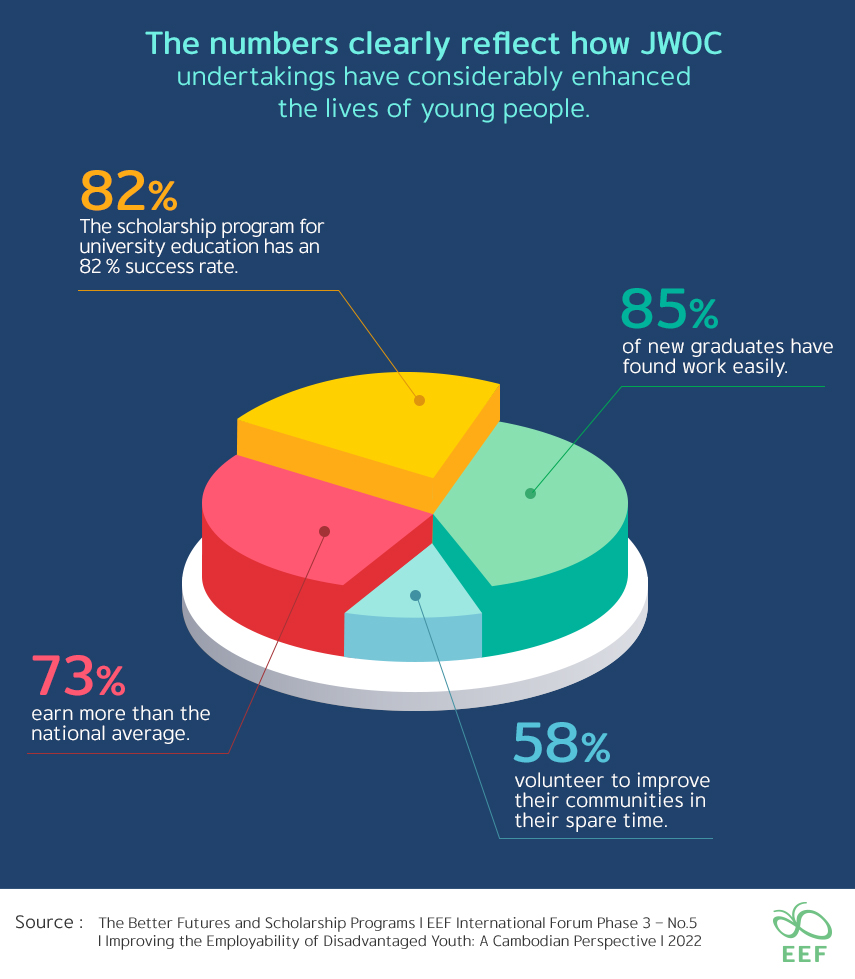 —————————————————————————-
Lead Discussion 
By: Somphop Yii Johor, Community Craft Tourism and Product Developer, the founder of DoiSter
With the positive results of community-based tourism initiatives, youths have shown that they play a crucial role in advancing work at the local level. Having worked with numerous communities for quite some time, the DoiSter group discovered that the pioneering groups often became exhausted and disappointed when finding very few people in the younger generation to carry on the work the elder generation had started. Therefore, the group started the "CBT Youth" project to engage local youths in taking initiatives to boost tourism and the local economy with EEF funding. Many youths have developed into leaders in the tourism industry over the last ten years. Additionally, many organizations have applied this strategy to the communities in their networks.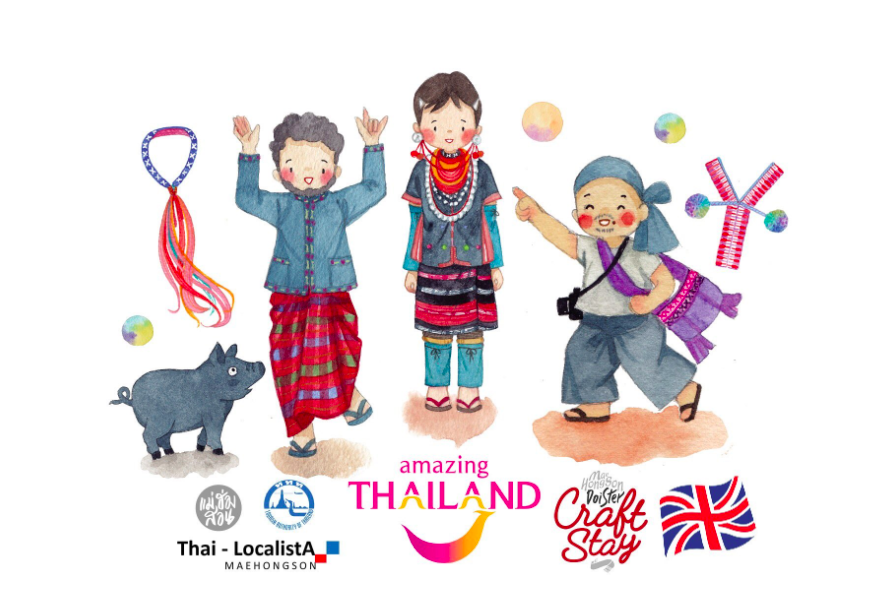 The CBT Youth program has demonstrated the need to include young people at every stage of community development. This inclusion is comparable to JWOC's goal of promoting youth involvement in community development. The main difficulty in the Thai setting is how to make it possible for the youths and the pioneering generation to collaborate effectively. Doister has conducted a pilot project to promote occupations in the community to help underprivileged youngsters in Mae Hong Son Province's Huay Tong Kor area. This has enhanced collaborative learning about work processes, lifestyles and cultures, and skills and knowledge between the two generations, thus reducing the problematic generation gap.  The two generations can work together effectively and a new lot of people have now been prepared to take over the work of the pioneering generation.
Watch EEF Int'Forum Record:
Part1 : https://youtube.com/watch?v=jZ4j5435R_U&feature=shares 
Part2: https://youtube.com/watch?v=Z0ASjDLxIVE&feature=shares 
Source: 
EEF International Forum Phase 3 – No.5 l Improving the Employability of Disadvantaged Youth: A Cambodian Perspective l 2022