EEA Problem-based discussion carried out 5 blockages on implementing equitable education: 
1) Lack of satisfying approach to creating changes for equitable education 
2) Availability of the fund in the political and cultural arena 
3) Universal access to education, especially for vulnerable children
4) Evidence-based classroom practices 
5) Equitable Education in the digital era.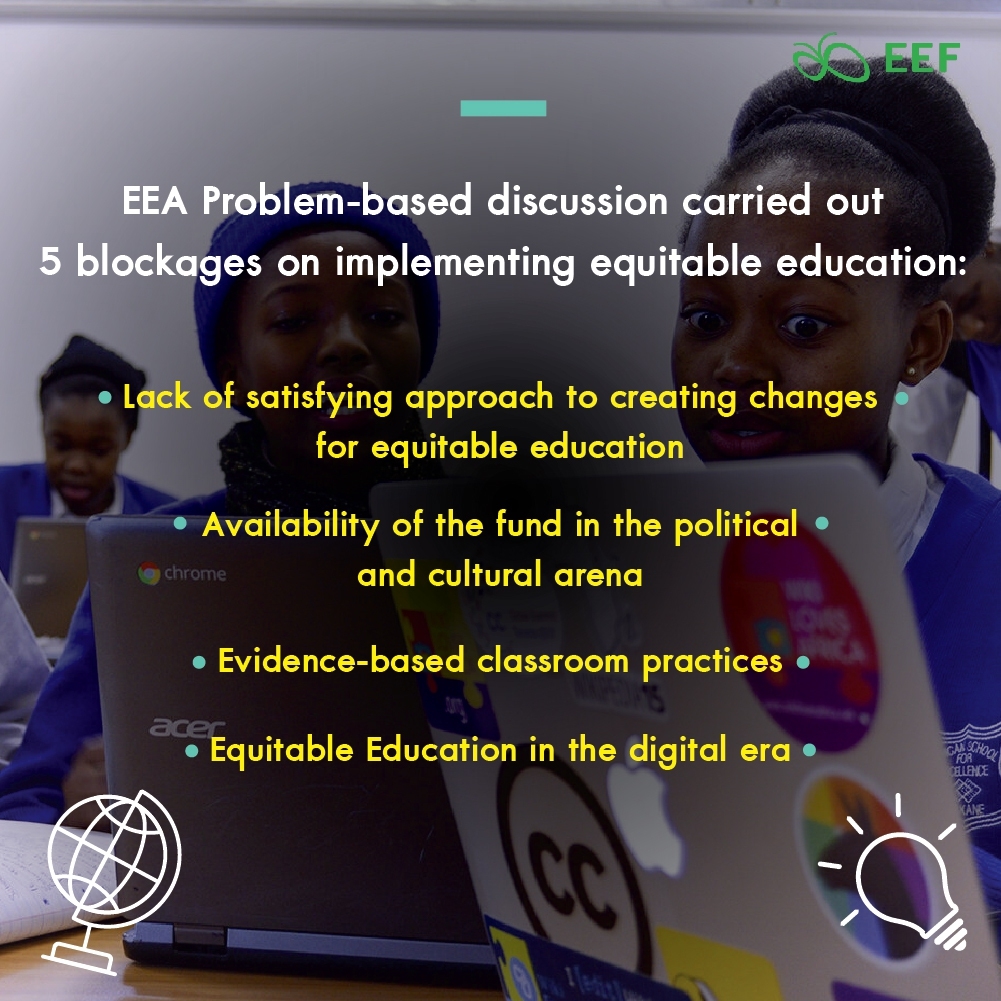 On the first obstacle addressed, Lacking a systematic and holistic approach indicates both inadequate data and actions, on implementing Equitable Education. Insufficient data at work, similar to having walked a dark journey. The meeting suggests addressing proper data sources, for example, quantifying the magnitude of the problem, finding the authentic underlying cause, breaking down results in the geographical area, and measuring quality in education that reflects 21st-century skills. Additionally, the mechanism that reassures equity in every process is also crucial.
The short lifespan of a political position is a term consequence of the demand for a quick-win policy and quick-result outcome. However, the impact of education does not calculate in that way. The prioritization of Equitable Education to the political agenda is also challenging for ground-working education practitioners. The two mentioned problems were to exemplify the issues of availability of funds in the political and cultural arena.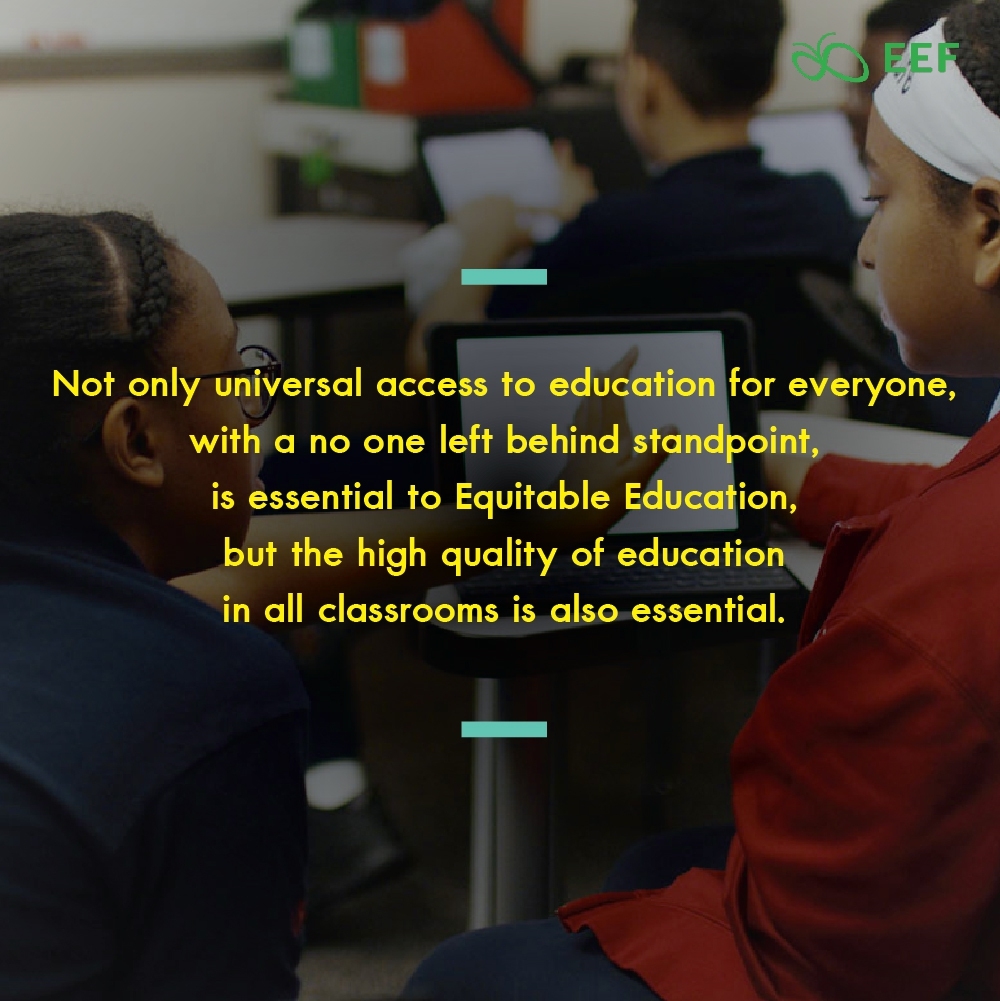 Not only universal access to education for everyone, with a no one left behind standpoint, is essential to Equitable Education, but the high quality of education in all classrooms is also essential. Correspondingly, a guarantee mechanism for continuity in education is another concern.  
Evidence-based practices in the classroom encourage high-quality education for every child. Nevertheless, unpacking the evidence-based finding to ensure understanding in classroom practices is something to bear in mind.
The widening gap of inequity in the digital era expresses the need for Social Protection like never before. Political Movements on Human Rights in Latin America convey a high impact, highlighting the Social Protection issue to bridge the gap.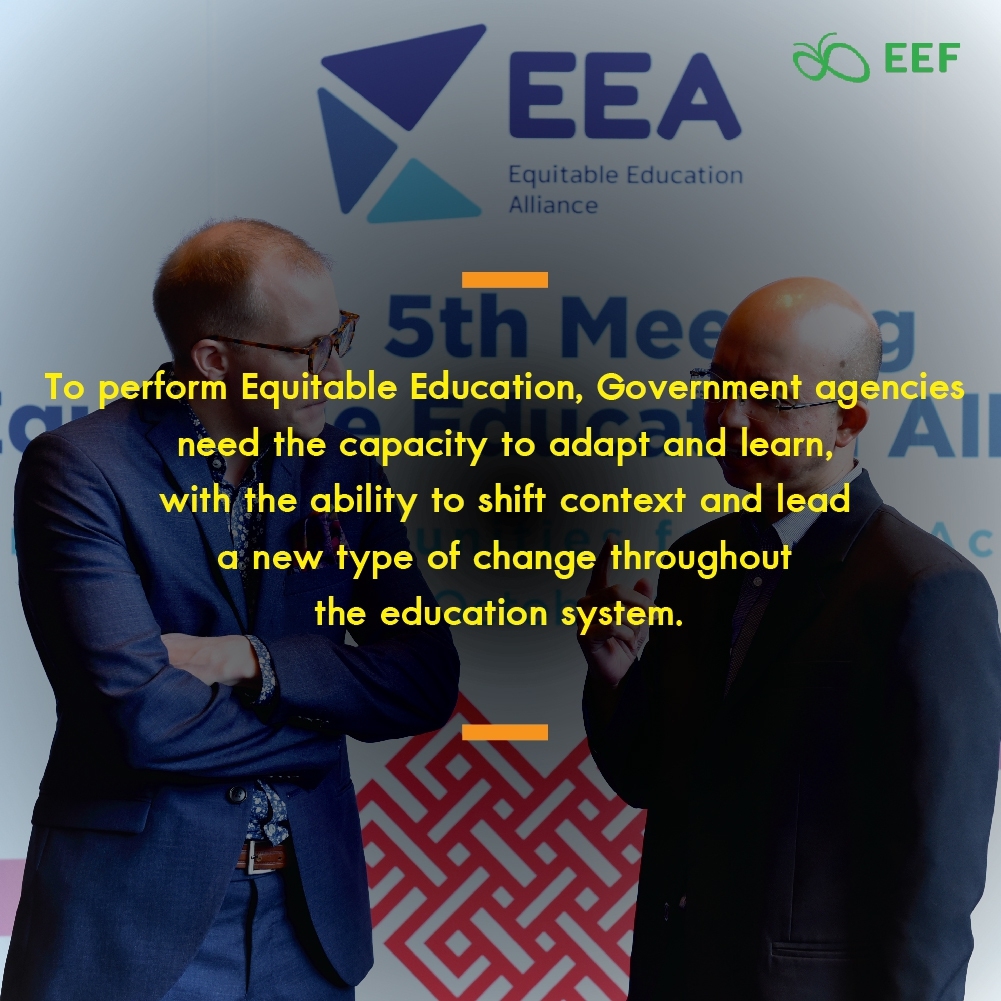 Yet, the frontline obstacles were addressed, and more work needs to be done. Additionally, Government agencies need to be on board for all of this to work. To perform Equitable Education, Government agencies need the capacity to adapt and learn, with the ability to shift context and lead a new type of change throughout the education system. 
Source: 5th Meeting of Equitatble Education Alliance (2022)